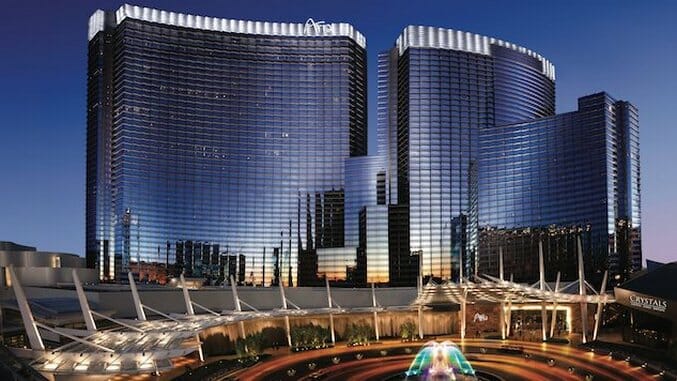 By now, there are plenty of places for fine food, high quality entertainment and of course, gambling in Vegas. But it's not guaranteed you'll find it all under one roof. Many of the resorts specialize in one of those things: shows or casinos, usually. But the ARIA is where you'd go if you want a little bit of everything.
First Impressions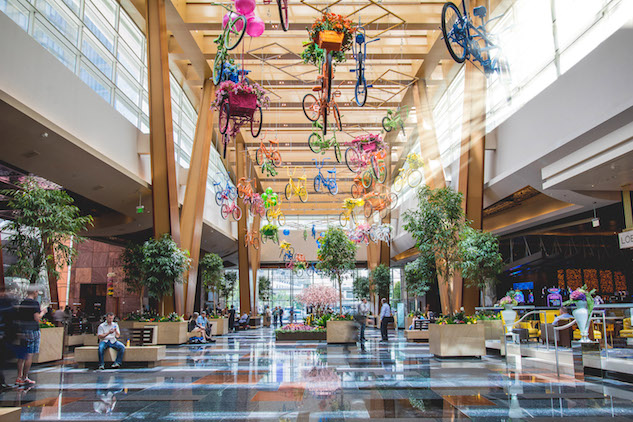 Prepared to be overwhelmed upon entering the Aria. You won't know where to look—from the colorful bikes hanging from the ceiling to the wild plants serving as the lobby centerpiece to the trees that bring even more light into this tall space with a glass ceiling. Then there's the bevy of restaurants that wait ahead, and the casino calling your name to your left. And that's just in the main lobby. Depending on where you enter, you'll be welcomed by world-renowned artist Maya Lin's "Silver River," an 84-foot silver cast of the Colorado River; Jenny Holzer's "VEGAS," an impactful LED sign spanning more than 260 feet; or Tony Cragg's three stainless-steel sculptures titled "Bolt," "Bent of Mind" and "Untitled," the tallest clocking in at 15 feet high. Wherever you are, you're guaranteed to be impressed.
Pro tip: start the mobile check-in ahead of time, so you don't have to wait in their sometimes painfully long lines. You can do it once you get there, but you have to wait a bit until you get the confirmation to actually use the mobile check in machines. Start before you get there so you have it ready upon entering the building and so you can get out of that rollercoaster bead maze they call a lobby—or get back to ogling those installations—faster. Whatever floats your boat.
The Rooms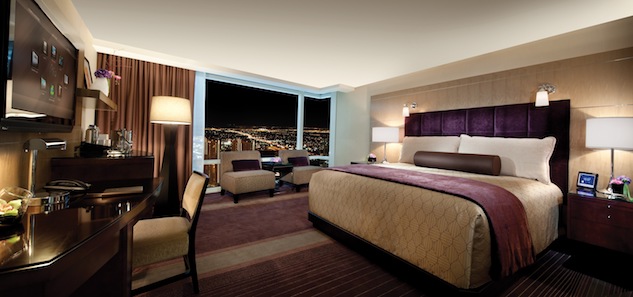 ARIA's hotel accommodations range from modern 520-square-foot deluxe rooms to the inviting Tower Suites and the stunning Sky Suites. What they all have in common is sustainable design and cutting-edge technology.
Speaking of cutting edge tech, every guestroom features dedicated tablets offering a hyper-tailored guest experience with amenities such as digital in-room dining orders, one-touch spa service requests and an endless stream of news. Oh, and the rooms recognize guests' first time in the space and "greet" them—light fills the room, the curtains automatically open to showcase the spectacular city or mountain views and the TV turns on. If only our roommates/significant others/pets did that.
If you're not a tech-nerd, you'll fall in love with the expansive floor-to ceiling windows—even in the bathrooms. And every room has a corner view.
The décor is traditional hotel, in the patterned carpeting, wood and marble cabinets and counter space, and unidentifiable artwork. It's not memorable. But it doesn't need to be. In fact, it's almost better that it isn't. The windows/views, oversized bathroom with a soaking tub and custom Sealy bed that feels like a safe haven from the Vegas madness speak for themselves. Anything else would be too much and take away from the highlights.
What Pops
The bevy of restaurants—17 to be exact—ranging from Starbucks to Jean Georges was particularly impressive to the Vegas virgin. So were the the 150,000 square feet of gaming space. Again that could be the newbie in me.
But it was something else that stuck with me: the light. ARIA is one of the world's largest sustainable developments. The U.S. Green Building Council has awarded LEED Gold certification to ARIA's hotel tower, convention center and theater. ARIA features the world's first fleet of stretch limos powered by compressed natural gas (CNG). And those huge windows aren't just for your viewing pleasure—the hotel's design incorporates sustainable features including the extensive use of natural light and water-saving fixtures. These elements and more help the hotel achieve more than 30 percent improvement in energy efficiency and save an estimated 31 million gallons of water each year.
So, if you feel bad about indulging on a trip to Las Vegas while the world is going to shit, relish in the fact that you're at least helping the environment while you soak in the tub or lounge by the pool.
The Locale
Pretty much right in the middle of the Las Vegas strip, the hotel is situated next to two luxurious non-gaming hotels, Vdara Hotel & Spa and Mandarin Oriental, Las Vegas, and a short walk away from the Bellagio. But while the views of the strip are crystal clear, the noise is not.