5 U.S. Hotels Perfect for Artists
From coloring books to classes, these spots offer tools to indulge your inner artist.
Photo below courtesy of Hotel Monaco Portland
Travel
Lists
hotels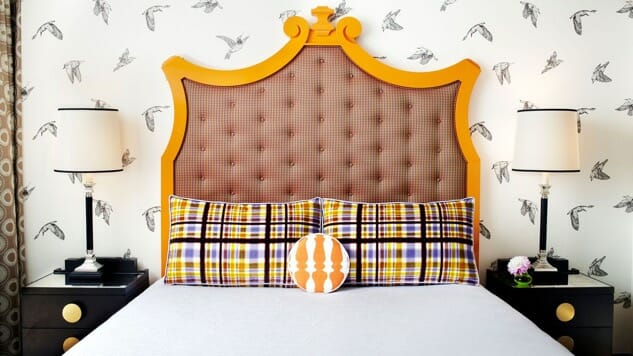 Once upon a time, people would go on sketching trips, or do some painting while on vacation. It was to still the mind and cultivate artistic pursuits, regardless of talent. Also to capture the moments worth remembering, because there were no portable cameras to take along on trips.
The benefit still goes beyond a snapshot keepsake: Painting and drawing immerses you in the place and the present, and creates a far more long-lasting memory than a selfie. Plus, it makes you stop and stay still, and even become quiet. With the new adult coloring book craze, the benefit of artistic pursuit to clear out brain gunk is seeing a resurgence. Adult coloring books, or mindful coloring books as they're also called, are becoming a fixture in many hotel rooms and lobbies. Here are five hotels that encourage your inner artist with coloring books, in-room art supplies, and even painting classes.
1. Hotel Monaco Portland
As with all Kimpton Group hotels, the Hotel Monaco in Portland, Oregon, holds a nightly wine hour, where guests can relax with a glass of vino or two, or opt for a local brew in the lobby lounge. Even nicer: it is gratis and often includes snacks. In Portland, however, guests can get off the couch and get creative at easels set up for guests. Brushes, canvases, and paints are provided, too. Drinking and painting? Don't be surprised if you overreach on your artistic skills; you might discover a vocation hitherto hidden. Just, ya know, use the brush and don't go all Jackson Pollock in the lobby.
2. The Renwick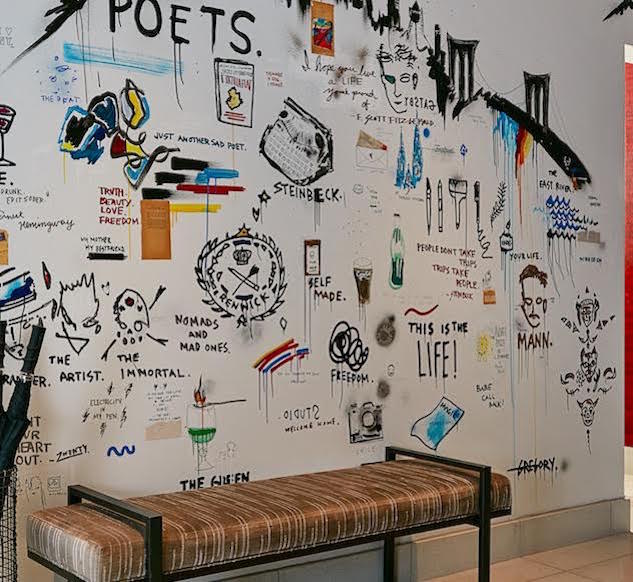 Photo courtesy of The Renwick
The Renwick hotel opened this spring in Manhattan's Midtown East in what was formerly an artist's enclave. Running with a theme of art, The Renwick enlisted Brooklyn-born, Los Angeles-based artist and actor Gregory Siff to spice up the lobby with two murals, and the hotel's rooms include origami kits, sketch paper, and pencils. Each room also has a paintbrush functioning as a do not disturb sign and the TV stands are modeled after easels. If those elements still don't satisfy your inner artist, then book the Artist Suite, which includes actual easels, paints, canvases, and a grand city view from its window for inspiration.
3. Taconic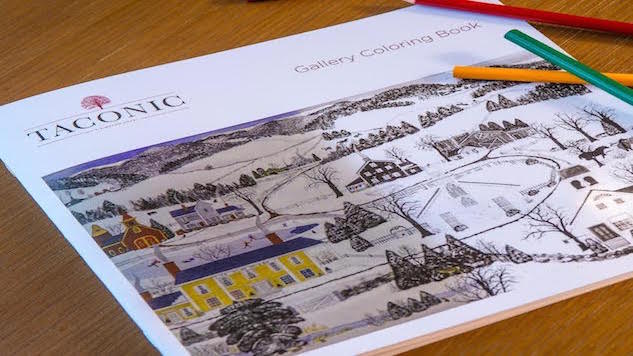 Photo courtesy of Kimpton Taconic Hotel
This recent Kimpton Hotels addition to the Vermont landscape includes complimentary mindful coloring books in each guest room. If you recall, back when you were a very young child, coloring in drawings was among the ways you first expressed yourself as an artist. Sure, you went outside the lines, but that just means you're more an avant-garde type than classical, doesn't it? Either way, whether it's for stilling the mind of the gazillion pieces of information we receive every day, or for getting your drawing strokes down, it's a creative way to relax. Before long you'll be sketching nearby Mount Equinox.
4. Casa Madrona Hotel & Spa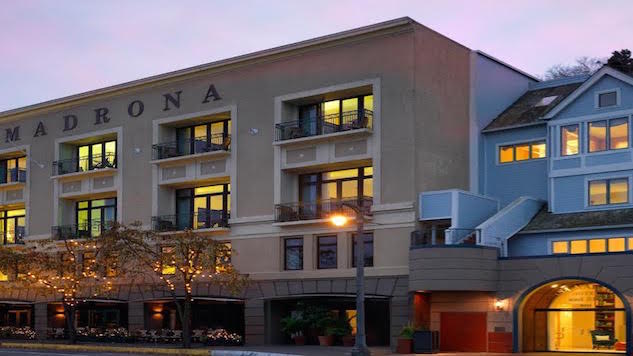 Photo courtesy of Casa Madrona Hotel & Spa
This waterfront hotel in Sausalito, CA offers a mysterious-sounding "transformational series" and its latest installment is The Art of the Sea. It's a package designed to develop artistic and painting skills—and it's fun, too. The Art of the Sea includes a two-hour private art lesson with local artist Susan Sternau, who gives an overview of the creative process from inspiration to color mixing to painting techniques. It also includes a bottle of wine and a cheese board for sustenance while you paint, and admission to the Legion of Honor and de Young Museum in San Francisco, including transport. You also get a spa treatment thrown in. All of which sounds like a breeze compared to roughing it through art school.
5. The Knickerbocker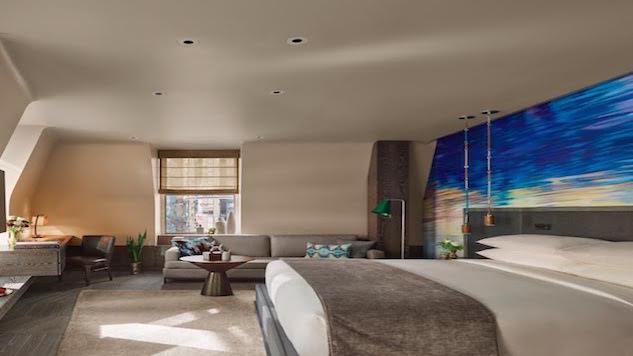 Photo courtesy of The Knickerbocker Hotel
Harkening to the nickname coined by 19th century author Washington Irving, which was then adopted as a mark of ancestral pride by New York's Dutch founders, The Knickerbocker
in Manhattan has several Tribute Suites, among them The Parrish Suite. It's named after Maxfield Parrish, the American painter and illustrator whose work was immensely popular in the early 20th century. Parrish painted the noted King Cole mural, which famously dominates the St. Regis' bar, but was originally commissioned for The Knickerbocker and somehow ended up elsewhere. Anyhow, the suite is stocked with sketchpads, pencils, and watercolors, and there's a list of the top spots in the city for artistic inspiration.
Lead photo courtesy of Kimpton Taconic Hotel
Linda Clarke is a freelance travel writer whose work has been published in the Boston Globe, New York Daily News, and several other print and online publications.