How to Eat Like a Local in Saigon (Ho Chi Minh City)
Photo below by Paula Bronstein/Getty
Travel
Lists
How To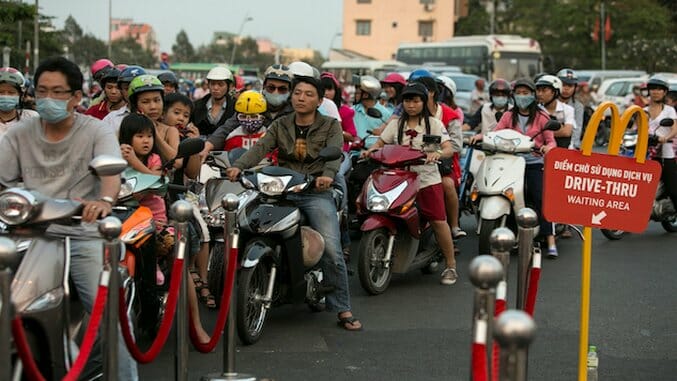 The one-time capital of South Vietnam, Saigon is arguably the most exciting metropolis in Southeast Asia. Referred to officially by the government as Ho Chi Minh City since 1975, Saigon is a sprawling spread of districts, suburbs, and cities within cities, each of which is steeped in history and marinated in insanely delicious food from across Vietnam. Saigon is perfect for those looking to explore the epitome of an urban jungle, all while sampling the best bites that Vietnam has to offer.
If you want to experience Vietnamese cuisine like a true local, follow your taste buds to these dining destinations.
1. Bánh Mì Hòa Mã
Saigon wakes up early and there's no better way to greet the sweltering heat of the city then by exploring with an ice-cold ca phe den da (or iced black coffee). Once you've broken your first sweat of the day and worked up an appetite, your next stop should be for breakfast at Bánh Mì Hòa Mã for the perfect plate of op la. A simple dish made up of slices of various breakfast meats, sautéed onions, and eggs however you like them (but if there's a time for sunny side up, it's definitely this), along with a chewy baguette, op la is a crazed blending of both east and west, the likes of which are devoured by the Saigon locals and visitors alike. Sit in the alley adjacent to the shop, watch as morning deliveries are made, and attempt to count the number of scooters as they shepherd Saigon's locals to work, school, and beyond. It's Saigon at its most basic and beautiful.
2. The Lunch Lady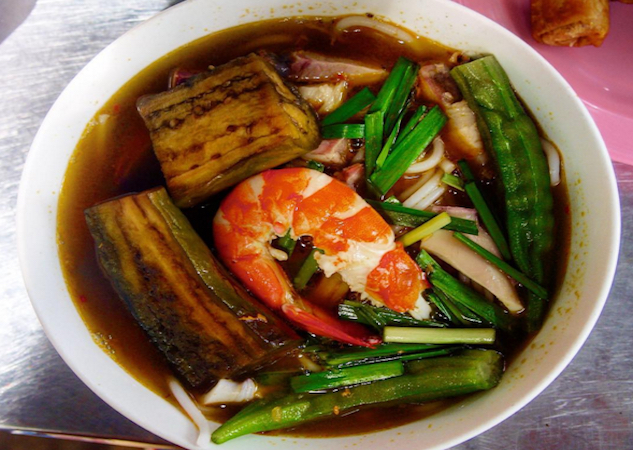 Photo by Max Bonem
Saigon is bursting at the seams with incredible food at every price point you can imagine. However, when it comes to local lore and respect, no one outshines The Lunch Lady. Although locals have known about her for years, it wasn't until Anthony Bourdain visited her then-small operation—little more than a cart, a pot, and a few stools—in the 2000s that she became a legend. If you visit The Lunch Lady on the far east side of District One, you'll find a staff of at least 10 and ample seating for the constant flow of eaters who are simply served whatever the shop's namesake feels like cooking. There's no menu, no ordering, you simply sit and devour whatever is put in front of you. Without a doubt, though, it'll be one of the best meals of your time in Saigon.
3. The Refinery
Located in a one-time opium processing facility, The Refinery is now better known for their excellent continental menu and an extensive wine list. At the very least it serves as a great spot to ponder where Saigon has been as a city, where it is today, and where it'll be in the future, all while enjoying dessert and a digestif. Locals, travelers, and expats all rub elbows at The Refinery, trading stories of their time in Saigon and trying to define a city that seduces many, but rarely lets anyone know its true self.
4. Bún Th?t N??ng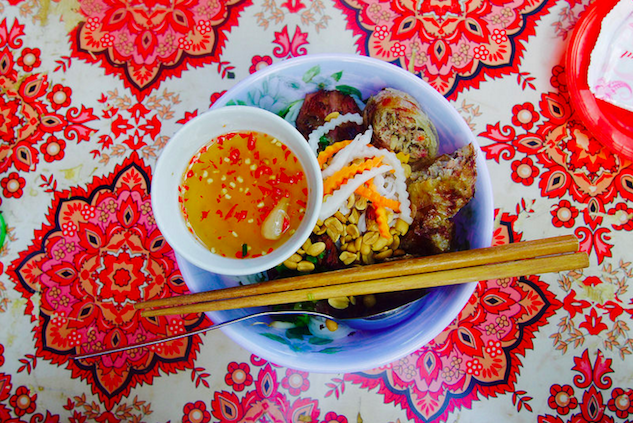 Photo by Max Bonem
One of the true joys of eating in Saigon comes from the unexpected gems you find on the street. At the corner of Lê L?i and Nguy?n Trung Tr?c sits one example, simply the best bún th?t n??ng (vermicelli noodles with sliced spring rolls and roast pork) you'll ever have. A bowl costs barely $2, but the food itself is just the beginning. The stand, which isn't much more than a mother and daughter working on a stoop, has no name and no menu, besides a sign with the price per bowl. Take a seat on one of their many red or blue stools, put the corresponding number of fingers up for the number of orders you want, and walk across the street to try to find an open stool. For a restaurant that hints at organization rather than practicing it, this street eatery can be a hard place to find a seat.
5. Bánh Mì 37 Nguy?n Trãi
When looking for a delicious afternoon snack in Saigon, follow your nose, and once you've gotten close, look for a line. That's the case with Bánh Mì 37 Nguy?n Trãi, locally referred to by its makeshift address that hovers between a driveway, an alley, and a sidewalk, depending on the time of day. The small team of three or four only serves one type of bánh mì sandwich and it's sure to be one of the best you have during your stay in Saigon; freshly grilled sausage patties, a fresh cucumber spear, cilantro, chili, and a teriyaki-esque sauce, all wrapped up in butcher paper. Amongst the regulars you'll see in line are cops and taxi drivers, two groups of people that confirm you've stumbled upon something delicious.
6. Bánh Cu?n H?ng H?nh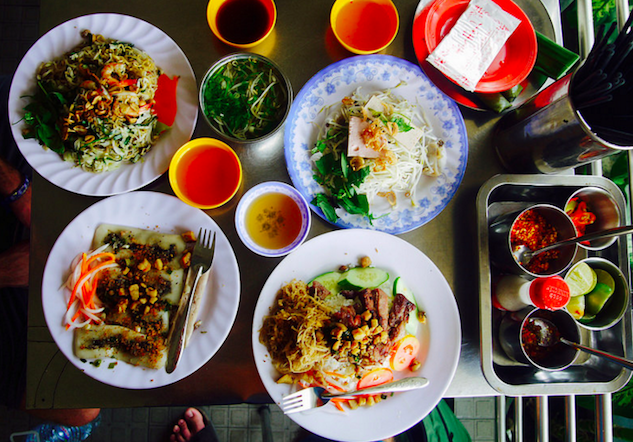 Photo by Max Bonem
Although Saigon has a vast number of specialties that it can lay claim to, it's the city's wide range of offerings from throughout Vietnam that makes it truly special. A fine example of this is Bánh Cu?n H?ng H?nh, a family run restaurant in District One focusing on Hu? cuisine. The menu is wide-ranging and covers all the classics you'd find in the former imperial capital, but their real specialty is the bánh cu?n itself, steamed rice crepes rolled with pork and white pepper and topped with steamed pork sausage and curled fried garlic. The tables are no frills steel, the second floor balcony lets you overlook the bustle of Nguy?n Th? Minh Khai street below, and a multi-dish feast will set you back less than $4 total. You'd never end up there on your own, but sometimes it pays to be in the know when wandering through Saigon's busy streets.
7. Secret Garden Restaurant and Teahouse
If you need a break from eating just a few inches above the street and the noise that comes with it, then Secret Garden Restaurant is where you should head, both for a respite from the chaos and for deliciously complex takes on traditional Vietnamese dishes. Located atop an old factory of sorts and only accessible via an industrial stairwell that leads you straight into the kitchen, Secret Garden removes the clutter and sound overload from your meal without sacrificing the dishes to which you'll undoubtedly be addicted. Have a cocktail and listen to the eight different languages spoken at the tables around you as you wait for your crab broth served with baby eggplant and black pepper spareribs.
Max Bonem is a writer and eater currently traveling through Southeast Asia. You can follow his travels via his blog, Instagram or Flickr.