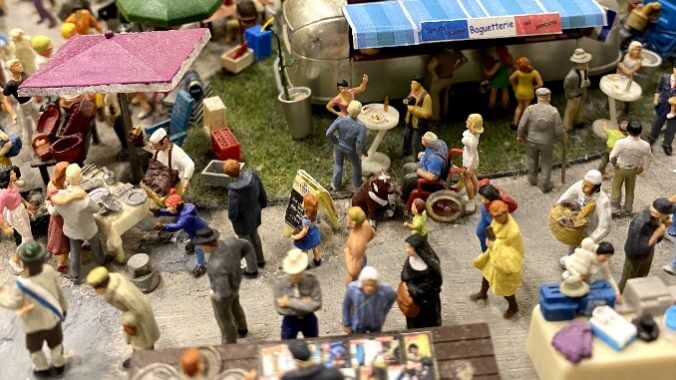 I first encountered Miniatur Wunderland, the world's largest model railway system, through a book. Irish writer Caitríona Lally's 2021 novel Wunderland is both bleak and whimsical, following an odd man named Roy who works as the exhibition's cleaner and his sister Gert, who comes to visit him in Hamburg, Germany amidst her marriage falling apart. Between ruminations on labor and relationships, the story unfolds with Wunderland at its center: a vast yet diminutive world, full of entrancing vignettes once you take the time to look close. 
Co-founder Frederik Braun was inspired to construct Miniatur Wunderland in 2000 after visiting a model train shop in Zurich. He teamed up with his twin brother Gerrit and their business partner Stephan Hertz to bring his dream of building the largest model railway system in the world to life. In 2001, the museum opened, with Gerhard Dauscher as the head of the model making team. The exhibition is made up of separate lands: Central Germany, Knuffingen, Austria, Hamburg, USA, Scandinavia, Switzerland, Knuffingen Airport, Italy, Venice, Fun Fair, Rio de Janeiro, Patagonia, and more to be revealed in the coming years. 
The stats are impressive in and of themselves, with Wunderland boasting 16,491 meters of railroad tracks, 1,166 trains, over 10,450 rail cars, 145,000 trees, and 289,410 tiny figurines. But numbers are just numbers. Being in the presence of these intricately designed and decorated lands is something else entirely.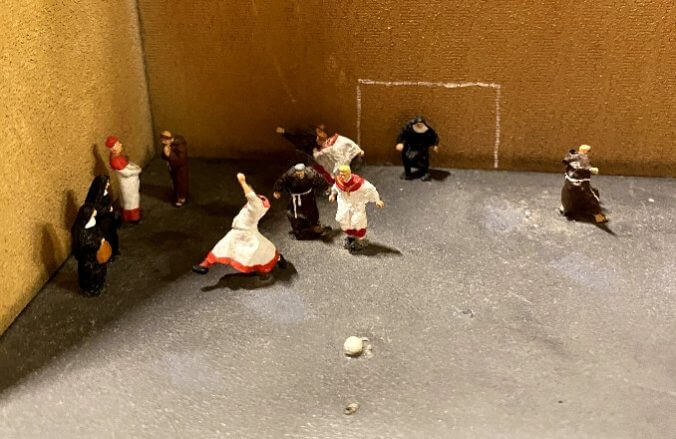 My friend and I were so transfixed that we ended up spending a whole six hours in Wunderland. At first we balked at the 20 euro entrance fee, but it was utterly worth it. I'm not a train enthusiast myself, instead being drawn in by the buildings, immersive landscapes, and colorful figures. Peering down into these painstakingly crafted little worlds brought me back to my childhood days poring over iSpy books or Where's Waldo. Everywhere you looked there was something else wonderful to behold: a family of bears attempting to break into a teddy bear shop; a couple having sex in a field of sunflowers with Cupid perched above them; hippos pulling a carriage in a parade; a teeny tiny funeral; Chewbacca and some Ewoks in a forest; a busted ATM spewing out minuscule bills to elated passersby. I was immediately a child again. 
And then there's the interactive aspect. Along the outline of these lands are buttons that trigger various actions. They make a volcano go off, play Guru Josh Project's "Infinity 2008" at the The Blue Oyster dance café (a tribute to Police Academy), produce a delicious rectangle of Lindt chocolate for the lucky button pusher, make a couple get so busy in their Venice apartment that the building falls apart, and so much more. Planes land and take off at Knuffingen Airport, or occasionally a bumblebee or the Millennium Falcon instead. At random intervals a castle will "catch fire" (light up red and orange), and little fire engines zoom up for damage control. Wunderland also takes the opportunity to educate visitors, showing the division and reunification of Berlin in dioramas focusing on a single intersection in the German capital. Every 15 minutes or so (that's an estimate—time lost all meaning in there) night falls, and the lights of these pocket-sized cities would shine bright in the darkness. The lighting design is phenomenal, with red and blue hues overlapping exquisitely as "morning" brightens the exhibit once more. The imagination runs wild taking in these whimsical details.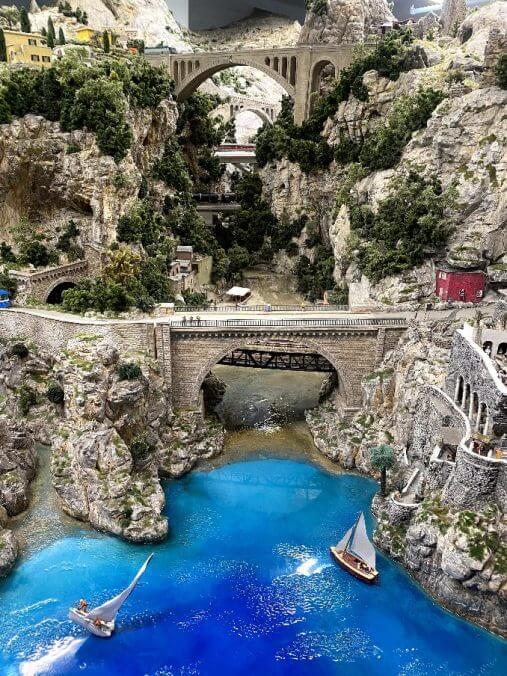 We arrived a bit before 6 p.m., anticipating that it would take three hours max to get our fill of the place. In reality, we didn't even finish the whole museum by the time we left around midnight (the museum closes at 1 a.m. most nights, and trust me: it's necessary). My friend and I ended up skipping dinner, though we didn't have to—Wunderland has its own cafeteria, with a pasta bar, curry sausage, schnitzel, beer, soda, and more. They even note on their website that it's okay to bring your own food and drink in. We fortified ourselves with some french fries, eaten at one of the tables designed to look like you're on a train, with a backlit window image beside it. 
My head was spinning by the time we returned to the red brick streets of Speicherstadt, Hamburg's warehouse district. I'd only experienced a fraction of Miniatur Wunderland, and there was something heady knowing that I'd left so much unexplored. During the remainder of my stay in Hamburg, I found myself looking at the city differently. I began looking out for the everyday stories going on around me; sure, maybe there weren't hippos parading down the streets, but there was still so much to marvel at. People connecting, pigeons roosting on roofs, gorgeous buildings standing at attention. Wunderland is a miraculous spectacle that makes you appreciate the wonders of the world around us.
---
Clare Martin is a cemetery enthusiast and Paste's assistant comedy editor. Go harass her on Twitter @theclaremartin.