Trains are cool. Low-tech and slow. But cool.
They're also a first-rate, if not more convenient, way of seeing both the undeveloped and civilized world. Take a seat, relax and breathe easily, and let the moving scenery do all the work.
Call it a porch person's preferred mode of transport, albeit a sometimes-expensive one. But however you describe it, you can slow your roll with one of these: the world's most glorious train rides. All Aboard!
Trans-Siberian Express
Russia, Mongolia, China
May as well start with the world's most famous train experience. Originating in Moscow, the legendary Trans-Siberian Express (pictured above) migrates across 6,000 miles, two continents, and eight time zones—all the way to the easterly edge of Russia. For an extra helping of culture, you can jaunt down to Beijing via Mongolia.
To get an idea of what the Trans-Siberian feels like, close your eyes and imagine crossing Eurasia at 50 miles per hour while listening to this. Depending on cabin quality and destination, a six-day, one-way passage averages $550-900.
California Zephyr
San Francisco to Chicago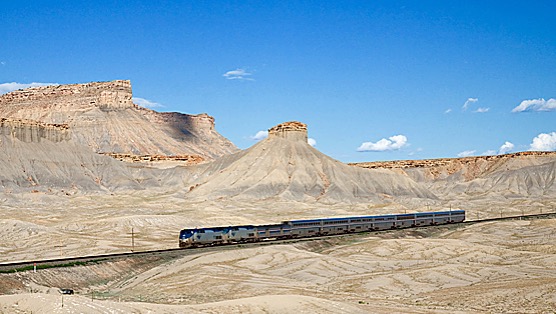 Photo: Amtrak
The death of the American West has been greatly exaggerated. Just ask anyone who's ridden the wild, wicked scenic, and hella diverse California Zephyr from San Francisco to Chicago. The 2,500-mile railway courses through seven states in three days, making it the longest train ride in America and arguably the most dramatic on the continent.
Highlights include some of the country's most remarkable scenery, from the Windy City to the plains of Nebraska, then across the Rockies to Salt Lake City, and through The Sierra Nevadas to where Tony Bennett left his heart. One way tickets and comfort range from $320-1200.
Glacier Express
Switzerland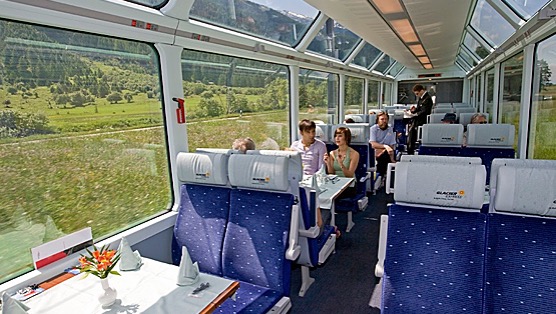 Photo: Glacier Express
The laziest and most picturesque ride through Europe is also the shortest on our list. The seven-hour Glacier Express is really The Alps by train, chugging through 100 tunnels, nearly 300 bridges and several iconic mountain vistas.
Thanks to glass-roofed carriages, you'll enjoy full body shots of the Matterhorn and its snow-capped contemporaries without cricking your neck. Although this puppy's good looks aren't as prolonged or dynamic as others, its potency is just as striking. Tickets from $140-230.
Pride of Africa
South Africa, Zimbabwe, Zambia, Tanzania

Photo: Wikimedia Commons
Deep pockets or a disciplined savings plan. That's what it takes to ride the world's most exotic, luxurious, and excursion-filled train through half of Africa, which is exactly what the Pride of Africa does. In exchange for $11-20 grand, you'll get a 3,500 mile, all-inclusive, 15-day "trip of a lifetime" from a bygone era.
We're talking double-bed, wood-paneled suites (not bunked cabins). Five countries. Two safaris. An overnight at world-renowned Victoria Falls. Diamond mine touring. Sunset river cruise. All meals, drinks, mini-bars and five-star service included.
The Orient-Express
Western Europe, Balkan and Baltic States, Turkey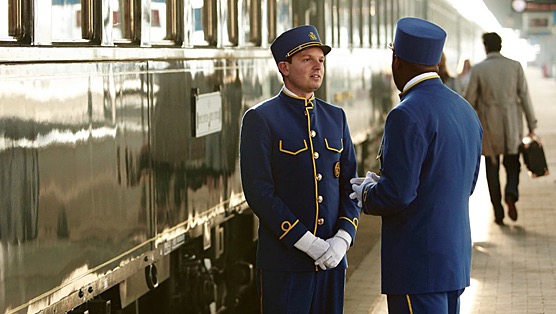 Photo: Bellmond
When most Westerners think of the ultimate train ride, they think of this: The ornately classic and romantically posh Orient-Express. From London to Paris, Venice to Prague, Frankfurt and Vienna, Krakow and Budapest, and Bucharest to Istanbul, this fabled railway slashes through the Old World at countryside speed.
On this much celebrated train ride, you'll enjoy art-deco interiors, five-course dinners and an eye-opening amount of people, places, cultures and things. Multi-day passage ranges $2,300-10,000 depending on duration and amenities.
Off the Grid columnist Blake Snow writes epic stories for fancy publications and Fortune 500 companies. Visit his website and follow his Tweets.