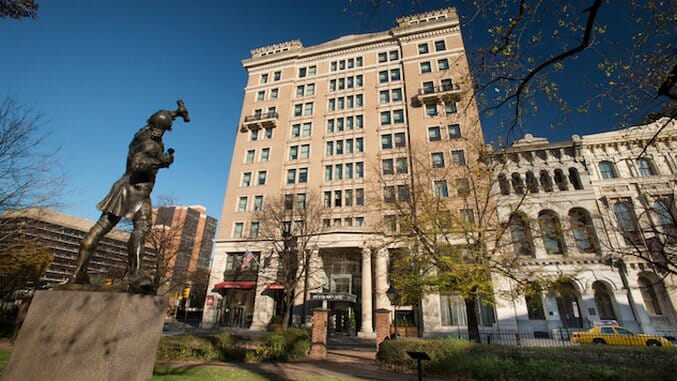 Situated in America's most historic square mile you've got the Liberty Bell, Independence Hall, Betsy Ross' house and then a towering structure built in 1907 that has nothing to do with any of those places. You could say Kimpton's Hotel Monaco Philadelphia sticks out like a sore thumb, but you haven't even been inside yet.
Hotel Monaco is where you pop into when you need a break from the old gray documents and artifacts that fill this square you'll be spending a lot of time in. If you stay here, you have the convenience of Philly's most important landmarks at your feet, while still being worlds away from its ghosts. Let us explain.
First Impressions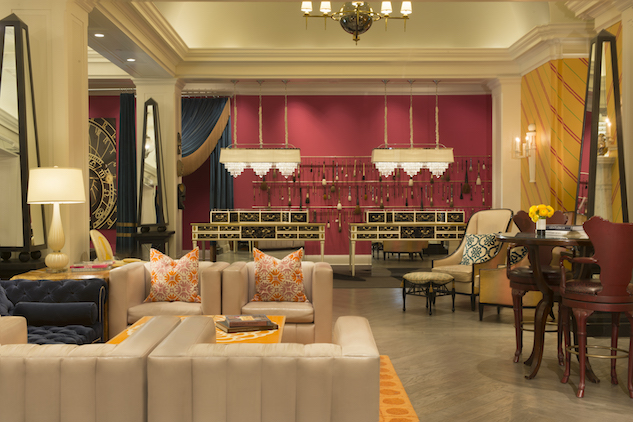 Photo by Paul Gelsobello
The property has a powerful and historical presence, and not just because of its location. The gray brick building with ornate molding oozes early 1900s. Its original name, Lafayette Building, is even still inscribed above its entrance. But, all that changes when you walk in between the columns holding up said molding, under a lower and newer looking sign that says Hotel Monaco and through even newer looking glass doors.
It won't hit you right away; first you're in a fancy mudroom of sorts, with chandeliers and crown molding hanging above. Then you walk further inside and it's kind of like when you enter Jekyll and Hyde and you just stand by the elevators. You're now in a circular room surrounded by elevators and too many doors leading to other places, and above you hangs a massive chandelier in the shape of a huge ship that hypnotizes as it sparkles. You spot the doorway that says reception and head there for safety.
You walk through another circular hallway with nautical wallpaper and into another room (what is this? A maze?!), and it feels like you fell through the looking glass. The official lobby, what they call the Living Room, kind of looks like Home Goods and Target's home section threw up, but regurgitated only the good stuff.
It's as if you took one of those rooms from Betsy Ross' house, had the top interior designer of her time redecorate, and changed the scene from black and white to color.
It is one of the most colorful hotel lobbies we've ever seen and one of the busiest, and not only because of the people coming in and out. There is so much character and kitsch in this space, it's almost dizzying.
Walk around, try out all the mismatched tufted seating; take in the hundreds of antique paintbrushes hanging behind the reception desks, which are chests painted black and white with gold details; open some drawers in the various apothecary tables from Yore (Friends reference); flip through the photography books; admire the wood masks hanging on another wall; play chess on an old wood set; and try to count the different colors and cultures highlighted in this space. And, there's plenty of time to do all this because in the morning they offer free coffee and tea in the lobby, and at night, free wine. So, we'll see you there; we'll be in one of the many hidden nooks, probably the red one (also known as the Love Room).
While at first glance, the property's purpose may seem a bit scattered, Hotel Monaco stays true to its historic roots with carefully restored original wall treatments, moldings and millwork, and the colorful collection antique furniture and accessories are simply nods to its past.
Collect yourself and head back to the ship, where you'll travel up to your room.
The Rooms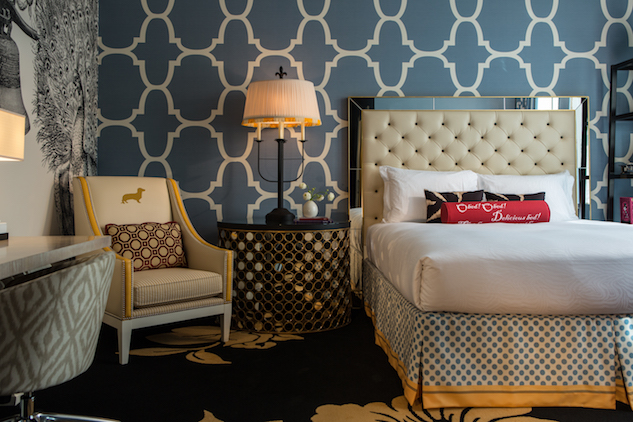 Photo by Chris Molina
The maroon painted hallways feature black and white photographs of Philly and lead to yellow doors, one of which will be yours.
If you were in the lobby thinking, "this is very Alice in Wonderland-y," you hit the nail on the head. The rooms are even more so, and it's not just a theory—some of the rooms have the book on display, confirming that the décor is indeed Mad Hatter-inspired.
The first thing you'll notice is the blue and white scroll tile wallpaper covering almost the entire room and the floor-to-ceiling curtains. If that weren't enough pattern for ya, the black carpet features large yellow flowers, the bed's dust ruffle is white with blue polka dots, the modern desk chair is another Moroccan tile pattern, and a peacock and the Liberty Bell grace the wall across from the bed (at least in our room). On that wall the TV sits in a red entertainment center next to a white desk with antique style legs but a sleek top, and a large mirror reflecting the blue and white wall, in case you missed it (the arrangement varies in other rooms).
If you're overwhelmed, head to the bed, where pure comfort awaits in front of a glamorous white tufted headboard. The Declaration of Independence themed pillows are a cute nod to what's right outside your window.
The bathroom has a completely different blue and white paisley wallpaper (that's three different wallpapers in 400 square feet or less. That's impressive). If you're feeling a little dizzy and came to the bathroom for a break, you'll be happy to see that everything else in here is plain.
The loud and personality-filled rooms make it clear that if you're looking for a peaceful getaway, you've come to the wrong place. But we loved that the liveliness is a far cry from the rest of the city that prides itself in its past.
What Pops
It's safe to say everything about this hotel pops. It may look like a big old building from the outside, but without forgetting it's past it comes to life inside by way of colorful décor and unique finds from all over the world.
We also appreciated all the extra freebies they throw in. As if complimentary coffee, tea and wine at night weren't enough, they also put yoga mats in the rooms, offer hotel bicycles and old fashioned kites, and have Kimpton's famed "Guppy Love Program," giving you the option of having a live goldfish stay in your room overnight. And all of these amenities are free of charge.
The Locale
For Philly first-timers, Hotel Monaco's location in the heart of Old City is ideal. You can see the city's most important landmarks from your window and Independence Park is at your doorstep. Like … come on. And if you're over the history and ready for a little local flavor, you're also a short walk from some of the city's most charming and lively streets.
Address: Kimpton Hotel Monaco Philadelphia
Website: $159 – $616
Room Rates: 433 Chestnut Street
Lead photo by Cris Molina
Maggie Parker is Paste Magazine's assistant travel editor.