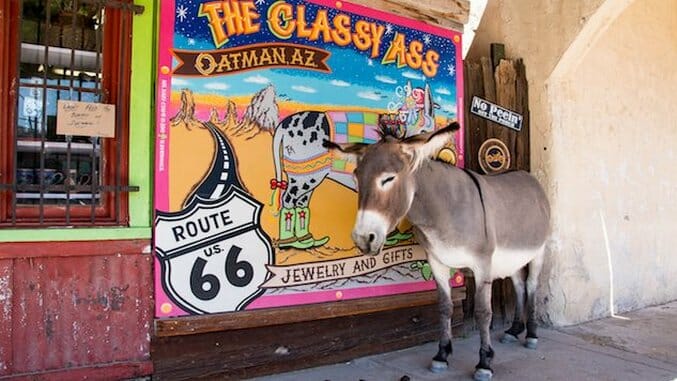 The world-famous, kitsch-covered Route 66 may have been decommissioned in 1985 in favor of the modern interstate, but that doesn't mean you still can't recreate the classic American road trip experience winding 2,500 miles through eight states from Chicago to Los Angeles. Founded in 1926 as an essential artery of the expanding American West, "The Mother Road" continues to offer adventure and a sense of exploration for travelers willing to get off the main drag and seek out a more intimate driving experience. Here are the seven coolest stops along one of the best ways to discover the stunning beauty of the American West.
1. Fantastic Caverns, Missouri
Here you can ride a Jeep-drawn tram through an underground cave that once held concerts and hosted speakeasies. "America's Only Ride Thru Cave" was first discovered in 1862, and these days offers a unique if slightly touristy cruise along the path of an ancient river through trippy red rock formations and stalactites. While here check out the historic town of Springfield, Missouri, a surprisingly happening place with a surging organic food movement, burgeoning craft beer scene and fair trade chocolate factory. The town is also known as "The Birthplace of Route 66," so it's an appropriate first stop.
2. Blue Whale of Catoosa, Oklahoma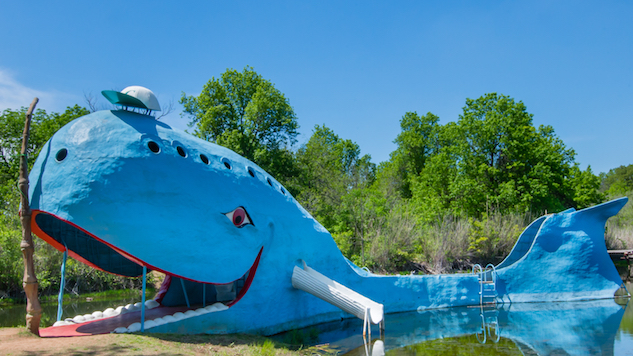 Photo by Steve Lagreca/Shutterstock
You can't have Route 66 without the weird roadside attraction characters. From the World's Largest Catsup Bottle in Collinsville, Illinois to California's Wigwam Village, Route 66 is the world's No. 1 road for random shit you need to pull over to inspect further. And it doesn't get more random than the Blue Whale of Catoosa which is, yes, just like it sounds: a big blue whale on a lake that you can walk through, for some reason. Featured everywhere from American Pickers to An Idiot Abroad, it's long been a Route 66 favorite and is still more than worthy of your attention.
3. Palo Duro Canyon State Park, Texas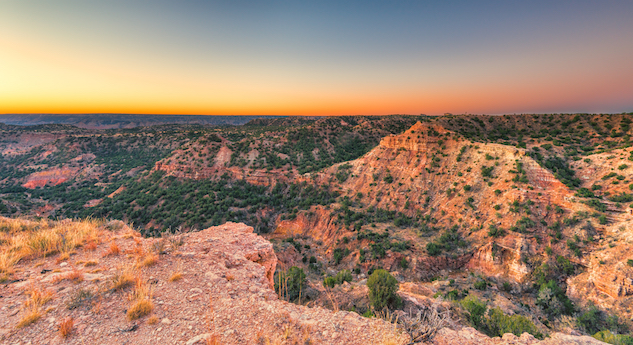 Photo by Patrick Jennings/Shutterstock
Close your eyes and picture the American West. You're probably picturing something remarkably similar to Palo Duro Canyon State Park, which encompasses everything that makes the great American West great. Often overlooked in favor of more famous contemporaries like the Grand Canyon, this 70-mile "Grand Canyon of Texas" features badass John Wayne-style landscapes and under-the-radar activities like seeing live music at its picturesque outdoor Pioneer Amphitheatre (which is pretty much a mini Red Rocks with more steel pedal). You can also camp or sleep in historic brick huts for rent. It sure beats snoozing in a Super 8.
4. Cadillac Ranch, Texas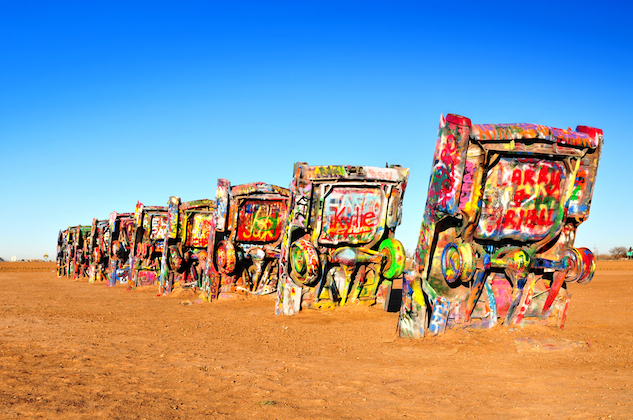 Photo by Edwin Verin/Shutterstock
This oddball public art installation might seem like a mirage (or an acid flashback) in a deserted cow pasture, but it's all too real. Wipe your eyes a second time and start exploring the brightly colored Cadillacs that are half buried in the dirt and laid out along a row that was precisely built at an angle corresponding to Egypt's Great Pyramids. But who the hell knows why. These days you are encouraged to leave your mark on the crazily decorated Instagram-worthy vehicles, which were created in 1974 by infamous San Francisco art collective Ant Farm, with your own graffiti or spray paint art.
5. San Miguel Mission, New Mexico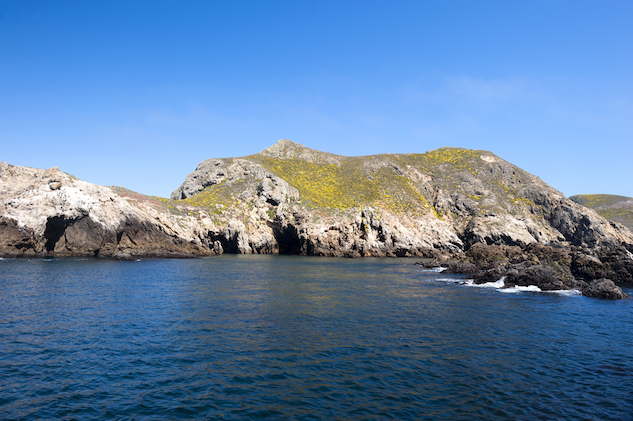 Photo by pmphoto/Shutterstock
Santa Fe is easily one of the most stunning cities in America, and the Spanish colonial church San Miguel Mission is just one reason to visit this unique paradise of historic adobe architecture with a rockin' downtown bar and restaurant scene. San Miguel Mission, built between 1610-1626, is the oldest church in America and something right out of ¡Three Amigos! The rest of downtown Santa Fe can be easily explored by foot as you park the car and take in the 16th century Palace of the Governors (the oldest public building in America) alongside a thriving local native art scene.
6. Oatman, Arizona
With wild mules (or "burros") roaming the streets of this historic mining town, Oatman (pictured at top) is one of those cities that looks like it could be a Wild West movie set. But it's an actual town (population 134) where you can do weird shit like try to fry an egg on the sidewalk during the annual Oatman Egg Fry or watch reenactments of cowboy-era shootouts right in the middle of Route 66. Grab a drink at the historic Oatman Hotel and be sure to stop by pretty much any local store to pick up some hay cubes (aka "burro chow") that you can use to hand feed the mules.
7. Painted Desert Inn, Arizona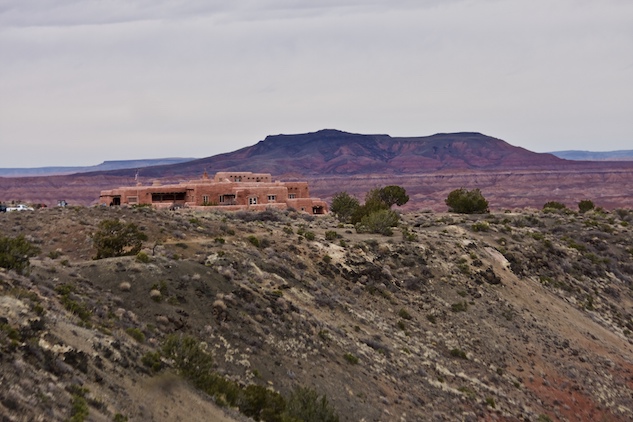 Photo by CAVORT/Shutterstock
Route 66 is famous for its cheeky roadside motels, but for a less cheesy and more authentic experience look no further than Navajo lodge complex of the Petrified Forest National Park's Painted Desert Inn. The national historic landmark currently only operates as a museum overlooking the scenic Painted Desert badlands, but that shouldn't stop you from pulling over to admire the Native American murals and colorful natural beauty that surrounds the inn on all sides. While you're here, stretch your legs on hikes through rugged moon-like terrain before embarking on the final leg of the road that terminates at California's Santa Monica Pier.
---
Jay Gentile is a world traveler and freelance writer whose work has appeared in a variety of publications including SPIN, VICE, Chicago Tribune, Thrillist and Consequence of Sound.