Skiing in Japan: Powder Paradise in the Land of the Rising Sun
Main photo by Adam Pretty/Getty
Travel
Features
Skiing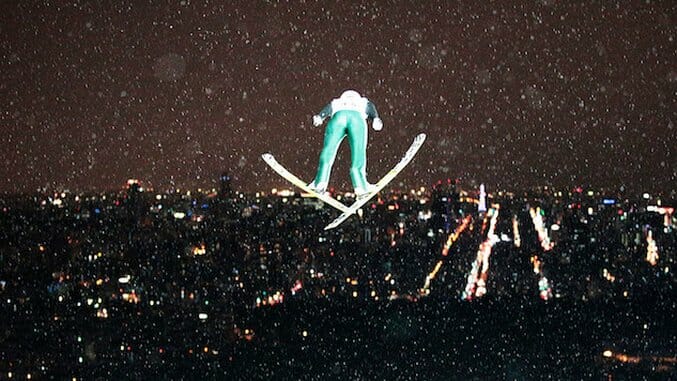 Japan doesn't always leap to mind when it comes to amazing destinations for skiing; only expert powder hounds know it doubles as the Land of the Rising Snow.
Each year, a lucky quirk of nature—arctic air from Siberia slamming into the Sea of Japan Jetstream—combines to dump an average of between 25 and 63 feet of cloud-soft powder on Hokkaido, the country's northern most island. Hokkaido has more than a dozen resorts to choose from. Kiroro, located about 90 minutes from the New Chitose Airport in Sapporo, has flown under the radar for years, but that's changing.
If you're looking for a change of ski scenery, here's how the Japanese do it, and how we experienced it.
Skiing
Early-season skiing is often a crapshoot; while my first two days on the slopes of Kiroro were fun, they weren't the most inspiring. However, on the second to last day, more than a foot-and-a-half of the fluffy stuff dumped on the trails. Plans were quickly changed (it helped the local roads were closed for much of the day) so we could hit the slopes.
Utah has long bragged about having the best snow on earth, but Hokkaido may actually be its equal. The powder transformed the runs that were perfectly groomed the previous day, making them that much more difficult and fun. As I picked up speed gliding from powder stash to powder stash—go too slow and you'll get mired in the knee-deep white—my legs burned from the effort and my lungs seared from the cold air and my hoots of joy.
Off-piste skiing is officially frowned upon at Kiroro, although I may have ducked into the white birches and pines a few times, dodging the bamboo undergrowth peaking out from the blanket of white. More adventurous skiers can join the backcountry access club, adding more than 22 powder areas spread out over 2,500 acres.
At just over 2,000 feet of vertical drop, Kiroro's two mountain peaks are roughly about the same height as Utah's famous Alta resort. Nine lifts service 21 runs that are perfectly balanced for all abilities—about 40 percent advanced, 30 percent intermediate and 30 percent beginner. It's rare to have to wait more than a minute or two for a lift.
If you want to get a true peek into Japanese ski life and culture, Kiroro is the place, as only about one percent of the resort's visitors come from North America. Luckily, if you run into language trouble, a sizable number of the resort staff come from Australia, so there's always someone to translate if needed (or you can try my method: a few common phrases and a perpetually confused look on my face).
Kiroro has a reciprocal relationship with the Powder Alliance, giving pass holders from Sierra At Tahoe, Snowbasin and 12 other North American ski resorts free three-day lift tickets. If you need a change of pace for the day, there are four other ski areas within an hour of the resort. (Note: these ski areas are not all in the powder alliance).
Traveling light? Not only can you rent standard winter gear—skis, snowboards, boots—at the resort, but also snow pants, parkas, hats and gloves. If you're planning to visit other parts of Japan afterward, this option is a godsend.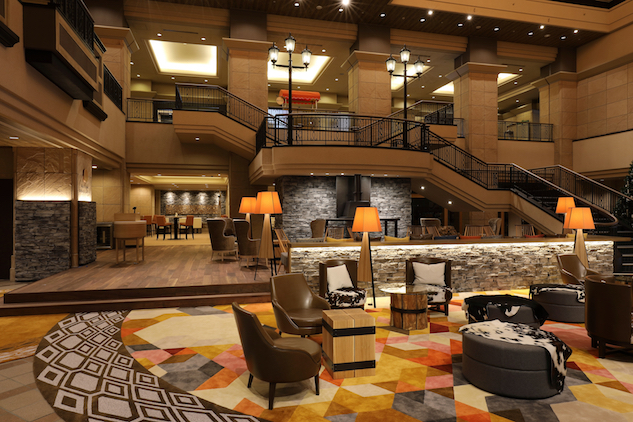 Photo by Robert Annis
Lodging
The results of the hotel's expansive renovation are evident upon walking into The Kiroro, a Tribute Portfolio Hotel (pictured above). It's as if the natural world follows you inside, with elements of leather, iron, stone and wood represented throughout. Custom tapestries inspired by the iconic owl and promoting peace, quiet and tranquility are found in the lobby and each of the 282 rooms. The rustic-modern lobby is exceedingly cozy, with a large tile fireplace that's perfect for gathering around and warming your chilly bones after a day on the slopes. The rooms are a bit on the minimalist side, but exceedingly clean and well appointed. The bulk of the rooms come equipped with two single beds, so you may want to request one of the kings if you're visiting with a significant other.
While The Kiroro is independently owned, it also happens to be a member of the Tribute Portfolio network, so you can take advantage of all the perks of being a Marriott or Starwood Rewards member.
Everything you need for several days on the slopes is contained in the small base village attached to the hotel. The resort shop not only sells souvenirs and snacks, but also outerwear for the slopes. Run out of clean underwear? There's a coin-operated laundry area as well. A fitness center and swimming pool will keep you occupied if you're looking for an additional workout.
Powder skiing is a blast, but you can definitely feel the affects throughout your body afterward, so I took advantage of the hotel's onsen, a traditional Japanese bath with water piped in from an underground hot spring. Easing my tired body into the 100-degree mineral water, I could feel the aches and pains being soaked away.
But a couple of warnings: while the Japanese consider the onsen to be a social activity, the experience is very ritualistic, and many frown upon foreigners clumsily taking part. If you have any hang-ups about being completely nude in a tub with strangers, this might not be for you.
Tattoos have long been associated with the Yakuza, aka the Japanese mafia, and although that cultural association seems to be diminishing, many older and middle-aged Japanese still consider them taboo. I was so excited to try the onsen that I accidentally overlooked a sign banning anyone with tattoos, which included me. I wasn't kicked out, but during my 30 minutes or so going from tub to tub, alternating hot and cold soaks, no Japanese would join me and several even scowled in my direction after noticing my ink. One went so far as to plop down in the kiddie pool instead of next to me—his arms and legs hanging outside the tub's edge.
If The Kiroro is booked, the neighboring Sheraton is attached to the ski resort itself and offers more than 140 reasonably priced rooms.
Eating
Given its coastal location, seafood is abundant throughout the areas surrounding Kiroro. In Otaru, about 30 minutes away, most restaurants are fairly unassuming, but serve amazing food. I was blown away by the sushi at Shikamazushi; the eel, abalone and tuna rolls are the best I've ever sampled. Each piece had a small dollop of wasabi tucked underneath the meat, giving it just a dash of heat. The fish was so fresh, you'd swear it was caught just moments before it was filleted and served on rice.
When flying into or out of Sapporo, make sure to stop at Allegla, where locals and hungry tourists alike devour the curried noodles. The seating area is a little small, but clean and modern. Get there early or call ahead for a table.
The Kiroro has six restaurants on-site, including the Shunsai steakhouse that served the best prime-cut Angus beef I've had outside the continental U.S. Thick cut and tender, the steak practically melted in my mouth.
My favorite spot was Yanshu, where patrons barbecue thinly sliced chicken and pork on a charcoal grill at their own table. As most Japanese chefs prefer to err on the side of raw—I saw less blood in the Nightmare on Elm Street movies—this may be your best option if you prefer your meat a little more well-done. Jetlagged, I kept nodding off during dinner, my face drooping ever so close to the grill; had we stayed for another round of drinks, I'm sure I would have drifted off just long enough for my beard to catch fire.
Drinking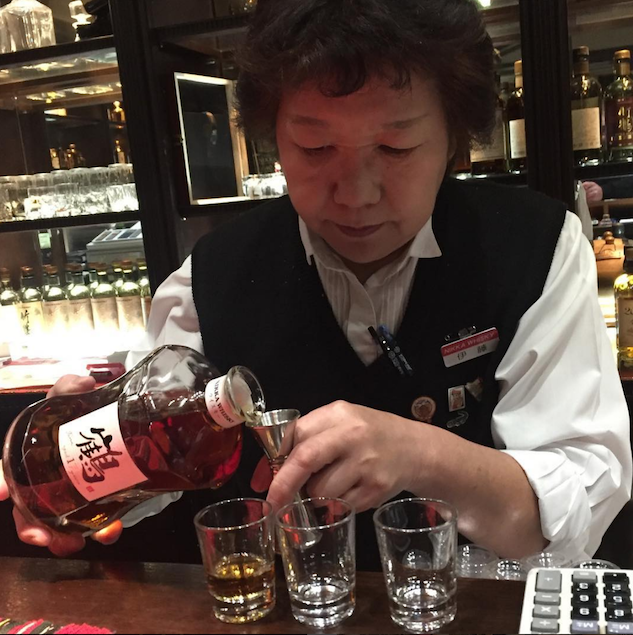 Photo by Robert Annis
As my travel companions and I were about to head out to Nikka Whisky's Yoichi Distillery (pictured above), a giggling Japanese woman looked at me and laughed (which, truth be told, isn't that unusual). It turns out with my blue eyes and long, reddish beard, I bore an uncanny resemblance to the whiskey maker's Scottish mascot. Japan loves its whiskey, becoming one of the world's largest importers and exporters of the liquor. Nikka Whisky operated one of the first distilleries in the country, Yoichi Distillery, which started after Masataka Taketsuru returned home from Scotland in 1920, bringing with him the secrets of whiskey-making and a Scottish bride—as one does.
On the distillery tour, we learned all about the happy couple and the distillery, but we were much more excited about the samples. The first three samples are free in a somewhat sterile tasting room next to the gift shop. But for the special whiskies, like the acclaimed 17-year-old malt whiskey that you can't buy in the states, we had to backtrack to the museum, where we gathered around an old pub-style bar and forked over a few hundred yen for the experience. We slowly savored the shots, relishing that sweet burn as the whiskey traveled down our throats.
In nearby Otaru, you'll find a German brewery along the city's gorgeous canal. Inside the authentic Bavarian beer hall, Otaru Soko No. 1 serves up one of the best dunkels east of Munich. A dark beer with a hint of caramel, it went down smooth with a light, malty finish. I could have spent hours there sampling the various beers, but unfortunately we were running late for our dinner reservations.
Make sure to schedule your flight so you can visit the acclaimed Sapporo Brewery makers of some of Japan's most popular beers. Learn about the history of beer in the Far East, then enjoy some samples of their freshly brewed stouts, ales and lagers.
After spending nearly a decade as a reporter for The Indianapolis Star, Robert Annis finally broke free of the shackles of gainful employment and now freelances full time, specializing in cycling and outdoor travel journalism.