The Most Exciting New Theme Park Rides and Attractions of 2023
Main photo courtesy of Universal
Travel
Lists
theme parks
The theme park business was back to full speed in 2022, but 2023 will truly feel like the first full post-pandemic year for the business, even if covid's clearly not going anywhere. A number of new rides and attractions that would've launched a year or two ago will finally open after pandemic delays, including the long-in-construction Tron coaster at Disney World and the Moana-themed walkthrough at Epcot. Meanwhile Universal's Super Nintendo World, easily the most anticipated new themed land since Star Wars: Galaxy's Edge, finally makes its stateside debut at Universal Studios Hollywood. Elsewhere a spate of exciting new coasters will be opening at parks around the country, and a whole new theme park devoted to the toys of Mattel will debut in Arizona. There's a lot to keep track of in theme parks this year, so let's get to it. Here are the most exciting and most anticipated new theme park projects of 2023.
10. Journey of Water, Inspired by Moana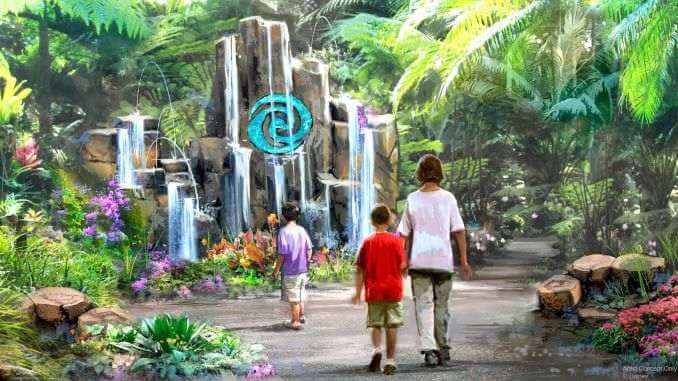 Concept art from Disney
Location: Epcot at Walt Disney World
Opening Date: Late 2023
Epcot was scheduled to receive a wide-scale reinvention for its 40th anniversary but the pandemic derailed a lot of those plans. One of the announced projects that is being completed, though, is this walkthrough exhibit themed to the movie Moana. Expect an "interactive trail" full of water features that'll be fun to play with while also teaching us some kind of lesson about how crucial water is to life and the planet. Despite the movie tie-in, it sounds like it'll try to live up to the edutainment legacy of Epcot, something I'm totally on board with. There's no opening date yet, but Disney says it should be running late in the year.
---
9. Wildcat's Revenge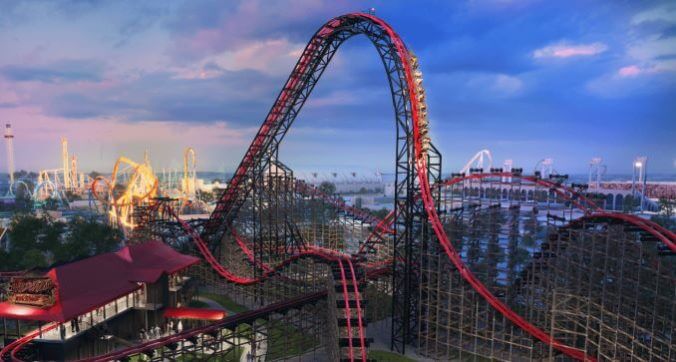 Concept art from Hersheypark
Location: Hersheypark
Opening Date: TBD 2023
I'm not a major coaster guy, but as long as I can fit in the restraints and have some dramamine on hand, I'm game for almost anything. Wildcat's Revenge converts a classic Hersheypark wooden coaster into a steel hybrid, which should smooth out some of the bumpiness of the original. Rocky Mountain Construction is handling the job, and they have a great track record of building hybrids that preserve the spirit of the original coaster while making it both more thrilling and more comfortable to ride. With four inversions, over 3500 feet of track, and a top speed over 60 MPH, Wildcat's Revenge will hopefully be another top-notch coaster from RMC and Hersheypark.
---
8. Catapult Falls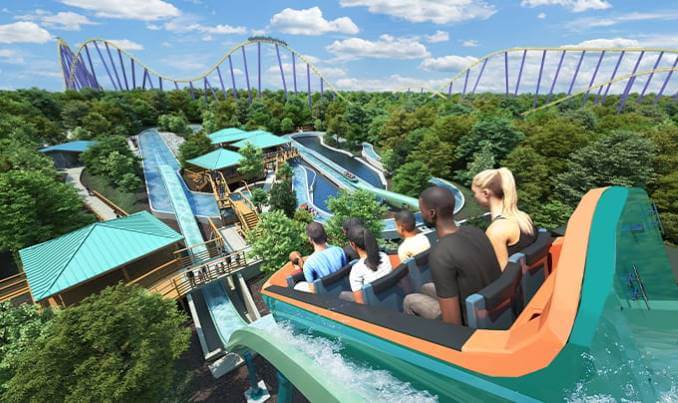 Concept art from SeaWorld
Location: SeaWorld San Antonio
Opening Date: TBD 2023
SeaWorld is calling Catapult Falls a "launched flume coaster," and if you're up on your ride jargon you probably have a good idea of what that means. If you don't, imagine a typical flume ride (a la Disney's Splash Mountain) but with a high-speed launch like a roller coaster, and speeds that (while not extreme) are closer to what you'd find on a coaster than a normal log flume. It'll also have a vertical lift, which is also something you're more likely to see on a coaster than a flume ride, and which will be a first for American flume rides. I have to imagine that you'll need a lot of opportunities to cool off at a park in San Antonio, and jazzing up a flume with some coaster-style thrills seems like a smart way to kill two birds with one stone.
---
7. Mickey and Minnie's Runaway Railway at Mickey's Toontown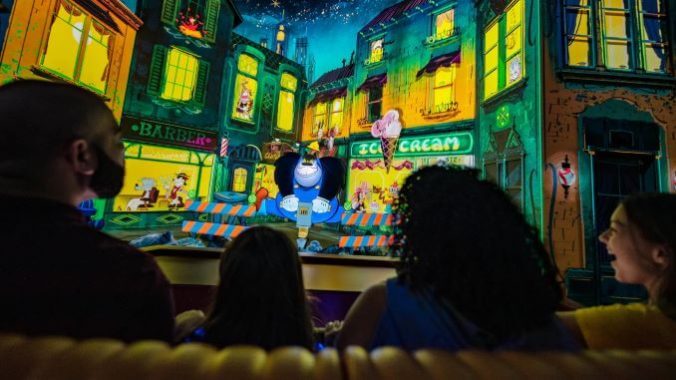 Photo of original Runaway Railway ride at Disney World, courtesy of Disney
Location: Disneyland
Opening Date: Jan. 27, 2023
Disneyland's version of the Hollywood Studios dark ride opens next week, and guess what: I'll be there for it. Look for my thoughts on the new version of the ride late next week. I dig the original, which is a colorful, adorable sprint whose unpredictable motion makes it more thrilling than you might expect. Disneyland is already incredibly rich when it comes to rides, but this should be an excellent addition to the original Disney park, as well as something that'll drive increased traffic to the Toontown area at the back of the park.
---
6. Mattel Adventure Park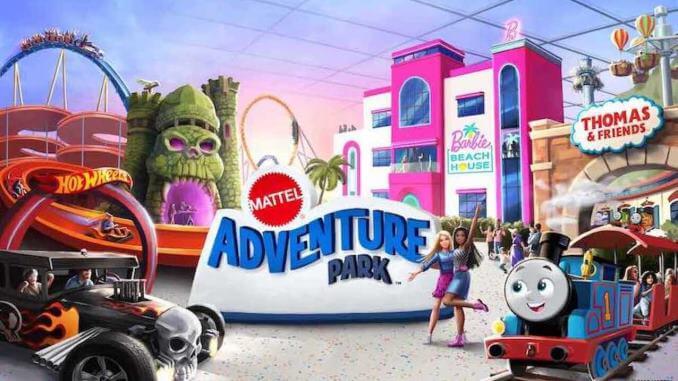 Concept art from Mattel
Location: Glendale, Arizona
Opening Date: TBD 2023
Florida and California have never had a monopoly on amusement parks, but they're synonymous with theme parks due to the extreme popularity of Disney and Universal. More companies are trying to branch out, though, opening smaller, regional parks in different states in hopes of attracting audiences who can't make it to the coasts or are just looking for something different. Mattel Adventure Park might be the most ambitious such project yet. The upcoming park is being built right outside Phoenix and will feature attractions based on such evergreen Mattel toys as Barbie, Hot Wheels, He-Man and the Masters of the Universe, Thomas the Tank Engine, and more. Mattel is touting rides for all ages, from child-friendly experiences to a launch coaster with two loops (seems like a natural fit for Hot Wheels, huh?), along with restaurants, shopping, and other expected theme park offerings. The location should be a huge boon—Phoenix is a top 10 market, but just far enough away from Disneyland and Universal Hollywood to not be an easy drive. That's untapped potential, and few companies have more iconic IP to capitalize on than Mattel.
---
5. ArieForce One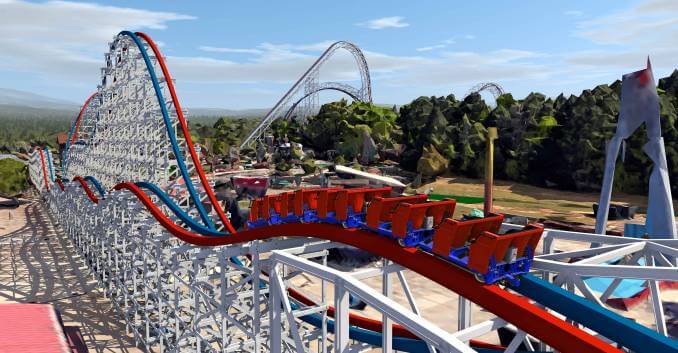 Location: Fun Spot Atlanta
Opening Date: TBD 2023
ArieForce One was originally scheduled for 2022, but the biggest investment in Fun Spot's history is now looking at a 2023 premiere. The massive coaster from Rocky Mountain Construction will boast a top height just over 150 feet, with its largest drop registering at 146 feet. Expect 3400 feet of track, a top speed just under 65 mph, four inversions, and a maximum of G-force of 3.75. In other words, this is a serious damn roller coaster. It's a bit of a shock that it's coming to Fun Spot Atlanta, the third and newest Fun Spot park, and the only one that isn't in the Orlando area. We'll take it, of course: Paste's hometown of Atlanta needs all the thrill rides it can get, and ArieForce One should instantly make Fun Spot is a true competitor for Six Flags over Georgia. (Fun Spot apparently negotiated with the Atlanta Hawks for a licensing deal for this coaster, meaning we could've gotten the world's only Trae Young roller coaster. Bummer.)
---
4. Pipeline: The Surf Coaster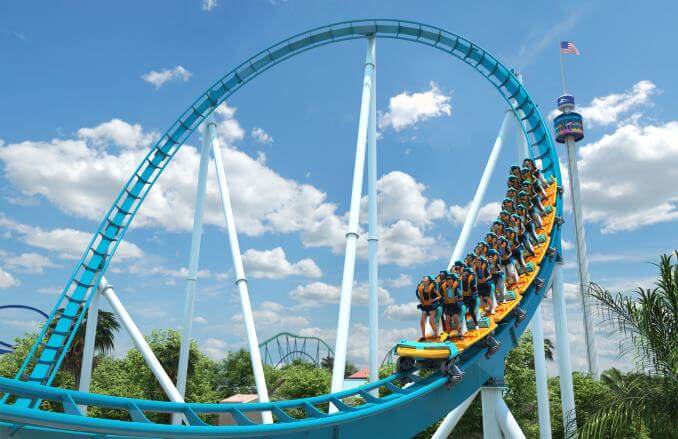 Concept art from SeaWorld
Location: SeaWorld Orlando
Opening Date: Spring 2023
SeaWorld Orlando's transformation from an animal-based to a legitimate thrill park continues with Pipeline, a new coaster ridden in a fairly uncommon way. Instead of sitting, lying down, or dangling from an overhead track, guests will stand upright on a vehicle made to look like a surfboard. Although it's not technically classified as a "stand-up coaster"—it offers a wider range of motion to the rider than a traditional stand-up—it's still the first standing coaster built anywhere since the more traditional Georgia Scorcher opened up at Six Flags over Georgia in 1999. Pipeline aims to combine a sensation of surfing with the thrills of a coaster, and to that end riders can expect an inversion, a top speed of 60 mph, and a height of 110 feet. (They can also probably expect an interminable number of "surf's up" and "hang 10" references in the Pipeline's ad campaign.) You can hit the waves yourself when The Pipeline opens this spring.
---
3. Big Bear Mountain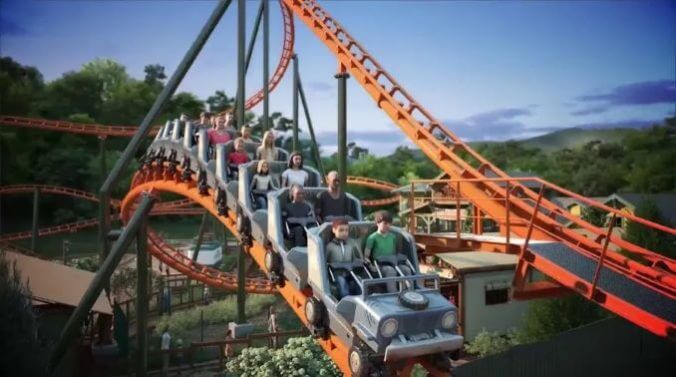 Location: Dollywood
Opening Date: TBD 2023
Dollywood's status as a legit world-class coaster park always seems a little incongruous with Dolly Parton's image. When I first visited years ago, I expected her namesake theme park to have a better balance between hardcore thrills and all-ages attractions—something a little more like Disney and a little less like Cedar Point. Wildwood Grove helped a lot when it opened in 2019 with a variety of family-friendly rides, and now the area is set to get its biggest attraction yet with Big Bear Mountain, a coaster that seems roughly equivalent to Disney coasters like Big Thunder Railroad or Space Mountain when it comes to thrills. It stays under 50 mph and tops out at 66 ft tall, with no inversions and a minimum height of only 39 inches. A lot of kids who can't ride some of Dollywood's other coasters will be able to ride this one, making it into a kind of intro point for kids just getting into coasters. It'll have a story about hunting the mythical Big Bear, and the ride vehicle will look like Jeeps and have on-board audio to help tell a story. All told Big Bear Mountain looks like a lot of fun, and should fill a valuable slot in Dollywood's long list of roller coasters. For more information, check out my piece on Big Bear Mountain after seeing the ride vehicle and interviewing Dollywood president Eugene Naughton at 2022's IAAPA Expo.
---
2. Tron: Lightcycle Run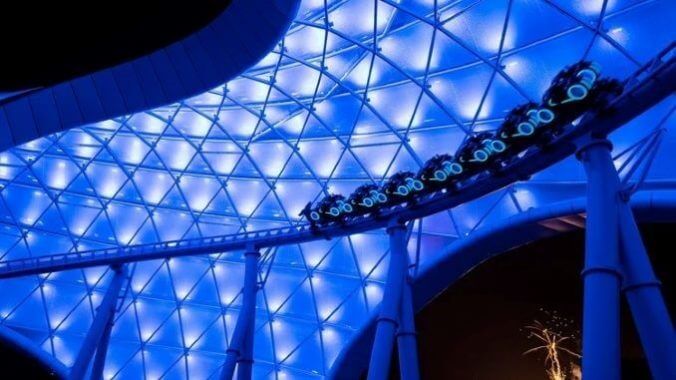 Photo courtesy of Disney
Location: Magic Kingdom at Walt Disney World
Opening Date: April 4, 2023
Originally developed for Shanghai Disneyland, Disney's motorbike coaster based on the Tron movies will make its stateside debut at the Magic Kingdom in April. If you've been to Disney World in the last couple of years, you've no doubt seen the massive new building next to Space Mountain in Tomorrowland. That's where you'll be able to strap yourself into the new ride's motorcycle-style vehicle and blast off into a recreation of the popular lightcycle races from the Tron movies and games. This is Disney, so don't expect some record-setting beast of a coaster; do expect a fantastically designed multimedia experience that isn't focused solely on how fast or high it takes you.
---
1. Super Nintendo World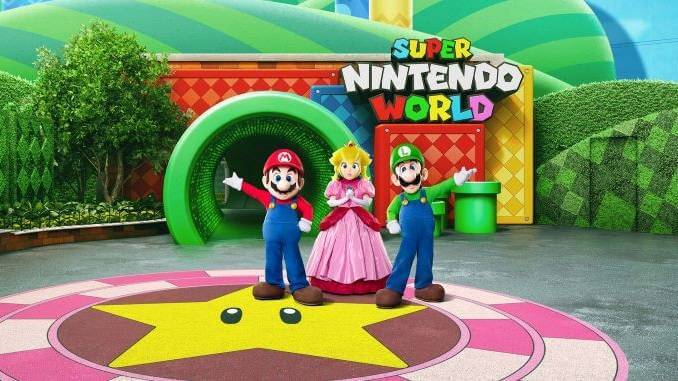 Photo courtesy of Universal
Location: Universal Studios Hollywood
Opening Date: Feb. 17, 2023
This shouldn't be a surprise. Universal's collaboration with Nintendo was first announced in 2015, and America's been waiting for a chance to visit Super Mario's Mushroom Kingdom ever since. The pandemic pushed back every version of it across the globe, though. The Japanese original opened just about two years ago, but due to travel restrictions it was hard to fly over for it until late last year. YouTube videos that showed the land's amazing level of detail and interactivity only made the wait feel even longer. Fortunately Super Nintendo World will make its official U.S. debut in just under a month, with its own version of the AR-augmented Mario Kart: Bowser's Challenge ride and a variety of interactive games throughout the land. I haven't had a chance to check it out yet myself—I'm literally counting the days down until I get a preview in February—but it sounds amazing, based on previews and early reviews from writers who have already made a trip to Hollywood to check it out. A larger version with two more rides should be opening in Orlando in 2025 as part of Universal's Epic Universe, but until then all Nintendo and Mario fans will have to journey to California for a taste of the Mushroom Kingdom.
---
Senior editor Garrett Martin writes about videogames, comedy, music, travel, theme parks, wrestling, and anything else that gets in his way. He's on Twitter @grmartin.