Jeff Daniels, Brendan Gleeson Set to Portray James Comey and Donald Trump in New CBS Miniseries
Photos by Fred Duval/Getty, Brian To/Getty
TV
News
A Higher Loyalty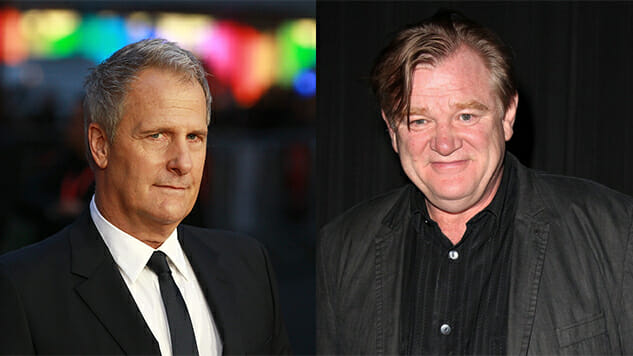 CBS Studios is taking advantage of an administration ripe with fodder for satire, comedy, drama and perhaps even horror adaptations with a forthcoming show, and fear not, Donald Trump is not being portrayed by Alec Baldwin. CBS TV Studios has found its leads for a new miniseries based on James Comey's memoir A Higher Loyalty: Truth, Lies and Leadership. Jeff Daniels (To Kill a Mockingbird, The Newsroom) will portray former FBI director James Comey, while Brendan Gleeson (Mr. Mercedes) is in need of an orange spray tan to play Donald Trump, who fired Comey back in May 2017, per THR.
Comey was one of the first to be fired in a long list of vacated positions in the White House and other branches of government throughout Trump's presidency. Comey's dismissal lead to the writing of A Higher Loyalty, which sold 600,000 copies in its first week in 2018.
The book follows Comey's time as FBI director starting in 2013 and delves into topics that made Comey's name a constant in headlines at the time: investigations of both Democratic nominee Hilary Clinton's use of a private email server as secretary of state, and in Russian interference with the election. No word yet on who will play Clinton (assuming she will be featured in the show). Serial Clinton impersonator Kate McKinnon would probably be up for the job, were comedy the goal, but it seems writer and director Billy Ray (Captain Phillips), who spent a year researching for the project, is looking for more realism.
Based on words in the title of Comey's memoir, it seems questions of honor and truth will thread heavily throughout the series. The title alludes to the testing moment between Comey and Trump, when Trump allegedly asked Comey for "loyalty" during an investigation of former national security adviser Michael Flynn, and Comey chose the high road.
No premiere date has been set, although production is scheduled to begin in November. CBS executives have yet to decide whether the project will air on Showtime, CBS All Access or both platforms.
Ray will executive produce alongside Alex Kurtzman, Shane Salerno and Heather Kadin. The project comes from Kurtzman's Secret Hideout, The Story Factory and Home Run Productions in association with CBS TV Studios.