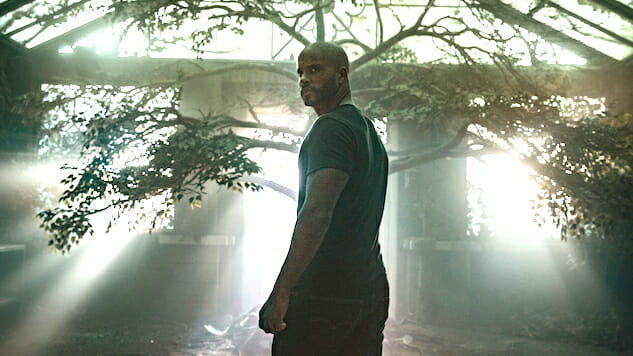 Fear is a certain kind of belief. I once heard in church when I was younger that you can't be afraid of God and not believe in God at the same time—which is a sentiment Wednesday (Ian McShane) would agree with. Being afraid of something makes it real in your mind, and then that possibility exists in the world because you're worried about it.
"Moon Shadow" explores what fear can make real. The opening shows a War of the Worlds scenario, in which a family on a farm in New Jersey listen to a radio show describe an alien invasion. Only when the family hears it, they don't know it's fiction, so they react as if it's real.
The beginning of the episode looks like a horror movie, starting in black and white and panning from behind a scarecrow over to the small farm he's guarding. A family sits listening to the radio, relaxing in the evening. As the program describes the alien invasion, each member of the family stops what they're doing and pays closer attention to what they're hearing. You can see the fear seep into their faces as the mother clutches her heart and the father reassuringly reaches for his daughter's shoulder. Once they've heard enough, they get in their car and drive away.
This same scenario essentially plays out over the rest of the finale for Shadow (Ricky Whittle) and the other pawns in Wednesday's game. (And just in case you're not sure that Wednesday is playing them all, Orlando Jones' Nancy and Demore Barnes' Ibis play chess the entire episode.) I've long said that Wednesday's war doesn't seem to matter—and it seems like that's because he pulled a War of the Worlds himself and made it all up. And now that Shadow has heard enough, he's trying to get away.
Although the finale does not live up to the high of the previous episode, there are parts that work particularly well. The way Salim (Omid Abtahi), Shadow, and Laura (Emily Browning) travel through the funeral home creates a real sense of space. It feels like they are winding through a maze, looking for help and avoiding others they don't want to see. The shots that follow people through the hallways add to the sense that the episode is running out of time. Instead of using a lot of cuts, which cut through time and make the scene feel like it's moving faster, the camera walks with Shadow, making it feel like you are trying to get somewhere with him and he isn't going fast enough.
New Media's (Kahyun Kim) takeover of TV news adds to the feeling of rushing to beat time. When she finally communicates directly with Shadow, this scene does rapidly cut back and forth between them, and between each of the newscaster faces she embodies. Instead of feeling like the scene is moving too slowly against a ticking clock, it feels like time is running too quickly, and will soon run out. The escalating news stories that frame Shadow and Wednesday as suspects for crimes across the country feel like a bomb that's about to go off.
The escalation culminates in cops showing up to the funeral home, with Salim, a brown Muslim man, waiting behind the front door. Tension builds for the audience—which knows what could happen when a man of color and the police face off because American Gods has been illustrating those consequences all season—and for Salim—who passionately kisses the Jinn (Mousa Kraish) after saying that he doesn't regret anything that led him here, because it also led to love.
As this is happening, Shadow tries to leave through a side door, but he becomes literally entangled in Wednesday's roots as the tree Wednesday planted grabs Shadow and refuses to let go. While Shadow becomes more and more entangled, he finally realizes the truth of his and Wednesday's relationship: He is Wednesday's son.
The show has been dropping clues about this for a while—Shadow was even hung up on a cross like Jesus, the son of God, in the second episode this season. It's a relief to finally see Shadow face the truth and come to realize how deep Wednesday's deceptions were. He should have left a long time ago, and fear is what drives him to try to leave now.
But Wednesday has yet another move planned for Shadow. When Shadow is on the run, the bus he takes out of town gets stopped by the police. They line up black men and check their IDs, looking for Shadow. But when the police get to him, they check his license and let him go. He's got a new name, new identification, and likely a new life waiting for him wherever he's going.
This is yet another twist that Shadow isn't prepared for, showing that Wednesday remains one step ahead. I'm guessing Shadow fears Wednesday more than ever, but believes in his powers more than ever, too.
---
Rae Nudson is a Chicago-based writer and critic whose writing has appeared in
Esquire
,
The Cut
, and
Hazlitt
, among other publications. You can follow her on Twitter @rclnudson.