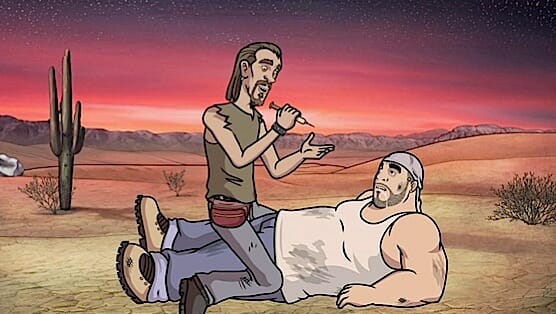 "We've been through a lot, and yes, most of it has sucked, but that changes now," Chozen tells Ricky and Crisco in the season finale, "The Battle of Broken Spear." He's right, much of Chozen has sucked, with an overabundance of characters with nothing to do and a lack of focus, but these last few episodes have turned Chozen around, as least a bit. This final episode does work as a great finale for the series if it doesn't get picked up, but it also leaves the door open for a much more successful second season.
"The Battle of Broken Spear" finally has Chozen and Phantasm facing off, a climax to which the entire series has been building. The two rappers are both performing at the Broken Spear music festival, Chozen on the small stage in an afternoon slot, while Phantasm is closing the event on the main stage. Before going on stage, Chozen is visited by Phantasm, who whispers something in his ear that throws Chozen off his game and causes him to freeze onstage.
This allows all of our characters one last story. Chozen is led into the desert by Jimmy to go on a mescaline-fueled vision quest to get his confidence back. Troy is busy running from Phantasm's goons, who are trying to destroy Troy's laptop with all of Chozen's beats on it. Meanwhile, Ricky, Crisco and Tracy don't really have anything to do, so Ricky uses the festival setting as a way to bond with Tracy. All three stories suffer from lack of focus, something the last few episodes have avoided as the show has zeroed in on only a few characters, instead.
Chozen's vision quest doesn't really give him any new information, but it does allow the show to throw in plenty of references to things it hadn't so far this season. So Chozen goes through scenarios based on Superman, Clash of the Titans and Westworld, before discovering the cause of his mental break is losing a spelling bee to Phantasm when he was a kid. The lesson? All that matters is himself and that you have to do you. Okay … but hasn't that been what he's been doing all along?
Troy goes on a quest hiding from Phantasm's bodyguards, pretending to be a character from Assassin's Creed, which clearly doesn't work, and eventually has the laptop destroyed. The Tracy-Ricky-Crisco story seems like it'll go somewhere, but at the last second, Tracy's ex-boyfriend shows up and sweeps her off her feet. (It's sort of lame how Tracy has been relegated to having not much of a story rather than what guy she's going to end up with.)
Now while none of the stories completely work, they all lead to a pretty fantastic conclusion, with Chozen sabotaging Phantasm's performance and challenging him to a rap battle. Suitably, the conclusion also feels like it's referencing 8 Mile and Hustle & Flow, especially after, once Chozen wins the battle, he is immediately arrested again. It's a fitting ending that serves as a nice bookend to the season, but also leaves one wondering where his career might go from here.
Considering Chozen's ratings are more in line with FX's last new animated series, Unsupervised, which got cancelled, than Archer, it's most likely this is the last we will see of Chozen and his crew. Though Chozen did start to find its groove near the end, it probably wasn't strong enough of a change to warrant another season. Let's just remember Chozen as he was, at the top of his game, even in handcuffs, rather than the constant missteps he took to get here.
Ross Bonaime is a D.C.-based freelance writer and regular contributor to Paste. You can follow him on Twitter.