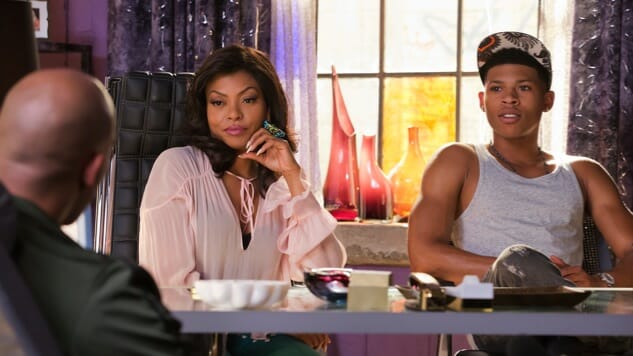 For all the drama that went with it, this was probably the most joyous episode of the show that we've seen… well, since it went on the air. Every one of the main characters had a moment or moments of pure, unaffected joy, where we saw them grinning madly and basking in some kind of glow.
I think the person that deserved it most was our good friend Cookie. The cold open that finds her spending a few days in bed with her new beau Laz was a great sequence. What can I say? Even with her being one of the prickliest characters on the show, there was something quite lovely about seeing her getting work done—and getting worked—for the first few minutes of the episode. Even the worst among us deserves a moment of happiness like that.
On down the line it went, with Jamal making some serious creative breakthroughs (with a little help from Mom) and getting a potential commercial boost by appearing on a popular web series started by a Quincy Jones-type figure in the pop music world (played, much to my delight, by Linc from The Mod Squad, Clarence Williams III). Hakeem is proving that he can be an impresario by coaching his girl group paramour to become a full-on pop diva. Andre decides to use blackmail instead of his penis to get what he wants from a city official, and uses that pent up sexual energy to finally sleep with his wife. And Lucious finds joy in the studio as he records a new cut with Lena Gatz and in the boardroom (of sorts) as he negotiates a merger with a big streaming music company (with a little help from a morphine drip).
There was drama in the mix as well. Lucious realizes that Jamal was working with Cookie on this new song, and also has the revelation that Laz is in cahoots with Big Heavy, the dude that kidnapped Hakeem. But mostly, this episode was about giving the characters a well-deserved power up.
What I can't wrap my tired brain around is the insistence on reminding us about Lucious's tortured childhood with a mentally-unstable mom. There's simply no need for it at all. They've already established the character as a complex figure trying to shake off the shadows of his inner city childhood. Unless they're setting us up for him to have a big attention grabbing psychological break a la Andre in season one (something for Terence Howard's sizzle reel, no doubt), the flashbacks to crazy Kelly Rowland are getting pretty tiresome. Throwing a botched threeway with Mimi into the mix like they did was straight up overkill.
All of this is going to blow up at some point. It just has to. There's no way they can let things move along as comfortably as they did tonight for very long. And goodness knows we're looking forward to that! Still, a nice calm before the storm like this was, I think, good for the characters and good for us viewers. You can see that the actors were enjoying the moment as well. Taraji P. Henson and Jussie Smollett in particular looked like they were having a ball in their scenes together. So, like a nice palate-cleansing sorbet, we enjoyed last night as we wait for the next course of heavy action and even heavier drama.
Robert Ham is a Portland-based freelance writer and regular contributor to Paste. You can follow him on Twitter.