Freeform's The Fosters Spin-off, Good Trouble, Is the First Great TV Show of 2019
Photo: Freeform/Beth Dubber
TV
Reviews
Good Trouble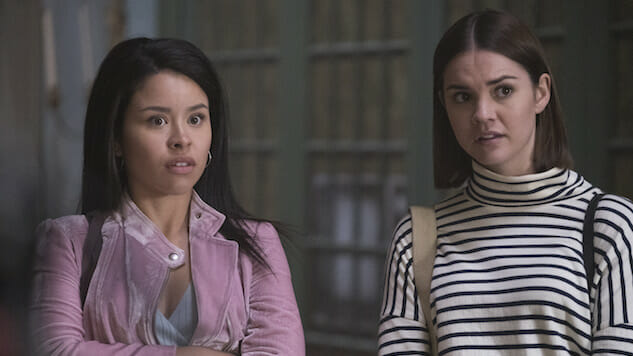 People! 2019 is off to a terrific start. We have the first great new TV show of the new year.
Good Trouble—a spin-off of The Fosters, which ended its five-season run in June—follows sisters Callie (Maia Mitchell), a recent law school graduate, and Mariana (Cierra Ramirez), fresh out of MIT, as they move to Los Angeles to embark on the next phase of their lives.
The series smartly chose the two most interesting characters from The Fosters to go forth into their own show. Callie and Mariana were not annoying on the earlier program (sorry, Brandon), and Mitchell and Ramirez were the best of the young actors. (Let's just say Noah Centineo's acting had improved greatly by the time he got to To All the Boys I've Loved Before).
Like The Fosters, on paper, Good Trouble seems like a socially progressive series intent on checking all the boxes: In the five episodes made available for review, we meet, among others, a bisexual character, a transgender character, a lesbian who is not yet out to her conservative parents, and a woman who grew up in the foster care system but was never adopted out. But, as in The Fosters, Good Trouble never comes across as patronizing or lecturing. You never feel like the producers are making TV that feels like homework. Instead, the series is an entertaining young adult drama that accurately reflects the world we live in.
Callie and Mariana move into a building known as The Coterie, which has its eclectic group of residents as well as a shared co-ed bathroom and communal kitchen. Alice (Sherry Cola) manages the building while mending her broken heart. Malika (Zuri Adele) is a social activist. Davia (Emma Hunton) is a Teach for America teacher by day and a fat-positive blogger by night. And Gael (Tommy Martinez) is the sexy, often shirtless artist who has almost all the residents in a dither. It makes for a very of-the-moment Melrose Place. (Fun fact: The Coterie's roof deck pool is actually the same one used in Melrose Place.)
One of the huge benefits of aging the characters up is that Callie's story line makes a lot more sense now. Before, she was a high school student somehow involved in investigating crimes and social injustices and righting legal wrongs. Now, Callie is clerking for a federal judge (Roger Bart) and immediately gets involved in the case of a young black man who was shot by the police.
Mariana is working for a software development firm, where the group she's assigned to is made up of people who look and act like they just left the set of Silicon Valley. "If you want to be part of the team, you've got to learn to take a joke," her boss tells her.
Let me describe to you the moment I decided I was all in on this series. Mariana struggles at her new job, where she can't even dress like she wants to. "It's annoying, but you'll be taken more seriously if you don't dress like that," a female colleague tells her about the red dress she wears to her first day of work. Her boss, Alex (Dustin Ingram), sends her pictures of women's breasts and assigns her to menial tasks like data entry. One of her co-workers, Raj (Dhruv Uday Singh), is nice to her, always checking in after Alex humiliates her. "Being a nice guy behind his back doesn't make you a hero," Mariana snaps at him in the third episode. It's this kind of dialogue that sets Good Trouble apart. Other shows would have made Mariana and Raj fall in love (and maybe that's where Good Trouble will eventually go, though I hope not). Good Trouble calls Raj and characters like him out on their behavior.
Mariana's work is awful, but Callie's is not much better as she's surrounded by two clerks who view her as the competition. "I always choose one state school graduate to clerk," the judge tells her about why she's joining her Yale and Harvard colleagues. "You're making things harder on yourself," fellow clerk Rebecca (Molly McCook) tells her. "Yeah, it's kind of my thing," Callie responds.
As happens in real life, where you still see your family and friends even when you go out on your own, Callie's brother, Jude (Hayden Byerly), visits in the second episode, and the girls' moms, Stef (Teri Polo) and Leena (Sherri Saum), stop by in the fifth, duly horrified by their daughters' living arrangement. "We don't stop being your mothers just because you grow up," Leena tells them.
My one complaint about the series is that Callie is almost immediately pulled into an unconventional (by TV standards) love triangle. I understand there has to be certain soap opera-like qualities to keep viewers engaged, but Callie—all the characters, really—are most interesting when they aren't pining over some boy.
Still, the series deftly captures what it's like when you're in your early 20s and just starting out, navigating a new career, new living situation, and new relationships. Good Trouble is well worth your trouble.
Good Trouble premieres tonight at 8 p.m. on Freeform.
---
Amy Amatangelo, the TV Gal®, is a Boston-based freelance writer, a member of the Television Critics Association and the Assistant TV Editor for
Paste
. She wasn't allowed to watch much TV as a child and now her parents have to live with this as her career. You can follow her on Twitter (@AmyTVGal) or her blog .