The Top 5 Moments from Jane the Virgin's Personal, Political "Chapter Forty-Six"
(Episode 3.02)
Michael Desmond/The CW
TV
Lists
Jane the Virgin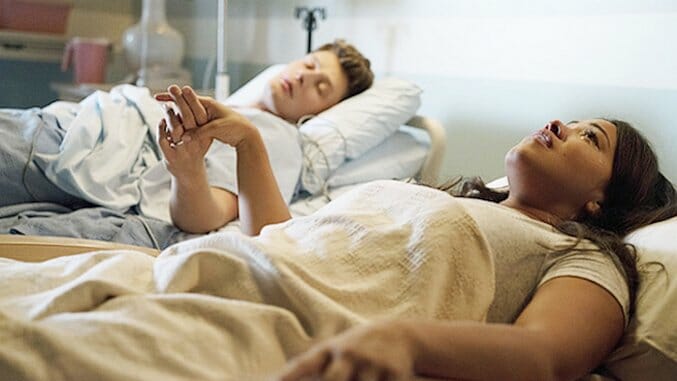 The second episode of the season reminds me why I love Jane the Virgin so much: From the small moments to the bigger, political ones, there's so much to unpack and enjoy. Jane feels the after-effects of her recent trauma, but by remaining on a schedule, she hasn't faced her fears. Rafael steps up as a parent, and Michael's accident finally hits home.
5. The Rafael Appreciation Corner
First and foremost, let's give it up to Rafael this week. Playing the straight man to his wackier counterparts, Justin Baldoni gives an endearing performance as his character finds new footing in Jane's world. Do I believe Rafael for one second when he says he's no longer in love with Jane? Hell, no! But it's good for the character to try to move past those emotions while his focus turns to Daddy Day Care duties: choosing a new preschool for Mateo that Jane and Rafael both love.
Rafael's integration into the Villanueva family is almost complete, despite his trepidations. He overhears Michael say, "I love you, Mom" to Jane and busies himself with Mateo, totally stealing the scene. But Rafael's jokes about Jane's Married Virgin status is a reminder of how fun this character can be. And sexy. Always sexy.
4. The First Politicized Moment: Xiomara's Abortion
Since last season's finale, it's been plausible that Xo would have an abortion to end her unplanned pregnancy. After all, the biggest reason why Xo and Rogelio break up is his desire for more children. But the writers of Jane the Virgin don't disappoint: "Chapter Forty-Six" features one of the most nuanced abortion storylines ever seen on television, on par with Olivia Pope's abortion on Scandal.
It was great to watch a character stay firm on her stance with regard to reproductive rights, without feeling an ounce of guilt. It was even better not to have that character enter a clinic or hospital, as the storyline skipped to the medical bill that came with the procedure. And while it was difficult to watch Alba's disappointment in her daughter, it all came to an end as she ripped off her ugly wallpaper: She doesn't have to like Xo's decision, but she will respect it and move on. Because they're a family.
3. The Second Politicized Moment: Rogelio's Immigration Speech
Jane the Virgin is always right on time when it comes to politics. Just when Rogelio feels his career suffering a dip due to his PPSA (heh) on fraudulent urine for drug tests, his number one enemy, Esteban, not only impregnates the love of his life (Xo), but seeks crossover success in the American market. It's enough to drive Rogelio to take on a horrible American accent.
The series lightly subverts what was the norm for Latino actors in American shows, allowing Rogelio to create what he believes to be an American accent. It's grating for someone to portray a caricature of who you are, right? Instead of perfecting the accent, however, Rogelio has a lightbulb moment during the filming of Triago, in which he explains Emma Lazarus's poem, "The New Colossus," and America's cultural diversity.
2. The Newly Turned Newlyweds' Bed
I don't think I've ever written about a favorite prop in any show, so this is weird, but let's show some love to the newlyweds' bed, formerly known as Jane's bed. It's magical—and not for the reasons you might think—because of what happens when the Villanueva women (and now, Michael) snuggle abroad. And last night, well, gave me some of my favorite moments between the characters, all sharing the same space of this huge bed.
Never have I seen a casual conversation about abortion happen, while the characters (Michael, Jane, and Xo, in that order) sit in bed together. Never have I ever seen a mother-in-law be welcomed to join the newlyweds' space, as Xo was by Jane and Michael, especially when Michael used his detective skills to help Xo sniff out what Alba might know about said abortion. Last, but not least, I've never seen a son-in-law and mother-in-law agree that another man is in love with their daughter/wife, and be so casual about it. I can't stop replaying this scene.
1. The Trauma Discussions
A show that manages emotional twists so deftly is unlikely to have problems when the characters turn to face their traumas. And Jane has been dealt many, between Mateo's kidnapping and Michael's shooting, that, well, it was time for her to confront her fears. And that was brought on by nightmares of Michael's return to work. Jane can't even walk down the hallway where the shooting happened. Can we blame her?
Michael, on the other hand, is quick to plot out his return to work, but when Mateo bites him, it's a reminder of how close he was to losing his life. Husband and wife decide to talk it out: Jane has to allow Michael to calm her, while she can't stand in the way of his career. It's a fair trade off and shows the emotional maturity of the two.
---
Iris A. Barreto is a writer for
Fangirlish
, freelance writer for
Paste
and social media intern for
Pink is the New Blog
. Heavily caffeinated. Forever lost in Westchester, NY & NYC; all GPS apps hate her. You can follow on Twitter.