Lovesick Star Antonia Thomas on Changing the Show's Name from Scrotal Recall and Wanting to Play Eartha Kitt
Netflix
TV
Features
Lovesick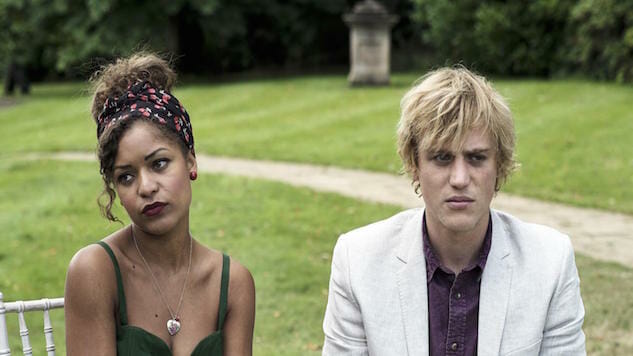 Antonia Thomas has come a long way from the lippy, party-girl "cock monster" Alisha Daniels on Misfits. She truly owned the role of the chavy superhero, portraying Daniels' complexities and vulnerabilities in such a natural manner, it's hard to believe she was cast for it just one day after graduating from Bristol's Old Vic Theatre School in 2009. Since then, she's moved from one project to another, proving her versatility as an actress by dipping into various genres, including musicals such as Dexter Fletcher's Sunshine on Leith. After starring in Elaine Constantine's Northern Soul alongside Steve Coogan, Thomas returned to TV as Evie on Lovesick, formerly known as Scrotal Recall.
Lovesick follows Dylan (Johnny Flynn), Luke (Daniel Ings) and Evie, a group of friends who are desperately trying to do the adult thing, but tend to fail miserably. They're in that strange twenty-something limbo—too young to be putting down roots, too old to be engaging in immature relationship behavior—and have no idea where they're headed. As if that isn't difficult enough, Dylan's chlamydia diagnosis and Evie's unrequited feelings for him make things all the more confusing. With series' second season coming to Netflix November 17, Paste caught up with Thomas to discuss her role as Evie, her love for music and theatre and, of course, the series' name change.
Paste: Are you excited about Lovesick's move to Netflix and the U.S. audience?
Antonia Thomas: Yeah, very excited! We're really proud of it. You know, with the first season of something you're never quite sure how people are going to receive it, really. Now that we know that, generally, people like it, we've kind of relaxed into it and are just really excited for everyone to see the second season.
Paste: And the name change from Scrotal Recall to Lovesick has definitely been a good thing as well.
Antonia Thomas: [Laughs] The name change has been the best! I can't tell you what a relief the name change is. It's just so weird to feel proud about everything about the show but not wanting to talk about it because of the name! So yeah, I'm really, really pleased. I mean, technically, the name made sense in a funny way, but actually it completely mis-sold it in terms of the tone and what we were trying to do.
Paste: What attracted you to the show and Evie's character?
Thomas: I really love the honesty of the show. It taps into a specific moment for a generation of people, you know, where you've left university or whatever it is you're doing, and you're in that space where you just don't know if you're on the right track with so many things. It's just a really interesting period of uncertainty for a lot of people and that's what immediately attracted me to the story. I thought it was really honest and fresh about that. And then, the character of Evie, I just loved her because she's not your typical love interest. She's very smart and scatty, a bit tomboyish. She's layered, a complicated and complex person, and that character really interested me.
Paste: Yeah, she's really adopted the role of the wingman for both Dylan and Luke.
Thomas: She's more of a bloke in that way than they are. And she's happy to play that role. She's not a girly girl, really. The second season really delves into that. She's really not comfortable with being over-emotional about anything. It's very much like, "Deal with it, get on with it, I'm not gonna sit and cry about things and if I am then that's a very private moment for myself." So, she's kind of a guy, I think [laughs].
Paste: Can you relate to the way she goes about her emotional journey with Dylan?
Thomas: I'm the opposite! If I have an issue, I talk about it. I'm very open with my friends, my family and my boyfriend. If I need to work through something, then I'm going to talk about it. I found that really fascinating as a character trait and a mindset to get into.
Paste: How does Evie evolve in the second season?
Thomas: The series follows the same kind of format. Each episode is still about a girl from Dylan's past. The present moves quite slowly. Evie goes on a real journey, essentially trying to figure out what exactly it is she thinks she wants. I think what's really nice about the second season is that the characters are already set up. You dive straight into it. So each episode delves more into who they are as people and you get in-depth insight as to why they are the way they are, and just why it is that Evie and Dylan can't get their act together. You get some family background of Evie's and you get to know why she is emotionally closed.
Paste: The pace is rather unique for a sitcom, going back and forth between past and present, introducing new characters and settings with every episode. What was the shooting experience like?
Thomas: I would say that was one of the most exciting parts of the job. You really get to chart as a character developing over a six, seven year period. That's so interesting and it's also a bit of a head fuck [laughs]. With each new episode that comes in you're like, "Ok, hang on, wait, so, this episode happened six years from the present day, so I was at Uni, I was doing this and my relationship with my parents was this." Obviously we know a certain amount about our characters— we talked to the creators and the writers about them—but there are always things that come in that make you go, "Now I understand, and that totally informs why she is the person she is in the present day." It's so exciting!
Paste: In the past you starred in musical films such as Sunshine on Leith and Northern Soul. Is theatre and music where your heart lies?
Thomas: I absolutely adore music. At one point, I thought I would sing instead of becoming an actor, or at least do some kind of musical theatre. When I was fourteen I joined the National Youth Music Theatre here and went to Japan and a bunch of other places to do musicals with them, and I thought that that was what I would be doing. I realized that it was great, but acting was what I wanted to do more. It's been really nice being able to bring music into the work in some way. It would be a dream to do a biopic about a singer or something like that. To really marry the two would be absolutely amazing.
Paste: Whose biopic would you love to shoot?
Thomas: Ah, there are lots of interesting people! I'd be quite into doing a biopic about Eartha Kitt, who was really fascinating. Or Shirley Bassey—there was a script kicking about at one point, someone wanted to make a thing on her and I was like, "I want to be on that!" Yeah, that, and theatre to me is a massive love and I always thought I would be more theatre than screen, but it just so happened that it worked out the other way around. It's really important to me to keep doing theatre and to keep my career as varied as possible in terms of doing theatre and screen.
---
Roxanne Sancto is a freelance journalist for
Paste
and
The New Heroes & Pioneers
. She's the author of
The Tuesday Series
& co-author of
The Pink Boots
. She can usually be found covered in paint stains.