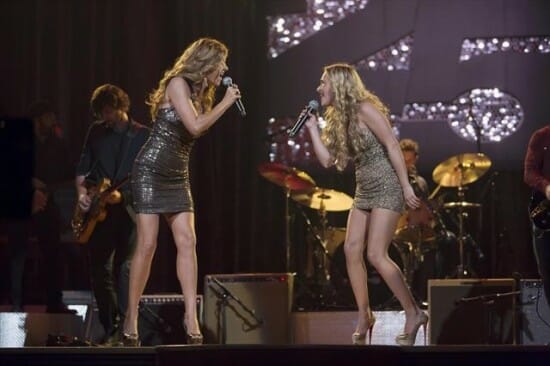 It's what we've all been waiting for since the beginning of the show: Rayna and Juliette crossing paths. They're blackmailed by their label Edgehill Republic into performing together at the label's anniversary show at the Ryman, and it makes for some of the best television Nashville has offered.
"Lovesick Blues" brings a lot of stories together and sends them into an explosive climax. Of course, the two lead actresses going toe-to-toe is by far the most entertaining piece of the episode, and luckily we get a lot of it. Rayna has the ability to carry the show on her own, and seeing her learn to "play the game" through manipulation and negotiation adds a welcomed wrinkle to the character.
Her ability to bring a certain level of cattiness to the table as Juliette is thrown into her life proves just how much Connie Britton can hang with the young actors. In fact, Rayna putting Juliette in her place midway through the episode was one of my favorite moments in the series. The two go back and forth bickering until they decide to write a song. It helps make Juliette more likable and produces some great moments in acting and singing for both leads.
Elsewhere, Teddy's affair, or lack thereof, is the center of a budding scandal that still doesn't hold my interest. It's understandable that the show wants to explore multiple facets of Nashville as a city, but that's not what viewers want. We don't want the seedy underbelly of the political world. We want to see all of the aspects of the music world, and that's why Scarlett, Gunnar and Avery are such a great story. Scarlett and Avery are basically over with, which ends the awkward love triangle. Now Scarlett can focus on her writing with Gunnar and their eventual love story that will make viewers fall even more in love with Scarlett.
While other characters might be in the gutter, Rayna and Juliette—along with the entire episode—end on a high note, and it looks like the series is going the way we all expected. Just in time, too. There's a month left before the winter hiatus, and a show on an upswing, especially when it's already a strong show, is a dangerously good thing.