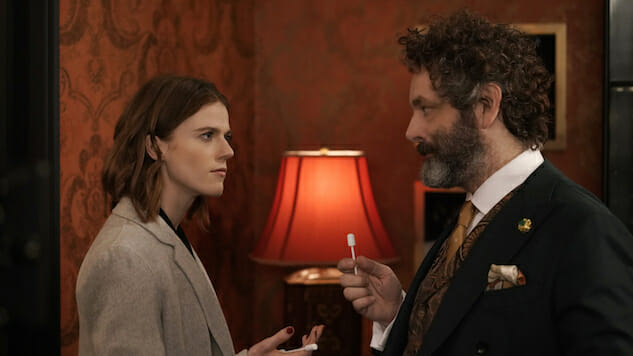 Spring has sprung on this week's edition of the Paste TV Power Rankings, as long-running series (Schitt's Creek, Crazy Ex-Girlfriend, Broad City) offer up memorable Easter eggs and the less established (Schooled, A.P. Bio) try to secure an all-important place on your DVR (and on their networks' 2019-2020 schedules). And it's all led by a series that's a little bit of both. If you're not already out enjoying the warmer weather, you have our permission to draw the blinds and cuddle up in front of the TV.
The rules for this list are simple: Any series on TV qualifies, whether it's a comedy, drama, news program, animated series, variety show or sports event. It can be on a network, basic cable, premium channel, Netflix, Amazon, Hulu, YouTube or whatever you can stream on your smart TV, as long as a new episode was made available the previous week—or, in the case of shows released all at once, it has to have been released within the previous six weeks.
The voting panel is comprised of Paste editors and TV writers with a pretty broad range of tastes. We're merciless: a bad episode can knock you right off this list, as much good TV is available right now.
Honorable Mentions:
Better Things, Naked and Afraid, Now Apocalypse, The Other Two
10. Pretty Little Liars: The Perfectionists
Network: Freeform
Last Week's Ranking: Ineligible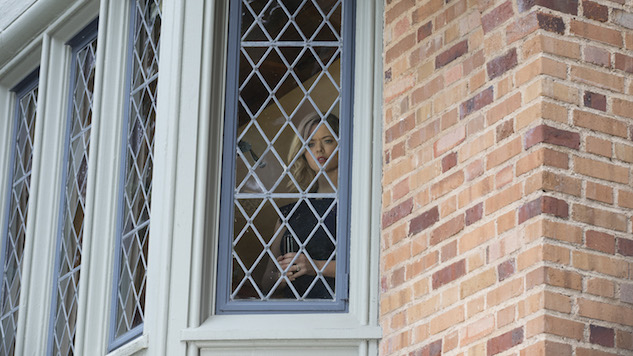 Pretty Little Liars: The Perfectionists is a show that knows exactly what it is, which is… Pretty Little Liars. Just, you know, 2.0. It's got murder. It's got beautiful liars. It's even got Alison (the superb Sasha Pieterse) and Mona (the equally superb Janel Parrish)—the OG-iest of the OG Liars—leading its otherwise fresh-faced cast. This is an excellent state of affairs, as far as The Perfectionists is concerned—not only was Pretty Little Liars a monumentally popular series that helped define a whole generation of teen television, but with seven seasons of clever mystery-box storytelling under their belts, everyone on showrunner I. Marlene King's creative team can turn out a classic PLL-style episode in their (nightmare-ridden) sleep.
The problem is, committing to being Pretty Little Liars 2.0 means committing to all the bad that came with the good. And while I am on record as a person who adored Pretty Little Liars, I have no problem reminding people that it had plenty of bad: The truth of the matter is, PLL was, from the very start, a show that was never totally certain of what it wanted to be, and The Perfectionists starts its freshman run with a similar (and similarly uncomfortable) tension between the steamy murder romp it thinks fans want it to be, and the incisive social commentary it knows it could be. —Alexis Gunderson (Photo: Freeform/James Clark)
9. Schooled
Network: ABC
Last Week's Ranking: Not ranked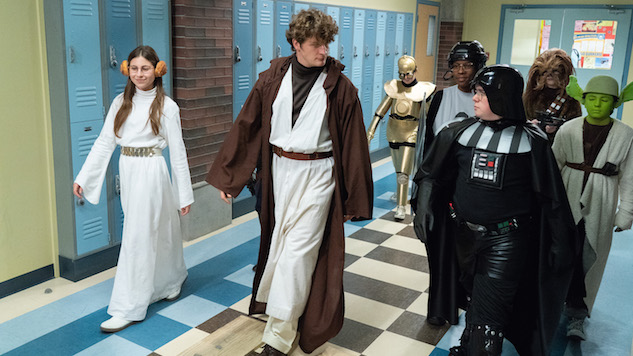 What is it about our culture that makes us want to mock what others love? The Star Wars fandom has become particularly toxic—witness the reaction to The Last Jedi. In Adam F. Goldberg's newest comedy, Schooled, which is set in the 1990s, the showrunner goes back to the time when it all started to unravel—the release of The Phantom Menace. Coach Mellor (Bryan Callen) nitpicks at the movie and mocks CB (Brett Dier) and his students for their unabashed enthusiasm and love of the franchise. When CB does the same with Coach's beloved baseball, Mellor sees the ramifications of tearing down something others love. As he does in his long-running series The Goldbergs, Goldberg uses the hook of a decade past to expand upon larger themes affecting our present-day lives. "It's important to remember that even with their flaws, the joy these things bring to our lives will always be perfect," Lainey (AJ Michalka) intones at the end. It's a lesson we can all take to heart.—Amy Amatangelo (Photo: ABC/Ron Tom)
8. A.P. Bio
Network: NBC
Last Week's Ranking: Not ranked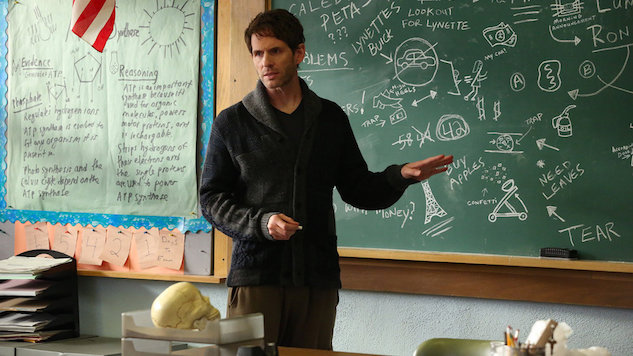 A,P. Bio has quietly become one of the best sitcoms on TV today due to the strength of its ensemble, and that was in full display in "Wednesday Morning, 8 A.M." Instead of juggling two or maybe three storylines like a typical sitcom episode, it presents a series of interconnected vignettes, each of which focuses on a different major or recurring character at Whitlock High. It gives the entire cast a chance to shine and also acts as a good introduction to pretty much every character on the show. It's a modern-day "22 Short Films About Springfield," but from a series that continues chugging along as TV's most underrated sitcom. —Garrett Martin (Photo: Vivian Zink/NBC)
7. Broad City
Network: Comedy Central
Last Week's Ranking: Not ranked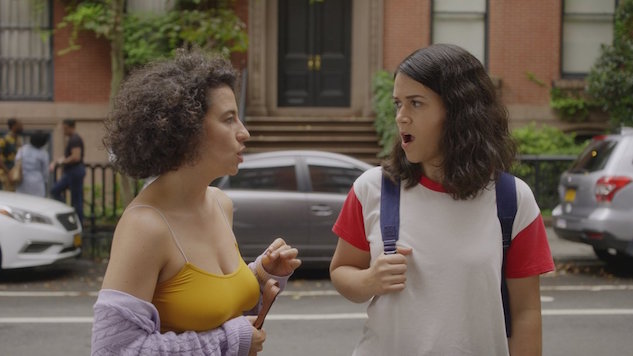 The marketing campaign for the final season of Broad City has heavily teased the extreme ways Abbi Jacobson and Ilana Glazer's cult comedy could end, whether a The Graduate-like wedding crash or the duo fighting for their lives as they hang off a balcony. Before we get to that moment, though, the writers seemed to dedicate the series' penultimate episode to the fans who've stuck with them for five seasons. The episode, titled "Along Came Molly," featured tons of Easter eggs that hearken back to the show's first episode, from a reminder why you should never buy anything off of Craigslist to a mention of the time Jacobson's character stole a truck to an attempt to go to a Lil Wayne concert to make up for the one they were unable to attend way back when. Oh, and they also took MDMA. —Whitney Friedlander (Photo: Comedy Central)
6. Crazy Ex-Girlfriend
Network: The CW
Last Week's Ranking: Honorable mention

I don't know if I've ever been more seen by a television show than by Crazy Ex-Girlfriend's "JAP Battle; That number, which aired during the musical dramedy's first season, pitted star Rachel Bloom's Rebecca Bunch against her childhood nemesis, Audra Levine (guest star Rachel Grate), as they threw down a lifetime of pent-up sick disses over who was the more woke, highly educated, successful, perfect daughter. I wrote then that this performance, as well as other series that were airing at that time, helped dismantle the outdated stereotype of the Jewish American Princess. Since that airing, I've been giddy any time Grate's character either appears or is mentioned on Crazy Ex-Girlfriend, in the hope that the battle would get a rematch. My prayers were heard with Friday's episode, "I Need to Find My Frenemy."
As is customary with TV shows finishing their run, Crazy Ex-Girlfriend stopped to check in on a smaller, but significant, character. In this case, Rebecca was sent to Las Vegas to save Audra from making a terrible life decision. It came with a reprise of the rap battle, including a two-and-a-half-minute compliments competition and a sidebar on reclaiming the pejorative term while also acknowledging that they appropriated the term "dap." Thanks, Crazy Ex-Girlfriend writers, for giving me closure. Also, how appropriate that a TV show about a progressive Jewish woman airs on Friday nights. —Whitney Friedlander (Photo: Greg Gayne/The CW)
5. Catastrophe
Network: Amazon Prime Video
Last Week's Ranking: 2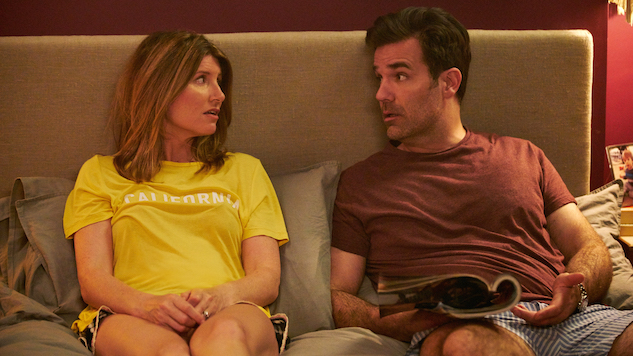 Catastrophe is one of the decade's best series. Its farewell means we're losing one of the medium's funniest comedies—and its comedy cuts to the core of life's daily hassles. We're also losing the most achingly honest show about marriage, parenting and the daily slog of raising a family, particularly when your children are young. As it ends its four-season run, Catastrophe is as sharp, as biting, as witty as ever. Few shows have the luxury of going out on such a creative high. —Amy Amatangelo (Photo: Amazon Prime Video)
4. Shrill
Network: Hulu
Last Week's Ranking: 1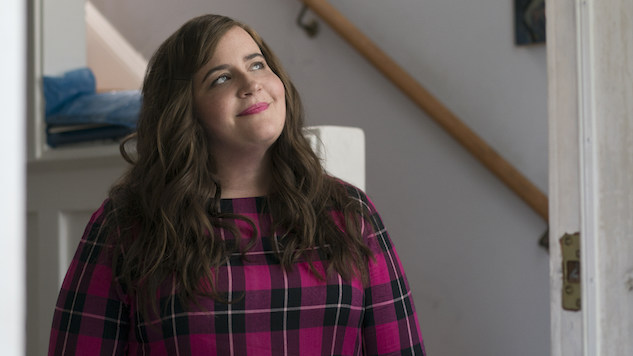 Saturday Night Live's Aidy Bryant takes center stage as Annie, an overweight woman who wants to change her life. But it's not what you think: So many TV series, from This Is Us to Netflix's repugnant Insatiable, build entire storylines about a fat woman losing weight. Before we even get to the opening credits, a total stranger tells Annie, "There is a small person inside of you dying to get out… You could be so pretty." Annie's got a boyfriend who makes her leave through the backdoor so his roommates don't see her and a mom who drops not-so-subtle hints about dieting and exercising. But an unexpected event in the first episode forces Annie to reassess her life and flips the proverbial script on the "fat woman" story TV and movies are so fond of telling. Amazingly, Annie doesn't have to lose weight to improve her life. She's ready to advocate for what she deserves. Bryant is so utterly charming, you can't help but root for her. Lolly Adefope is a true breakout as Annie's best friend, Fran. The series is a delight. "I'm the one with the fat ass and the big titties, so I get to decide what we do," Annie says. Damn straight, she does. —Amy Amatangelo (Photo: Allyson Riggs/Hulu)
3. Riverdale
Network: The CW
Last Week's Ranking: Not ranked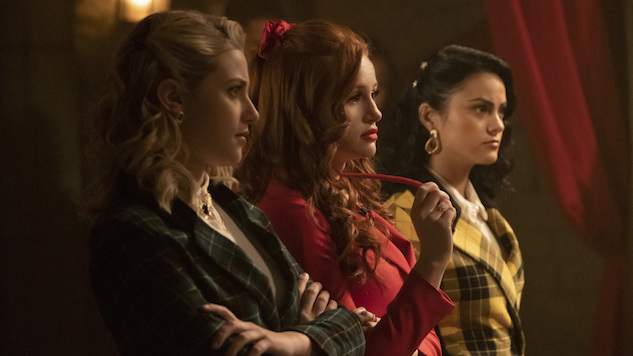 I haven't been shy about my decision to leave the Riverdale fold last season, but even the most discerning critic would be hard-pressed to resist the words "Riverdale does Heathers: The Musical." In fact, the format reduces one's impulse to piece together the plot—Kevin Keller (Casey Cott) is being recruited by a cult called The Farm? Jughead (Cole Sprouse) suspects his mom (Gina Gershon), is running drugs?—and underscores the series' penchant for perfect excess: Magic mushroom brownies and mythic bitches wielding croquet mallets; candlelit rituals and 1980s-inflected house parties. It's way more than "just two single straight dudes doin' some theater," as Reggie (Charles Melton) says of he and Archie (KJ Apa): It is, as the title promises, "BIG FUN." —Matt Brennan (Photo: Katie Yu/The CW)
2. Schitt's Creek
Network: Pop TV
Last Week's Ranking: Not ranked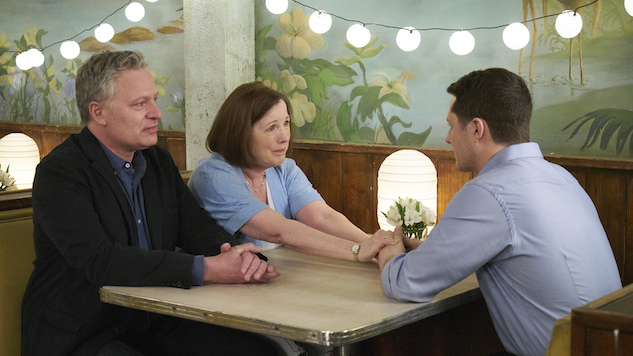 TV's most relatable romance gets its moment in the spotlight in "Meet the Parents," as Schitt's Creek turns David's (Daniel Levy) surprise birthday party for his boyfriend, Patrick (Noah Reid), into a sweet, funny coming-out episode. Though the action is set in motion when Johnny (Eugene Levy) accidentally outs Patrick to his parents (guest stars Deborah Tennant and Ted Whittall), the episode doesn't go in for melodramatics: It is, at heart, a reminder that coming out, even to the most supportive friends and family, is a nerve-wracking, stomach-churning experience, and that finally being honest about oneself is one of life's most meaningful milestones. Peppered with clever one-liners about closets (and a memorable Moira Rose bon mot about the "children's grotto" at the Playboy mansion), "Meet the Parents" doesn't idealize the process, nor suggest that its version is universal. it's rooted in the loving rhythms of David and Patrick's relationship, the highlight of what has long since emerged as one of the best comedies on TV. —Matt Brennan (Photo: Pop TV)
1. The Good Fight
Network: CBS All Access
Last Week's Ranking: 3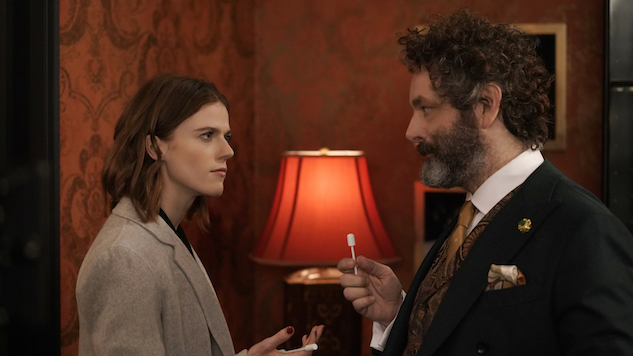 Michael Sheen has arrived on The Good Fight, in all his scene-chewing glory. His character, Roland Bloom—so not-loosely based on Roy Cohn that the episode's title is "The One Inspired by Roy Cohn"—is a blustery, drug-loving, chaotic mess. But he's also a savvy lawyer who will do anything, legal or otherwise, to win his case. Others go just as far as the proverbial gloves come off. Lucca (Cush Jumbo) makes a power move and doesn't play fair to get a big promotion. Diane (Christine Baranski) continues to go dark to defeat the enemy—she's throwing axes and joining underground movements. If you do a wrong thing for the right reason, what are the ramifications? My only concern for this (so far glorious) third season is that clearly Donald Trump isn't watching the show, because he's not tweeting about it. Saturday Night Live's mockery of him is child's play next to what The Good Fight is doing. Further proof that the best show on television remains too far under the radar. —Amy Amatangelo (Photo: Patrick Harbron/CBS)