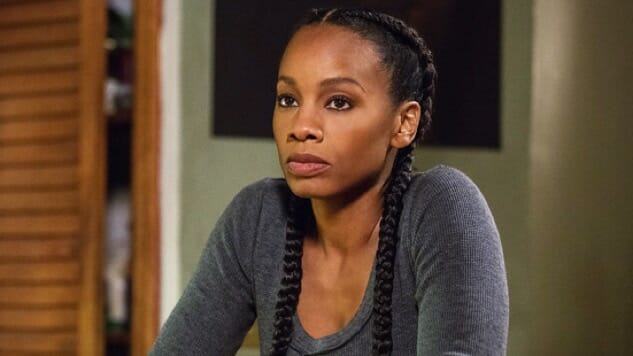 "What you see is what you get. I'm as real as they come," James St. Patrick says to Karen Bassett, a hotel heir and potential business partner that could majorly elevate his nightlife dreams. But we know the truth; James sits in front of the woman, the camera catches only one profile on his face, and it's a reminder us that Ghost is right under the surface. This is especially true if some nightclub rivals decide to get back at Mr. St. Patrick. And a good thing, too, because otherwise we'd be out of some of the best drama on this show.
On last night's "I Got This on Lock," character arcs definitely started to fill out more. We were also introduced to new characters, most notably LaVerne "Jukebox" Ganner, played by the exceptional Anika Noni Rose. In the first moments of our opening scene, a DC police officer enters a neighborhood pharmacy that's being robbed, but her cold and calculating manner leaves us with chills. As Kanan's cousin, Jukebox is the one to watch… and is probably the best (as well as sexiest) villain Power has seen since Pink Sneakers.
1. Introducing Jukebox
Kanan's dirty, lady-loving, violent and ruthless cop cousin, Jukebox is a welcome addition to the cast. When she first arrives in the middle of the robbery, it looks like she's answering the pharmacy's 911 call. Instead, she instructs her lackey to shoot the pharmacy's clerk, then shoots that same lackey to prove a point of her strength—to the second lackey. After cleaning up the mess and stealing the surveillance video, she returns home and we find out that she has a girlfriend by the name of Candy, watching over Kanan, who's in recovery mode.
Jukebox is a cold bitch; she takes away Kanan's drugs and tells Candy to nurse and seduce him, so she can find out the truth about why he's on the run. This is the only time we see Kanan show fear around someone else, and the moment his cousin throws him against a wall to show her strength—well, the look Kanan gives her is unforgettable. Jukebox is not like Tommy or some of our other volatile characters; she speaks softly, but already seems more dangerous than all of the Power men put together.

2. Tariq's Got a Gun
I thought this storyline would drag out a little more, but Tariq's stolen gun was resolved rather peacefully. While James/Ghost looks pretty shook about the fact that his mistakes led to this, you can't tell just yet, due to his arrogance, that he learned something from this parenting moment.
The event also shows us how quickly he's losing his handle with the kids, because as he remains muffled in front of Tariq, Tasha (who Ghost was so quick to blame for the gun, at first) remains the strong one in laying down the law. Tasha is also the one who made sure their son wouldn't get expelled. She has to use physical force to get his iPhone, while her estranged husband looks on in shock. The lack of power from one parent is an interesting dynamic, indeed. There's sure to be more trouble, as Tariq seems spirited enough to do anything to get his father's attention.

3. James St. Patrick's (Possible) New Partner
Ghost made need some work in the parenting department, but at least he made sure to school the new kids on the block.
Not only did he embarrass his nightclub rivals during an important business meeting, but he managed to gain the interest of the hotel heiress, Karen. The thing is, she wants to get to know him on a more personal level, which is understandable when it comes to investments. But you have to wonder how long it will take for Ghost to interfere with James' world? And did it seem as if the new partner is interested in a more… romantic subtext? That would be too easy, I know, but hey. Anything's possible on Power.

4. Holly's Pregnancy
The thought of Tommy and Holly as parents is… frightening. As Ghost stated, Tommy is a great uncle. But adding a child to the mix with the threat of Lobos hanging over their heads, doesn't sound like a good idea.

5. Kanan's Return
The return of Kanan is upon us, but he's a long cry from the enigma of a man we once knew. Ghost's onslaught not only wrecked Kanan's body, but it seems to have caused a mental breakdown, too. He is relying heavily on prescription narcotics, and now the Texas Tea that Candy supplies him with. It all makes for a vulnerability we didn't expect—especially not from a father who killed his own son.
Stray Observations:
Tasha's impersonations gave us more to love about her, and showed her quick thinking skills. We need more of this Tasha, inevery episode.
Julio got some. That's all there is to say.
---
Iris A. Barreto is a writer for
Fangirlish
, freelance writer for
Paste
and social media intern for
Pink is the New Blog
. Heavily caffeinated. Forever lost in Westchester, NY & NYC; all GPS apps hate her. You can follow on Twitter.