Coloring Blank Slates in Queen Sugar's "Caroling Dusk"
(Episode 2.05)
Photo: Alfonso Bresciani/OWN
TV
Reviews
Queen Sugar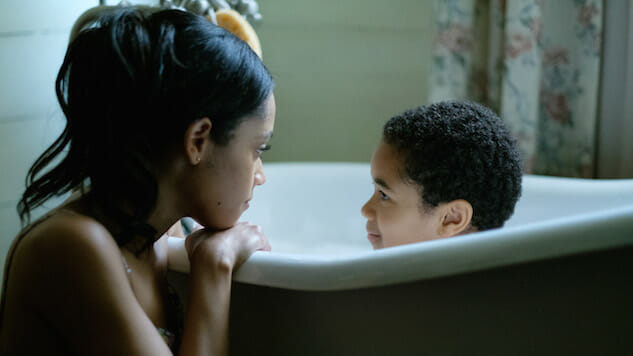 I've always marveled at how Queen Sugar's writing transcends the scene and sticks to your spirit like soul food. It keeps you returning week after week, and tonight's episode is proof of that. In "Caroling Dusk," written by Davita Scarlett, the silver lining is the Bordelons navigating these chapters in their lives and relationships—or, as Nova (Rutina Wesley) puts it, coloring the blank slates they've been given.
In a therapy session, Charley (Dawn-Lyen Gardner), after being stood up by Micah (Nicholas L. Ashe)—who's in New Orleans for a service project with Nova—is forced to open up about the inner workings of her personality. Her sternness, the need she has for things to be in order, stems from the level of perfection her mother expected of her. She argues that she's raising her son in contrast to how she was raised, drawing a line between excellence and perfection, and not repeating generational patterns. The question is whether Micah truly knows that, and whether Charley can ever allow herself to be free of such restrictions altogether.
After Nova (Rutina Wesley) receives a call from an agitated and stammering Charley, upset that Nova caused Micah to miss the session, she immediately arrives at her apartment. The sisters have progressed greatly since reuniting in Season One after the death of their father, often butting heads and arguing over their father's legacy. Nova lifts the energy through one of her rituals, setting the tone as they talk about growing pains and the molds they're breaking free of: namely, the story of Charley quitting piano in the middle of a recital, to the disappointment of her mother.
Nova: "Your mama made you a control freak but you have a blank slate with yourself and with Micah. Color it how you want."
Charley: "You make it sound so easy."
Nova: "Nah, it ain't easy."
Charley reminds Nova that she, too, has a blank slate to color, leaving Nova quiet but possibly acknowledging the appeal of her colleague, Dr. Robert DuBois (Alimi Ballard)—who she met in "What Do I Care or Morning"—saying that he likes her. We saw her mourning the loss of her relationship in the season premiere with a series of one-night stands, and she remains hesitant to reciprocate DuBois' feelings until the end of the episode.
Another heartfelt reciprocation of sentiments comes as Davis (Timon Kyle Durrett) and Micah mend their father-son relationship, opening up about their personal struggles through their shared love: basketball. It's a distinct approach to talk honestly like men; one shot equals one question. It's a parallel to a moment in Season One when Charley and Micah are confronted by Davis in the same gymnasium where Micah says to his father, "I don't need you."
It continues with Aunt Vi (Tina Lifford), who's in the early stages of starting her pie business, stepping outside of her comfort zone (managing the High Yellow) with the encouragement of Hollywood (Omar J. Dorsey). From the start, she's uneasy, second-guessing herself throughout of the episode after facing countless rejections, but Hollywood sees her potential. He reminds her, as Nova once did, that she must learn to put herself and her dreams first, breaking away from the being the peacekeeper of the Bordelon family—a familiar problem for matriarchs who bear the responsibility of holding their loved ones together. For once, Aunt Vi is traveling unchartered territory, and you immediately cheer her for trying.
A highlight of the episode is the continuous tug-of-war between Ralph Angel (Kofi Siriboe) and Darla (Bianca Lawson), who seem to have two completely different definitions of how they want to fit into each other's lives. On one hand, Ralph Angel's prize is having the success of the farm under his direction and growing his family with Darla. Darla, on the other hand, stands firm on the line she drew earlier this season: She makes it clear that she wants not to be rescued, but to be able to stand on her own and not become dependent on him for the sake of her sobriety. No matter how many times he tries to extend the rope to rescue her, especially after she loses her job, she won't grasp it.
Darla throws away Blue's (Ethan Hutchison) beloved doll, Kenya, believing now that she's in his life he no longer needs it to pacify him, so angering Ralph Angel that he drives into town to dig through the trash. When police officers catch him, one of them recognizes him—a childhood friend named Antoine, who says Ralph Angel had his back growing up. He reveals to him as they reminisce that he envisions a life with Darla and how her decision not to blur the lines makes their relationship difficult.
"I want it all with this girl, man. House, farm, kids, whole nine. All of it." —Ralph Angel
Their conversation gravitates toward how hard Antoine had it growing up because of his sexual orientation and how Ralph Angel wants to keep his son close, always, saying he'll "Let him do whatever he wants, be whatever he wanna be." As I wrote about Queen Sugar's ability to showcase the many facets of black men, this moment showed the depths of Ralph Angel's genuine nature and the impact his protection had on his friend.
As Antoine puts it, and as all of the characters struggle with, "Everybody out here trying to do the best they can. Ain't easy for nobody."
---
Ashley G. Terrell is a freelance entertainment writer based in Michigan. Her work has appeared in
Ebony Magazine, The Huffington Post, Black Girl Nerds,
and more. She is currently working on her first novel and is the creator of the blog, The Carefree Black Girl Chronicles of ASHLEMONADE. You can follow her on Twitter.