Hulu's Radically Optimistic Ramy Is One of the Year's Best New TV Shows
Photo: Barbara Nitke/Hulu
TV
Reviews
Ramy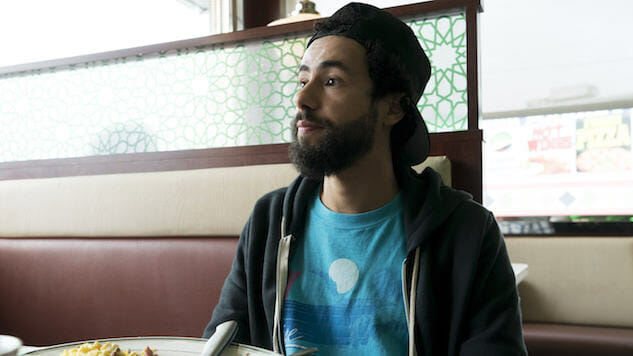 A quarter-life crisis has never been sweeter than in Ramy. The half-hour Hulu dramedy follows a fictionalized version of star Ramy Youssef (who also writes many of the first season's episodes) as he figures out life as a young Muslim Egyptian-American in New Jersey. Co-creators Ari Katcher and Ryan Welch, along with showrunner Bridget Bedard, find an endearing doofus in Ramy and plenty to say about generational compromise, religious identity, and culture clash. Ramy is easy to watch, radically optimistic, and a groundbreaking portrayal of Islam on screen.
Ramy is trying to be a devout Muslim, trying to find the right girl, and trying to work a job that won't make him want to kill himself. Master of None is the immediate touchstone here since Ramy is also a smart, romantically idealistic, and semi-funny streaming show whose protagonist's culture is underrepresented on TV. Ramy, however, is no Dev. He's not a millennial dispossessed of his roots, but a deeply rooted man disenchanted with millennial culture. But Master of None is only one of the series—along with Atlanta, High Maintenance, and Girls—with which Ramy shares similarities. Ramy operates in the same well-shot prestige comedy aesthetic and tone, balancing dick jokes with stuff like a 9/11 flashback episode, and bringing to bear a tonal and thematic confidence totally its own.
The show is full of sublime specificity—its mosque-going is rich with detailed ritual, and its complex characters are seemingly ripped out of the Rolodex—but Ramy himself sticks the landing most of all. He's a fascinating character, partially because his Christian counterparts all occupy preachy, smug Pure Flix films like God's Not Dead. Ramy's religion isn't up for debate, but is simply another relationship that he's constantly maintaining.
That's emphasized in Ramy's visuals as much as its writing. Its stark, lonely urban cinematography (lots of cold colors, isolating framing, and rigid environments) and bleakly chaotic neon parties bow to the warmth found in Ramy's Muslim community. There's not just togetherness at the mosque, the family dinner (even with his racist, misogynist uncle), or the casual run-in with an acquaintance. There's also a feeling of fondness as the framing grows tighter, the colors warmer. The camera finds hope in these vital connections, even when interrogating some of their less-than-ideal qualities. Remember that uncle? Ramy's devotion to Islam and his culture might be as imperfect as those institutions, but even its frayed wire links him to so much.
This emphasis on connection may be why Ramy is better when it focuses on relationships than it is when it focuses on "comedy." Ramy can be really funny when it doesn't have other things on its mind, but more often it's a solidly charming slice-of-life character study. It features wild situations and quippy conversations; even its sex scenes are funny. (Thankfully, they're also genuinely sexy in their direction, which makes for punchlines that are just as pleasingly unbalanced as Girls' off-putting mid-sex humor, but way easier on the libido.) Ramy also goes broad—because it can. Overbearing parents (Hiam Abbass and Amr Waked, both wonderful), awkward first dates, job problems, and getting too high all feel fresh in Youssef's hands. And aside from a few sweeping moments that aren't quite as moving as its more intimate ones, the vibe works, thanks to both the series' unique perspective and an apparent agreement to not make a big deal out of it. Ramy makes a huge push for normalization within a framework so familiar that the process seems effortless. That's not easy to do on TV, especially considering it's almost impossible to get the opportunity to try.
The writing team deserves massive credit for this, while Youssef shows off his chops. His leading man embodies a softness unblemished by any nasty, entitled Nice Guy pocks. He's a wholesome romantic lead, with puppyish wide eyes and an intense moral compass. That allows his hilarious friends (Mohammed Amer, Steve Way, and Dave Merheje) and sister, Dena (May Calamawy, a breakout, especially in her midseason episode "Refugees"), to be vehicles for the series' sharp wit, whenever it finally whips it out. Their ball-busting, coupled with the profane graphic-tee stall that is their part of Jersey, make up for the moments when the series veers too dry or too slow.
Sometimes surreal, sometimes achingly realistic, Ramy will break your heart and build it up again. Its ultimately optimistic episodes about faith, belonging, family, and romance are filled with cringeworthy moments of racism, Islamophobia, and terrible sex. Its duality reflects its leads' first-gen experiences, with all their joys and struggles. But, goddamnit, everyone keeps going. In moving forward, in making this flawed but often lovely step, Ramy is a heartfelt TV series that viewers have truly never seen before.
Ramy premieres Friday, April 19 on Hulu.
---
Jacob Oller is a writer and film critic whose writing has appeared in
The Guardian, Playboy, Roger Ebert, Film School Rejects, Chicagoist, Vague Visages,
and other publications. He lives in Chicago, plays Dungeons and Dragons, and struggles not to kill his two cats daily. You can follow him on Twitter here: @jacoboller.