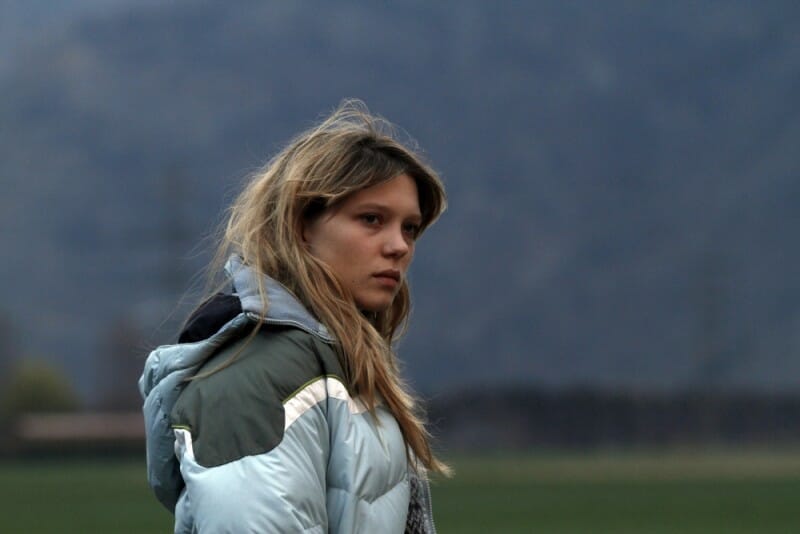 The French title for Ursula Meier's poignant fable Sister translates to "The Child from Above"—an accurate description of this family drama set in the Swiss Alps. Twelve-year-old Simon (Kacey Mottet Klein) ascends to a luxurious ski resort each morning and descends each evening with sandwiches and ski equipment he has pilfered to support himself and his ne'er-do-well grown sister Louise (Léa Seydoux). The increase in elevation isn't just physical: While he's up there, he insinuates himself into the culture, pretending he, too, comes from money and horning in on an affectionate well-to-do family. The truth is, he can't even ski.
Meanwhile, down below on the industrial plain, Simon sells the gear he's acquired, waxing skis with a clothes iron to increase their value or deliberately damaging them so his customers' parents don't get too suspicious about the "used" planks their kids got such a good deal on. Simon's entrepreneurial spirit is contrasted with his sister's inability to keep a job. Louise's plan seems to be to find a guy to take care of her, if not both of them—she makes Simon deny that they live together and claim he's just spending the night.
Meier and cinematographer Agnès Godard mostly keep the camera close to Simon, recording the landscape from his point of view, the whoosh of skiers mute from the silent gondola that transports him up the mountain. When they do pull back, the God's-eye view reveals both his invisibility, as when he disappears among the throngs of snowsuit-clad skiers, and his isolation, as when he plays by himself on the side of the mountain that has been abandoned for the season.
Simon is such a precocious kid, you forget sometimes that he's just a child—until you're brutally reminded by a stranger who catches him in the act and beats him, red blood splashing on the pristine snow. Worse is the emotional abuse. What Simon can provide becomes the currency in his relationship with his sister—he literally buys her love.
Director: Ursula Meier
Writers: Antoine Jaccoud and Ursula Meier
Starring: Léa Seydoux, Kacey Mottet Klein, Martin Compston, Gillian Anderson and Jean-François Stévenin
Release Date: Oct. 5, 2012