Julianne Moore Plots and Schemes in First Mary & George Teaser Trailer
Photo Courtesy of Starz
TV
News
Starz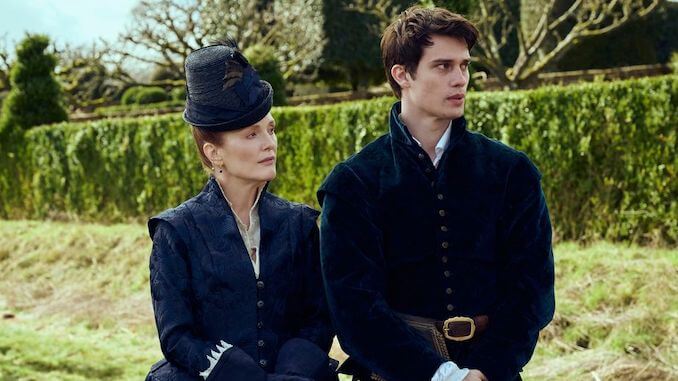 Starz has unveiled the first teaser trailer for Mary & George; the highly anticipated seven-episode drama will release in 2024.
Inspired by the novel The King's Assassin by Benjamin Woolley, the series focuses on Mary Villiers, Countess of Buckingham, who schemes to shape her beautiful son to become King James' lover. The series will depict how mother and son went from rags to riches, defying obstacles to eventually become two of the most influential people in England. The teaser promises a tantalizing look at the relationship between George and James, power plays, and of course, sex.
Mary & George stars Julianne Moore (Mary Villiers, Countess of Buckingham), Nicholas Galitzine (George Villiers), and Tony Curran (King James). They are joined by an ensemble cast which includes Laurie Davidson (Robert Carr, 1st Earl of Somerset),  Nicola Walker (Elizabeth Hatton), Niamh Algar (Sandie), Trine Dyrholm (Queen Anne), Sean Gilder (Sir Thomas Compton), Adrian Rawlins (Sir Edward Coke), Mark O'Halloran (Sir Francis Bacon), Samuel Blenkin (Charles I of England), Jacob McCarthy (Christopher Villiers, 1st Earl of Anglesey), Tom Victor (John Villiers, 1st Viscount Purbeck), Alice Grant (Susan Feilding, Countess of Denbigh), Amelia Gething (Frances Coke, Viscountess Purbeck), Mirren Mack (Katherine Villiers, Duchess of Buckingham), Rina Mahoney (Laura Ashcattle), and Simon Russell Beale (Sir George Villiers).
The series is produced by Hera Pictures in association with Sky Studios and written by D.C. Moore (Killing Eve). Liza Marshall is executive producer for Hera Pictures alongside D.C. Moore, Oliver Hermanus, and Julianne Moore. Hermanus (Living) also helms the series as lead director. Sam Hoyle serves as executive producer for Sky Studios.
Watch the trailer below; Mary & George is set to premiere in 2024 on Starz. 
---
For all the latest TV news, reviews, lists and features, follow @Paste_TV.