Stranger Things Season Three Is a Sporadically Solid Summer Spectacle
Ahoy!
Photo Courtesy of Netflix
TV
Reviews
Stranger Things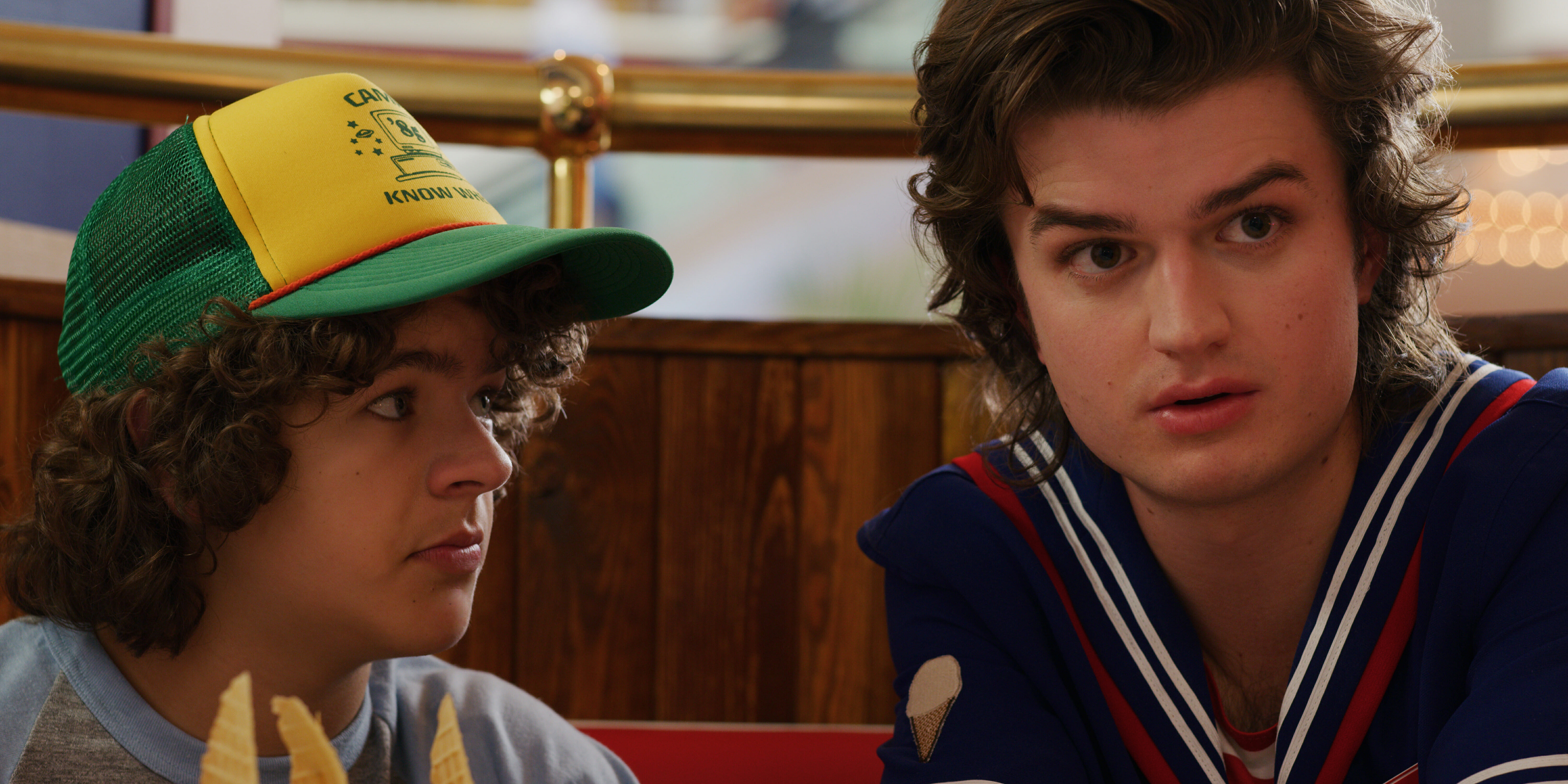 The only thing that isn't embargoed about Stranger Things Season Three is that there is an embargo list, and it is very long and very specific. But here's what can be said about the latest installment of Netflix's horror series: it continues to be an unabashed celebration of the 1980s, from its own filmic references regarding style and story to the literal references of the the era. Season Three kicks off in the summer of 1985, which is not where we normally expect to find the show (formerly set in the winter and fall), but it only augments the joyful nature of Stranger Things' non-monster moments. And that, really, is where the series shines. The creep factor is important, and an almost funny juxtaposition to the otherwise happy-go-lucky look at suburban life. But it's the friendships and coming-of-age stories, the relationships and family bonding, that really make Stranger Things great.
Season Three doesn't lean into that as much as it should have (all eight episodes were made available for review), but its early hours are a loving tribute to the nostalgia that Gen Xers and older Millennials will have for summers spent hanging out in the mall and going to the neighborhood pool, all blessedly not interrupted by social media or smart phones (although some cellphone prototypes do start to make an appearance). The colors are bright and vibrant, and the series looks and feels (as it always has) like a familiar pastiche of other TV series and films. That's not necessarily a criticism, though—it's the show's M.O. But things start to get dark, fast, and that's when the narrative starts to get a little more uncertain.
The new season follows a pattern familiar to its past: there is a terrestrial threat chasing an extraterrestrial threat, and the kids of Hawkins (as well as their teen siblings and a few choice adults, like David Harbour's Jim Hopper and Winona Ryder's Joyce Byers) all get pulled into it. The sprawling cast is then split up into smaller groups that each end up accidentally uncovering disparate clues that are part of a sinister whole. Given what they've all been through, you'd think at this point they would stop and compare notes much sooner than they do. Instead, we wait as each pod of characters face their own death-defying investigations, ultimately all coming together to fight the Big Bad thanks to their shared knowledge.
How this happens, and even the look and feel of that foe, is again familiar. The stakes are continuously raised, which makes the small-town story feel increasingly improbable (even after you've accepted the supernatural), and yet the eight episode season somehow feels too long. There's lots of action and plenty of fighting, but it starts so early that (especially for those who binge the series) there's a definite fatigue as the final act goes on and on. But while the overall scope is larger than in the past, the setting is not; the Starcourt Mall, featured so heavily in the marketing for the season, is a glorious spectacle that is the nexus of everything. There couldn't be a more fitting location for an '80s tribute, and a shopping montage that stops off at the Gap, JC Penney, and other glittering storefronts in the mall populated with teased hair and popped collars is incredibly fun.
Stranger Things is, again, at its best when its focusing on those touchstones alongside its teen drama. Almost everyone in the group is now in a relationship, which causes tension between Eleven (Millie Bobby Brown) and Hopper when it comes to her dating Mike (Finn Wolfhard). In a poignant subplot, Will (Noah Schnapp) also feels particularly left out now that Mike is spending so much time with El, and Lucas (Caleb McLaughlin) is busy hanging out with Max (Sadie Sink). Will and Hopper both, in their own ways, just want things to go back to the way they were before everything got so complicated, which is a really worthy thread for the show to follow. Instead, Stranger Things shies away from investigating the PTSD these kids rightfully have, or how their absolutely bonkers experiences have affected them. It's a stretch to say that the show's horror and gore work as a metaphor for the uncertainty and hurt of being a teen and growing up (away from friends, or breaking up, or having an unrequited crush), but it's a missed opportunity for it not to. Dustin (Gaten Matarazzo) is upset when he comes back from camp and feels like his friends didn't miss him, but throughout the season his separation from them is mostly caused by the foe they are all trying to defeat. It's a rare instance where the supernatural threat is a stand-in for personal obstacles, but it's also one reason that storyline is so effective.
Thankfully, Dustin is at least sequestered with Steve (Joe Keery)—one of the show's truest friendships, where Keery is again a standout—but in the midst of all of this insanity, we don't get to spend much time learning anything about the other characters and their own relationships outside of the monster fighting. And that's a shame, because the characters (new and old) are still so much fun when they're allowed to interact with one another in normal settings. Keeping the cast so removed from each other throughout the season also makes it all the more obvious which characters have the more compelling stories, and which actors are more able to hold their own. Not changing up those dynamics throughout the season also hurts its overall success, especially when the show has done such a good job of using different pairings in the past to give us insights into these characters, or even to just have some fun. It has also become clear that Stranger Things doesn't know what to do with Nancy (Natalia Dyer) and Jonathan (Charlie Heaton), as it introduces great new characters like Robin (Maya Hawke) and gives more screentime to Erica (Priah Ferguson) and others.
Season Three is clearly made for the date Netflix is releasing it on (July 4th), which coincides with the season's action in a number of ways. It harnesses a Big Summer Mood, a healthy heap of nostalgia and has plenty of fun references. But its story is also convoluted and far too scattered. The overall pattern of what happens and how is overly familiar, and the stinger for the season doesn't inspire much confidence for a (sure-to-be) fourth season to refresh the formula at all. For better or worse, Stranger Things' new season is as tasty, messy, and fleeting as an ice cream cone on a hot summer's day. Ahoy!
Stranger Things Season Three premieres Thursday, July 4th on Netflix.