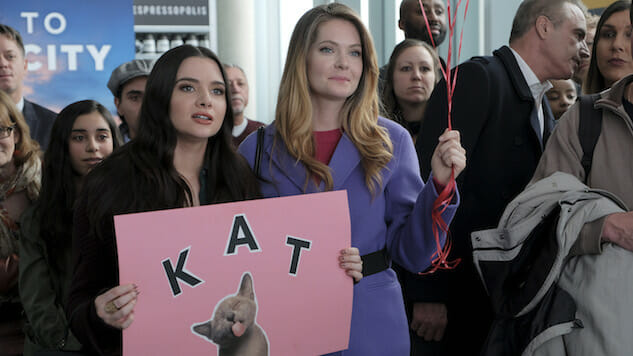 We need more TV that makes us happy.
I love The Americans. It will forever be in my top 10 shows of all time. I was thrilled when I watched it: I delighted in the show's clever, breath-taking plot twists and was gobsmacked by the brilliant performances. But, weeks later, the devastating series finale still saddens me. Watching The Americans did not make me happy. And, with all that's going on in the world, we need to be happy for an hour or two each week.
All of this is to say: You need to be watching The Bold Type, which returns for its second season tonight. As I've said before, if you've dismissed this show because of the network it's on or because you think it's the TV version of "chick lit," you are wrong. (Chick lit is awesome, by the way, but that's a topic for another time.) Get. Over. Yourself. Come with me into the fashion closet as I discuss the fabulousness of this show.
The Bold Type celebrates women from different backgrounds and perspectives while following terrific, often thought-provoking plotlines. In the two-hour premiere, Kat (Aisha Dee) returns from her trip with Adena (Nikohl Boosheri) ready to embrace the fact that she's in a relationship with a woman. No more hiding. She also has renewed energy for her job as social media director at Scarlet. "You guys are officially a gay power couple," Sutton (Meghann Fahy) tells her. Jane (Katie Stevens) has begun her new job at Incite, while Sutton is still working hard as a fashion assistant for Oliver (Stephen Conrad Moore).
For her first column at Incite, Jane interviews the CEO of a start-up company that's revolutionizing feminine hygiene by creating reusable menstrual cups. (Have I mentioned that The Bold Type mines pop-culture for current, clever stories?) For every cup purchased, the company donates one to a homeless woman. Sounds great, right? Only it isn't—and Jane struggles with how to tell the CEO's story fairly. One of my favorite aspects of the series is that these women are good at their jobs. Whether their lecturing the board about how to increase their online visibility (as Kat does) or making a designer happy as Sutton does when Rachel Antonoff makes a cameo, the series never succumbs to the easy story line of making these women daft at their jobs. If they make mistakes and they do because who doesn't, they are not incompetent ones.
My one quibble last season on The Bold Type was that Jacqueline (Melora Hardin), the editor-in-chief of Scarlet, was almost too perfect and too supportive a boss. (She's modeled after Joanna Coles, chief content officer of Hearst Magazines and an executive producer on the series.) Yes, all bosses should be this way—empowering and believing in the younger women in their command. But, let's be honest, most aren't. More are like Victoria (Rebecca Croll), Jane's new boss at Incite, who is focused on the bottom line and page views. She's not concerned with whether or not Jane is realizing her full potential or if she's being a decent and honest boss to Jane. It's good to have this ying to Jacqueline's yang. I also like Jane branching out to a new job, since your twenties really are about finding the career and workplace that's right for you.
The Bold Type inherently understands that women should not have to suppress their sexuality to be treated fairly in the workplace. Sutton worries that people think she's only getting good assignments because men like her. "We cannot dim our light that makes us special," Jacqueline tells Sutton about her engaging personality. Yes, this is another example of Jacqueline being a little too perfect, but also: YES! Everyone needs to take that message to heart. What's truly amazing about The Bold Type is it can pull off that type of dialogue and subject matter without coming across as totally cheesy and patronizing.
And, of course, there's romance. Sutton is still trying to figure out her relationship with Richard (Sam Page), who is 15 years older than she is and also a lot more powerful within the company. Kat is navigating her first romance with a woman. And Jane is lamenting that she currently has no prospects. But their love lives do not define these women. The show understands that you need to figure out who you are before you can be with anyone else.
Do I sound like I'm making too much about a TV show? I cannot tell you how important it is for there to be shows like this—ones that celebrate women, their differences, their supportive friendships, their hopes and dreams.
I was worried that The Bold Type would lose its special spark with the change of showrunners. This season, Amanda Lasher takes over for Sarah Watson, who remains an executive producer on the series. But Lasher has taken over seamlessly.
It is The Bold Type. Hear it roar.
Season Two of The Bold Type premieres tonight at 8 p.m. on Freeform.
---
Amy Amatangelo, the TV Gal®, is a Boston-based freelance writer, a member of the Television Critics Association and the Assistant TV Editor for
Paste
. She wasn't allowed to watch much TV as a child and now her parents have to live with this as her career. You can follow her on Twitter (@AmyTVGal) or her blog .