With The Flash's Series Finale, the Arrowverse Limps Slowly to the Finish Line
Photo Courtesy of The CW
TV
Features
Arrowverse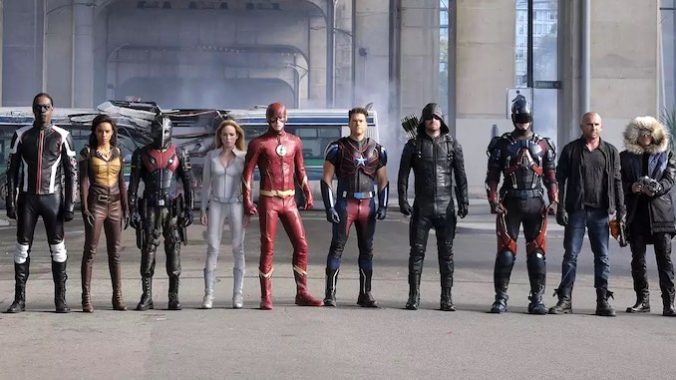 After nine seasons, The Flash has officially stepped off the cosmic treadmill at The CW and called it quits, taking the network's massively successful Arrowverse universe of TV series along with it.
What started with the grounded, Batman Begins-y series Arrow back in 2012, and went on to encompass a half-dozen connected TV series like Legends of Tomorrow and Batwoman along the way, the Arrowverse has effectively defined The CW's primetime slate for the past decade. Even in the shadow of the Marvel Cinematic Universe (MCU), the Arrowverse is arguably still the most ambitious and expansive live-action superhero concept ever brought to life, with more than 700 hours of television in all.
As such, the Arrowverse remains one of the most ambitious efforts at connected storytelling in any medium, featuring massive team-ups and crossovers that spanned a half-dozen live action shows and even a few animated spinoffs along the way. The crescendo of the Arrowverse, the 2019 event "Crisis on Infinite Earths," brought virtually all the shows together for a potential multiverse-ending threat, weaving in clever crossovers with DC shows and movies across the decades and networks, including Netflix's Lucifer, HBO Max's Titans, Tom Welling's Clark Kent from Smallville, Kevin Conroy as Batman, and even big screen Flash star Ezra Miller as the other version of the Scarlet Speedster. 
It was simply massive, and though the Arrowverse has limped along a bit in the years since, "Crisis" easily remains the super-sized coda this universe deserved.
So much has changed since Arrow was in its prime, spinning a new show off into primetime with every passing season. The CW is currently in the midst of a massive corporate changeover, which has effectively flipped the network's entire original series slate in the span of a little over one calendar year. And those superhero shows? Not much of a priority under the new regime. The Flash was already plotting its endgame, and every other show in the connected Arrowverse had already shuffled off in the past year or two, most notably with the abrupt cancellation of cult hit Legends of Tomorrow.
Expensive hit Superman & Lois and freshman series Gotham Knights are still on the schedule at the moment, but The CW has been mum on if either one will make it to next season. It's also worth noting they're not set within the same "universe" as shows like Arrow and The Flash, so yes there might be a couple of heroes left on air at The CW, but none that currently reside in the Arrowverse. Even the network's development slate has cut the Arrowverse off at the knees in recent weeks, with potential Arrow spinoff series Justice U (which would've featured the return of fan-favorite David Ramsey as John Diggle, leading a younger team of heroes) was axed after spending more than two years in various stages of conception.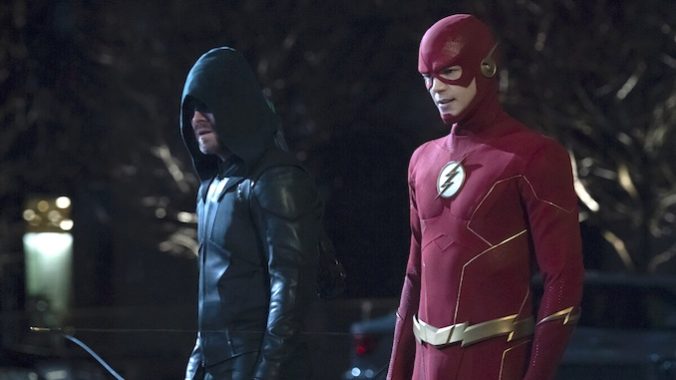 So as The Flash hangs up its boots, so goes the Arrowverse. Fair or not, this is how it ends, with more of a whimper than a roar. With one last show on the air, and one that's arguably kept running a year or two beyond its natural expiration date at that. Any fan who might wander back after watching The Flash in its early seasons heyday will find a show they'll barely recognize. The supporting cast has almost completely turned over, with original stars like Carlos Valdes, Tom Cavanagh, and Jesse L. Martin mostly gone (or in the case of Valdes, long gone) from Team Flash.
Even star Grant Gustin has been a bit MIA himself the past season or two, with a seemingly reduced workload and more episodes focusing on the newer (and sadly, not all that compelling) supporting cast members. The Flash, just with less Flash. Even the final arc has been weirdly thin on Gustin, thanks to a plot MacGuffin that has had him yanked around through time and space. The past few seasons have arguably found the series on a downward creative slide, getting tangled up in convoluted mythology and following meandering storylines down a few too many rabbit holes.
That's not so much a fault of The Flash or its creative team entirely, as any superhero show in its ninth season would struggle under the weight of all those episodes and stories. Fans have gotten almost a decade of speedy adventures, and many of them were great, but it's hard to argue the show isn't running on fumes at this point and simply running out of ideas.
As for how it actually all wrapped up? The final hour of The Flash made for a messy, rushed, bloated, special effects-fest loaded with cheesy twists and fan service moments. The creative team went back to the well and brought back a who's-who of old speedster enemies for the final round of boss battles, then had Team Flash easily dispatch them all in a matter of minutes in a mess of CGI that rivals some of the muddiest work the series has ever put on screen.
For a flagship series that was once a cultural force at its height, The Flash jogged into a muddled and messy end that feels fitting for a show that had become more and more muddled and messy of late. Even a final cameo appearance from Arrow star Stephen Amell a few weeks back couldn't salvage it as a whole, though it must be said the nostalgia was nice for a moment.
But now, the Arrowverse is simply over. And yeah, it's probably about time.
---
Trent Moore is a recovering print journalist, and freelance editor and writer with bylines at lots of places. He likes to find the sweet spot where pop culture crosses over with everything else. Follow him at @trentlmoore on Twitter.
For all the latest TV news, reviews, lists and features, follow @Paste_TV.