Nancy Drew Was the Perfect Show to Say Goodbye to The CW
Photo Courtesy of The CW
TV
Features
The CW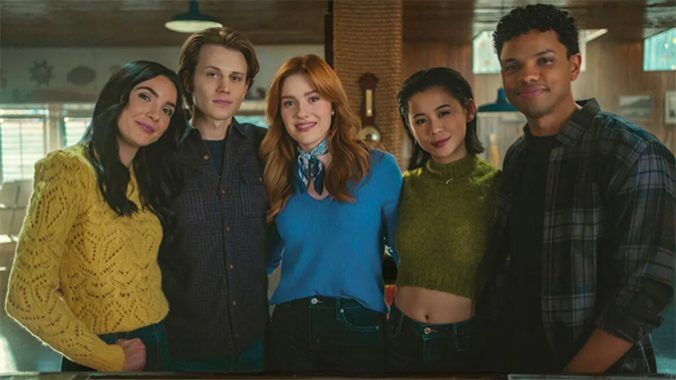 The CW, for all intents and purposes, is dead. Its demise was set in motion the minute Nexstar purchased the network, which was created in 2006 through a merger of The WB and UPN. While there had been hope the new owners wouldn't completely dismantle the network in its attempt to make it profitable, the October 2022 departure of then-president Mark Pedowitz, who had been at the helm for more than a decade and had changed the trajectory of The CW and its reputation, meant it was only a matter of time before the beloved series that had anchored its lineup and cultivated devoted fanbases started disappearing from it altogether.
Although a few shows like Superman & Lois and All American were eventually renewed by the newly-installed brass, the concurrent Writers Guild of America and SAG-AFTRA strikes have delayed them indefinitely. So, with the conclusions of Riverdale and Nancy Drew this week, The CW as we knew it is gone. It's a sad, unfortunate ending for everyone who loved the network or who worked so hard to bring its shows to life. But in many ways, Nancy Drew was also the perfect series to say goodbye to the version of The CW that made a name for itself by defying expectations. 
Like many CW shows from the 2010s, Nancy Drew took massive storytelling risks; merging a classic literary heroine beloved by many with the strangeness and unpredictability of the supernatural was a swing that could have (and probably should have) backfired spectacularly. But rather than read as if a clueless network executive blindly plucked an available piece of intellectual property from a pile and draped one of pop culture's favorite subgenres on top, Nancy Drew presented itself as an original and exciting spin on the well-known as much as the unknown. 
In the hands of showrunners Noga Landau and Melinda Hsu Taylor, Nancy Drew was an emotionally engaging, supernatural mystery driven by familiar themes, empathetic heroes, and complex mythology. At its heart was a young woman (Kennedy McMann) who, while grieving the loss of her mother and the life she knew, struggled to find a shred of normalcy only to discover that the world she lived in was anything but. And yet, she was right where she was meant to be. Like Buffy the Vampire Slayer and the many shows that paved the way for Nancy Drew to exist in this form, the show used the extraordinary to tell a deeply relatable, human story about family, friendship, and finding light in the darkness.
But it only worked because Nancy Drew fully and confidently embraced the material, leaving little room for doubt to creep in. It was similar in this way to Emily Andras' critically lauded Wynonna Earp, which blended Western imagery and themes, a wicked sense of humor, and the threat of the supernatural to tell the story of yet another unconventional heroine and the found family who rallied behind her. The Syfy drama was bold in its approach to character and storytelling, and like Wynonna, Nancy Drew also refused to settle for the traditional, opting instead for originality. 
After kicking things off in Season 1 with a ghostly tale that unspooled into Nancy's own origin story, the show evolved to tackle several stories you probably won't see anywhere else: vengeful sea spirits created through betrayal and murder; lifeforce-draining wraiths as an allegory for depression; deceitful ancestors dealing in powerful magic and death curses; and terrifying creatures whose histories can be traced directly to the atrocities committed by White European settlers against Native cultures. And at the heart of it all was the small, seemingly idyllic coastal town of Horseshoe Bay, Maine, a modern-day Sunnydale if there ever was one. 
But it wasn't just the original season-long arcs that showcased the series' inventiveness. As it grew, the series featured creative one-off adventures involving cursed wedding dresses containing years of pent-up lust; Viking gods that killed anyone who knew their name being defeated by the power of social media; elixirs that turned adults into careless teens in meta fashion (an outing much funnier than "Band Candy" will ever be); body-swapping devices that thoughtfully offered characters new perspectives; and haunted 1980s board games that evoked the thrills of Jumanji. On paper, it all sounds absurd—and it certainly was—but in practice it also worked. After carefully building a strong foundation through solid character work and exciting supernatural adventure, the show more than earned its audience's trust, so every time a strange new adversary or idea was introduced, it was easily and immediately accepted. And this allowed the writers to tell the story they wanted to tell without having to ease into it or worry about how it would be received. 
But even though the show's creativity never faltered with regards to the supernatural stories it dreamed up—like Riverdale, you cannot accuse Nancy Drew of lacking imagination—the show eventually started to sag under the weight of simply trying to do too much with too little time, a problem not entirely of its own creation. The series' fourth and final season, which quietly debuted in May with little recognition from The CW, rolled from one adventure into another with no acknowledgement of its impending demise. The season's overarching story about a monster known as the Sin Eater, who erases evidence of wrongdoings when called by a guilty party, picked up steam as the season went along, but when coupled with a few mostly stand-alone adventures and the introduction of new adversaries (and unnecessary love interests), little room was left for the show to explore the emotional wellbeing and growth of its many characters, including Nancy's two dads (Scott Wolf and Riley Smith). This meant many important developments happened offscreen, and information was delivered inelegantly via rushed exposition. 
On the one hand, the show wasn't canceled until well into production on Season 4, so it's easy enough to understand why the writers didn't spend an entire season preparing to say goodbye to the show and its beloved characters. But on the other, much more cynical hand, it was also a little naive to not plan better for the possibility of the show ending given both the impending changes at The CW and the unstable nature of an entertainment industry in flux. So, despite understanding the outside forces that led to major developments like George (Leah Lewis) selling The Claw (the characters' de facto home base) or Ryan (Smith) having a new girlfriend being introduced in the series' penultimate episode, we still must judge the season as it was presented to us. And a short, final season that prioritized intricate plot and surprising reveals over character unfortunately led to a tangled web of related but sometimes incoherent storylines that often left viewers unfulfilled and characters wanting. 
Despite Bess (Maddison Jaizani) becoming the new keeper of the Horseshoe Bay Historical Society—a position that represents her power, whether it sounds like it or not—the show never really knew what to do with her beyond this, and she sadly became little more than a magical deus ex machina à la The Vampire Diaries' Bonnie Bennett. Her relationship with girlfriend Addy (Rachel Colwell) was depicted only when strictly necessary, and usually in service of the plot. Meanwhile, Nick (Tunji Kasim) embarked on a new relationship of his own while taking up a crusade to further protect the town from danger, supernatural or otherwise. But the former storyline suffered as the Sin Eater arc increasingly took priority. It was also, with all due respect, unnecessary. And George fared only slightly better as she diligently worked toward getting into law school, though she too was eventually saddled with a random new love interest for no apparent reason. Still, no relationship suffered quite like the one at the heart of the show.
After eschewing literary canon and building up a romance between Nancy and Ace (Alex Saxon, who has a wonderful habit of stealing the spotlight on every show), the writers kept finding ways to keep the two apart, as if a happy couple couldn't possibly make for good TV. Keeping characters apart for the sake of emotional turmoil can have negative effects on the story, and the death curse placed on Ace at the end of Season 3 that ensured the young lovers could never be together sometimes felt like a death sentence for the show itself. The Nace relationship—even before it shifted to romantic—was often the central driver of emotion for the show, so a season in which Nancy and Ace were apart or at odds with one another led to an outing that felt unbalanced at best and fundamentally broken at worst. It revealed cracks in the show's foundation, and although the curse was dealt with in the series finale, leading to a sweet scene between Nancy and Ace as they were finally able to act on their feelings without consequence, it was also a bittersweet moment. The characters and their fans ultimately deserved better, which is also a sentiment that can be applied to Nancy Drew as a whole. The show was full of possibility, but, through either shortsightedness or really bad luck, never seemed able to totally capitalize on it.
Having debuted in the fall of 2019, the show's exciting freshman run ended prematurely after the outbreak of the COVID-19 pandemic forced production to shut down. This meant Season 2 had to pick up the threads left dangling before it could embark on a new story, while also weaving in stand-alone episodes in order to become more accessible to viewers. This made for odd pacing that only got worse when Seasons 3 and 4 were only given 13 episodes rather than the once-standard 22 or even the 18 of Season 2. If there was a show built for a full 22-episode order, it's Nancy Drew, with its treasure trove of supernatural adventures and wholly original characters who all have their own interests and desires. I'm not sure the writers ever fully adapted to the shorter seasons, as Season 3 was beset with the same pacing issues as Season 4, even without the urgent need to turn a season finale into a series finale. And yet, despite these issues, like The CW itself, the legacy Nancy Drew leaves behind is a positive one. 
By regularly testing the limits of a genre with immense popularity and fully embracing its place within it, Nancy Drew quietly set a new standard. Nancy, Ace, George, Nick, and Bess—who all packed up and left Horseshoe Bay in the finale—became the faces of a new generation of supernatural heroes, men and women who always do the right thing no matter the cost. The show's cultural impact has yet to be determined, and it's possible the show will never rise above its current standing as a cult favorite enjoyed by acolytes of The CW, and the viewers who manage to find it on the algorithmically-challenged streaming service Max. But while it was not always a perfect show, it was a strong and capable successor to everything from Buffy the Vampire Slayer and Wynonna Earp to The CW's own Supernatural. It deserved to live on for at least one more season—there are so many more stories left to tell–but by taking risks and defying expectations from day one, it was a poster child for everything The CW stood for, making it the perfect show for this version of the network to go out on. 
---
Kaitlin Thomas is an entertainment journalist and TV critic. Her work has appeared in TV Guide, Salon, Gold Derby, and TV.com, among other places. You can find her tweets about TV, sports, and Walton Goggins @thekaitling.
For all the latest TV news, reviews, lists and features, follow @Paste_TV.