Riverdale's Memory Lane Series Finale Cements Its Place as One of TV's Greatest Teen Dramas
Photo Courtesy of The CW
TV
Features
The CW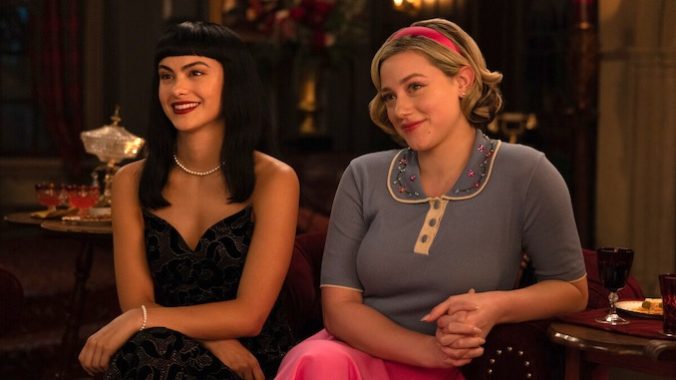 Over the course of its seven-season run, The CW's Riverdale has been many things to many people. 
For some, it's simply a punching bag; a never-ending mine of meme-able content ranging from the epic highs and lows of high school football to the endgame of it all. For others, it's a community, either for those looking for a dark, silly town to live in weekly for the past seven years, or for those looking for representation and relatability through characters like Cheryl (Madelaine Petsch), Toni (Vanessa Morgan), Betty (Lili Reinhart), or Archie (KJ Apa). For television as a whole, it's the last stand from a beloved genre and network, one we will likely never get back. For me, Riverdale is one of my all time favorite shows, and it certainly went out with a bang. 
In its series finale (titled "Goodbye, Riverdale"), the show took a trip down memory lane through the eyes of Betty, now 86 and the last remaining Riverdalien still alive, as she gets the opportunity to magically relive her last day of senior year. Throughout her trip, we learn not only new information about these characters' teenage years after regaining their (happy) memories of the last six seasons, but also about what they all did with the rest of their lives before winding up at the magical Pop's Chocklit Shoppe in the sky (in a much warmer representation of the Sweet Hereafter than Chilling Adventures of Sabrina offered), where Betty is greeted by all her beloved friends after she passes away outside of the now-abandoned Pop's in her final visit to Riverdale. 
Perhaps the biggest revelation from the finale is the confirmation that, yes, Riverdale finally went there. After decades of Internet jokes from Archie Comics readers and a few teases here and there from even the show itself, it finally happened: Archie, Betty, Veronica (Camila Mendes), and Jughead (Cole Sprouse) became a quad. During their senior year of high school, all four of them were going steady, in various combinations (most notably, though, was the absence of any kind of Archie/Jughead action, unfortunately). However, even with that wish fulfilled, none of these characters actually ended up together. Sorry, Season 3 Veronica, but you weren't endgame with Archie after all. 
He actually moved to California and built a family, while Veronica became a big-shot Hollywood producer and studio executive, Jughead opened Jughead's Madhouse Magazine and became a beloved comic giant, and Betty herself was a bestselling author and magazine editor before adopting a daughter and eventually becoming a grandmother. Cheryl and Toni were both artists and activists before having a son named Dale (played by Morgan's real-life son River), Kevin (Casey Cott) and Clay (Karl Walcott) moved to Harlem and lived long and fulfilling lives, and Reggie (Charles Melton) went pro in basketball before settling back down in Riverdale to have a family of his own and coach the Bulldogs. As far as endings go, there really wasn't a more fitting way for this series to bow out. Of course Riverdale would end with all its central characters dead (albeit mostly of natural causes, but still), and of course they would all wind up in the same place they started: the neon-tinged comfort of Pop's. 
Despite its heartfelt revelations and moving moments, the finale wasn't wholly perfect. Watching Betty pass away in the backseat of her granddaughter's car was surprisingly dark, and even though the show swiftly moved on to a happier picture of the Sweet Hereafter, it's a haunting image that's ultimately tough to shake in the hopeful tone the series tries to bring back in its final moments. The finale and its uniquely death-related set-up was also the perfect opportunity to bring Sabrina (Kiernan Shipka), necromancer extraordinaire, in to help Betty along her afterlife journey—or at the very least appear within the Sweet Hereafter, but she never showed. And I would be remiss if I didn't mention the uniquely horrible exclusion of Tabitha Tate (Erinn Westbrook), who didn't even make an appearance in this final episode.  
And while there is a part of me that will always mourn what could have come from the timeline we were in for six seasons before this, the one Angel Tabitha essentially destroyed in order to stabilize the '50s timeline, there is something incredibly sweet and classically Riverdale about the show going out like this. In a series that never shied away from the most ridiculous things a group of television writers could possibly put to the page, the ultimate subversion of its own unique brand of bonkers was always going to be a season filled with earnest teen drama and heartfelt character moments, alongside a finale to match. 
Riverdale pushed itself to the brink of believability, of reality, of drama, of comedy, and of camp in its seven-season run, but walked most of it back in its final season to tell decidedly more grounded and earnest stories that more closely resembled the Archie Comics characters most are familiar with*. After everything these people have been through—serial killers, bear attacks, violent bigotry, incest, murder, heartbreak, bombs, comets, and death—they worked hard to live happy, normal lives, and they deserve the peace they finally achieved. I will always wonder what could have been if the series didn't make that jump back to the '50s (seriously, what happened to Grown Up Baby Anthony?), but how can I argue with such a wholesome and teary end? 
(*This isn't to say that Riverdale hasn't been comic-accurate before, in fact, most of the craziest things to happen on Riverdale also happened in the comics. Archie and friends getting superpowers? Yep, that happened. Honestly, it's unfaithful of Riverdale to have never crossed over with the Punisher or the Predator.) 
In its vast legacy, Riverdale will likely be remembered for its absurdity; for its serial killer genes and "Jailhouse Rock" musical numbers, for its comets and mothmen. But, it was also so much more. In so many ways, Riverdale challenged and spoofed its own teen drama genre, lovingly parodying when necessary, leaning hard into the dramatics more often than not, but always with a wink that it was in on the joke. Even when Archie gets attacked by a bear and walks away with hardly a scratch, Riverdale remains somehow both grounded and real, yet always absurdist and escapist. Riverdale is camp and it is brilliant, and it unfortunately represents the last of its kind. In our current media landscape, the 20-episode teen drama has all but gone extinct, and Riverdale's finale represents the last stand for a genre that has defined the young adulthood of so many TV viewers. There is undeniably very little opportunity left for the kind of bold, long-form storytelling Riverdale thrived within. And it's a damn shame too, because this series never wasted a second of its precious screentime. 
Over the course of its run, Riverdale explored PTSD, mental illness and anxiety, familial trauma, poverty and social inequity, homophobia, racial injustice, and even found a way to make its organ-harvesting cult a poignant commentary on the brainwashing dangers of manufactured belief on the vulnerable. Of course, Riverdale wasn't a masterclass, it wasn't the peak of morality on TV, and it certainly wasn't meant to represent any kind of tangible solutions to any of the problems it attempted (and only sometimes succeeded) to address, but it still managed to entertain while having something important to say—always understanding that, more than anything, we visited Riverdale each week to have fun and keep up with these characters that we've grown to love like friends. 
More than anything, unlike people on the Internet would have you believe, Riverdale has always been strikingly self-aware, and never more so than in this final episode. Riverdale engages with its series finale in a way only this show ever could, by recognizing it as both an end for these characters and this story, but also as an end to the show itself and its connection to its audience. The show recognizes that this really isn't the end of Riverdale. 
This series has always been in dialogue with itself, with the teen drama genre, and with its audience, and this series finale speaks directly to those that have stuck it out this long—and those that will allow it to live on in perpetuity. Riverdale ends with Jughead, simply standing in the neon light of Pop's, speaking directly to the audience as he reminds us that we'll always have a home in Riverdale the TV show, even if all its characters and the people that made it have moved on. Even if we all move forward, go on with our lives, watch new shows, meet new people, start to forget the little things that made this show so special to each and every one of us in the time we had it—it'll always be there, in some form or fashion, to welcome us back with open arms. 
And in that way, Riverdale's series finale did exactly what it needed to do. It perfectly preserved these characters, now forever 17 and happy and together—the most unshakable representation of TV itself to possibly ever grace the medium. Because, in spite of life getting in the way of our favorite Riverdaliens, pushing them down various different paths as life is wont to do, the teenagers and young adults that we spent so much time with are now preserved in a type of TV stasis. Archie, Betty, Veronica, Jughead, Cheryl, Toni, Kevin, Tabitha, and all the other brilliant characters that walked in and out of Riverdale by our sides are now immortalized, forever young and vibrant, frozen until someone turns on the TV once again to revisit this town, these people, and this once-in-a-lifetime show. 
So no, it's not really "Goodbye, Riverdale," it's just see you later. 
---
Anna Govert is the TV Editor of Paste Magazine. For any and all thoughts about TV, film, and mournful posts about the loss of Riverdale, you can follow her @annagovert.
For all the latest TV news, reviews, lists and features, follow @Paste_TV.