The Deuce: Maggie Gyllenhaal Still Reigns Supreme in the Season Two Premiere
(Episode 2.01)
Photo: Paul Schiraldi/HBO
TV
Reviews
The Deuce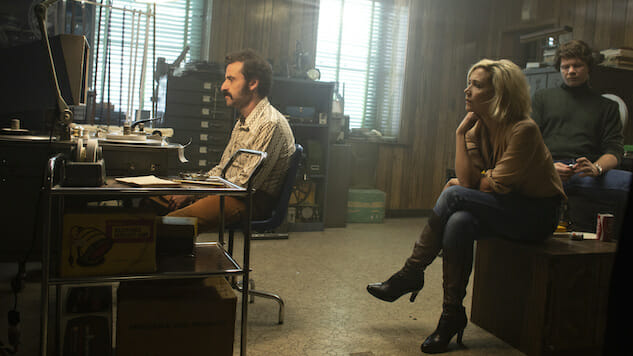 Welcome to the 366. It's been five years since we watched porn beat the pimps and the mob beat the cops. But sex work is still work, and moneymakers came out on top of the new scene, too. Part of that is Club 366, owned by the mob and run by ambitious doofus Vincent Martino (James Franco). With tight pants, no bras, and some Foghat-ass wigs, The Deuce admires the substance under the flashy surface of New York City's 1970s slime.
In "Our Raison d'Etre," the battle between surface and depth rages on, as the title hints. Directed by Alex Hall and written by series creators David Simon and George Pelecanos, the episode finds the characters trying to take a break from the hustle and enjoy themselves a little. But most everyone in The Deuce seems to get pleasure from that hustle—even those at the top of their game.
Eileen, a.k.a Candy (Maggie Gyllenhaal), flaunts her status as a porn maven. She drips with the kind of sexual empowerment and gaudy leather that transcend politics or genre, being key identifiers of both punk rock and glam disco. The excess and its angry reaction may soon be colliding, as we see with Abby (Margarita Levieva) and her new take on the Hi-Hat, but everyone's still living an image-first lifestyle. And, as the episode's biker jackets, S&M straps, and assless chaps show, sex and punk were always connected. It's the nature of counterculture.
The season's thesis scene—its pornographic postulation—in which Harvey (David Krumholtz, whose weight loss has been hilariously written into the show) and Eileen debate an artsy, Easy Rider-esque porn cut she's given him, makes the side of superficiality more complex. Do you strive for artistry so it can be something more than facile jerk-off material? Or does that very pursuit undermine its eroticism? The answers come down to a decision: idealism vs. practicality. You can attempt to change the industry (for good or for ill), or you can provide its simple, proven, sexist service. You won't win any new converts with the latter, but you'll do a job well. Eileen is squarely in the former camp, aiming to emulate the female orgasm, while Harvey, good ol' Harvey, is caught between the two. And The Deuce? Well, it's trying to inject meaning into its exploitation as best it can.
The fuel injector in this week's story engine is Frankie (Franco), who's looting Show Land and pissing off, well, everyone. Frankie's adventure is cramped and awful—peering through semen-obscured observation windows, for example—and his brother's chase is open and hopeless. Vincent shows up in empty areas, a wide-shot street or a deserted brothel lobby, while his rat of a brother squirms through New York's hoarder stacks and back rooms. The Deuce still looks amazing, and it's linking character and image with more care than most shows on TV.
That comes up again with Chris Alston (Lawrence Gilliard Jr.), who's made good. Out of the squad car as a homicide detective, he's approached by Gene Goldman (Luke Kirby) in one of the season's first hints at something greater down the line. Goldman is part of the mayor's task force aimed at cleaning up Times Square, and Chris is already numb to political promises. Gillard is so good at being Good Guy Smug: It's like seeing the wrinkles develop on earnest idealism, getting a hi-def picture where you can see the bags under its eyes. He's gotten more sour, which you can tell from his sturdy trot as much as his more official delivery and taciturn face behind aviator sunglasses.
There's definitely some sluggishness in the middle of the episode, as we slowly realize just how many desensitized S.O.B.s we have to catch up with (Gyllenhaal giving the greatest performance of them all), but all goodwill is returned as we discover something more heartwarming than a gay old Santa on a street corner: Paul (Chris Coy) has his own place. He's got the same taste of success Eileen has, though, and that means ennui isn't far behind. Paul wants to get out from under the mob, which is a great idea… in theory. But the mob (much like sex work, at least, in the 1970s) isn't really here for theory. It's here for the action. And that's hard to change. But hell, Darlene (Dominique Fishback) got her GED, so who says change is impossible? Life is good on The Deuce, whether you're smoking after sex, after cutting a great porn scene, or planning a new business—even if everyone's still addicted to the smoke.
---
Jacob Oller is a writer and film critic whose writing has appeared in
The Guardian, Playboy, Roger Ebert, Film School Rejects, Chicagoist, Vague Visages,
and other publications. He lives in Chicago, plays Dungeons and Dragons, and struggles not to kill his two cats daily. You can follow him on Twitter here: @jacoboller.