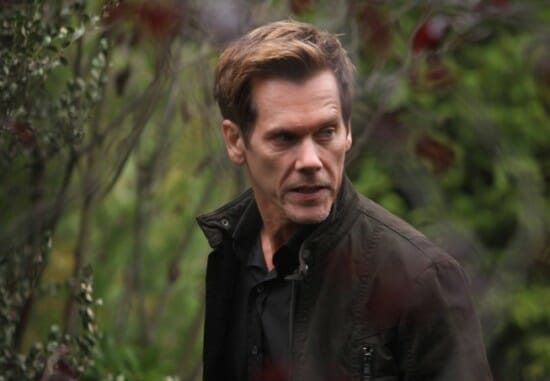 So far, The Following has been steady but flawed. Each episode has been just different enough from the last to make viewers question exactly where this freshman thriller is headed, but now it seems we have an answer. For the first time, everything clicked, and the show's fifth effort introduces a slew of information without overloading the episode.
"The Siege" has hinted since the promos first aired a week ago that a lot would with change with this episode. Hell, something is going to be sieged, obviously. Over the course of the first four episodes there were a lot of murders that introduced Carroll's Following, but they didn't push forward the central plot. Instead they help developed a series of psychopaths and left Hardy running around drunk on vodka. It all changed this episode thanks to the intelligence of little Joey Matthews.
The son of the serial killer finds the hidden phone and calls his mom. He's panicked, but not entirely sure what is happening. He's on the call long enough for the FBI to trace it, but they're being pinged all around the world. However, they do believe the house is in Duchess County, N.Y. Unfortunatly for Joey it's Paul, the craziest of the three, who discovers him on the phone. Emma is able to diffuse the situation, but Joey is still wary.
Meanwhile, Carroll enlists his former lawyer to read a message to the press. Her passage from Poe's Masque of the Red Death sets something in motion, but we're not entirely sure. We are introduced to Charlie and Hank, two more Followers who are meant to move Joey and the three killers from the farmhouse while the other is to kidnap Claire.
Claire isn't really kidnapped though. She's told if she doesn't get the FBI tail off of her and show up at a street corner by herself that she will never see Joey again. Of course she's able to do so and hops into an SUV with a Follower with no questions asked. Up until this episode I had a small inkling that maybe Claire was part of the Following. I know it sounds absurd, but twists are bound to pop up. It's rather implausible, I must admit, but it would prove that Carroll is a mastermind. My other small and totally unaccredited theory is that Weston (played by Shawn Ashmore) is in on it as well.
Hear me out on this one: Carroll enlists a young, curious FBI trainee to learn everything about Hardy and the case so that he is considered an expert and so when the plan goes into motion, he's put on the task force. He seems to know an awful lot about Hardy—almost too much—but again, I don't want this to happen and just think it's some crazy theory worth throwing out there.
While this subplot and my tangents are going on, Joey escapes from the farmhouse through the woods and is discovered by a lovely, elderly couple. He's finally about to escape: the couple recognizes him, and he's about to call his mom. Only Emma comes back and whisks the boy away. There's enough time in between Emma taking Joey back and her sending Paul to kill the couple that they were able to call the police, sending Hardy, Weston and two local agents right to the killer's hideout.
This results in a tension-filled standoff where Hank kills one of the police officers, but he is immediately killed by Hardy. I was a little upset that the cop looked scared out of his mind and felt that I wouldn't want such a frightened person protecting my neighborhood. After Hardy takes care of business, he goes inside to find Joey, who remembers him as a good guy from the first time around.
Finally! All is well, and the first arc is wrapped up nicely—that is until a gun barrel is pushed against Hardy's head and Paul is revealed to have the FBI agent and the innocent boy cornered with no place to go. So while the first arc is wrapped up and we're onto the second act, it's not tied up with a nice bow. More complications have presented themselves and the show—which has been slow-paced from time to time—now has gone full-throttle, and we can expect the next episode to be a barnburner.