While Charming, Hulu's Musical Series Up Here Can't Get Out of Its Own Head
Photo Courtesy of Hulu
TV
Reviews
Up Here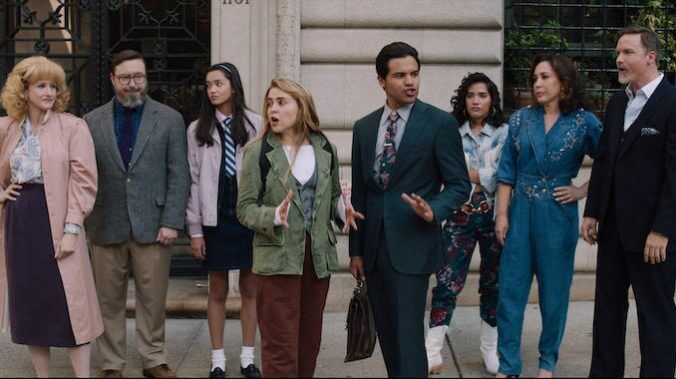 Everyone knows there are few stories about writers risking it all to move to the Big City. Even fewer of these stories are romantic comedies about writers risking it all to move to the Big City. Even fewer of these romantic comedies are musicals about writers risking it all to move to the Big City. And even fewer of these romantic-comedy-musicals are—okay, you get the point.
What Hulu's Up Here, the latest romantic-comedy-musical about a writer in New York City, may lack in terms of originality, it has an annoying tendency to counterbalance with undeniable charm. It's hard to imagine the show wouldn't meet this standard based on the creative team behind the production alone. Tony-winner Steven Levenson of Dear Evan Hansen lore (the musical, not the movie; don't worry) co-creates with Robert Lopez and Kristen Anderson-Lopez, the duo behind the 2015 musical adapted into Up Here, with Hamilton's stage director Thomas Kail taking on executive producing and pilot-directing duties. It's one of the most impressive teams you'd find on Broadway, but in spite of this, not all of their talents consistently harmonize.
Up Here's premise is knowingly bromidic: After years of aimlessness in her sleepy suburban hometown with her sleepy suburban husband, Lindsay (Mae Whitman) upends her life as a dental office assistant and grabs a one-way ticket to the Big Apple, where she begins to realize that her aspirations to make it as a novelist are not beholden to whims of the singing, maddening voices inside her head that have since dictated every moment of her life: her mother (Tony-winner Katie Finneran), father (Jon Hodgman), and sixth-grade frenemy Celeste (Sophie Hammons). Her dreams to make it as a modern single woman are interrupted when she meets Miguel (Carlos Valdes), a junior investment banker with suffocating imaginary naysayers of his own to circumnavigate: his overly adoring mother (Andréa Burns), a catty ex (Emilia Suárez), and an alpha male coworker (Scott Porter, who snags some of the show's biggest laughs).
With the adorkability meter cranked up to its highest gauge, Lindsay and Miguel have an instantaneous spark, but where most romcoms would have a medley of outside forces come between their courtship, Lindsay and Miguel's hangups all stem from within. The hallucinatory voices of reason/unreason buzz around our heroes' heads and appear at the most inconvenient of times to cast doubt upon the neurotic lovers' decisions. Between klutzy sexcapades and earnest diner dates, Lindsay and Miguel's future together is never safe from each of their pasts. Yet neither a failed one-night stand nor a series of miscommunications about each other's intentions can hamper what we all already know: these two are meant to be.
This is all very well and good, but for a show so steeped in its central blithe-yet-psychologically-dubious conceit, it does surprisingly little with the gifts at its disposal. Its late-1990s setting provides little impact on the proceedings other than as a gag for plastic pants and some wink-wink-nudge-nudge bits about impending Y2K doom. The rock-opera sound is catchy but quotidian, and even the most eye catching spectacles—such as a mid-season fantasy number that finds the walls of the broom closet in which the duo just got busy pulled apart, and Miguel exalted into the air by a sudden chorus—are bogged down by tepid choreography and perplexing lyrics ("I am not alone / Love is where I live now").
In some ways, you can't fault the eight-episode series too hard for leaning into the well-trodden tropes of the romantic comedy, nor for song-and-dance moments that don't always bring the house down. Up Here appears hindered by budgetary redtape, though production designer Almitra Corey captures the claustrophobia of an East Village apartment as wonderfully as she executes the expansiveness of the stage where big emotions can blossom. A limited runtime doesn't help either, giving us little opportunity to color the edges of this world or get to know an excellent ensemble of supporting characters, whose heads are surely filled with inimical voices of their own.
Perhaps what most disservices Up Here's prospects is the fact that, while there are fewer musicals on TV than there ought to be, the ones in its company outshine at almost every turn. Up Here still has a long journey if it wants to stand among the ranks of its clear forebears Crazy Ex-Girlfriend, Zoey's Extraordinary Playlist, Schmigadoon!, and even Smash. The joke writing, song memorability, and poignant character work of those shows remain far superior, firmly nudging Up Here across 8th Avenue and relegating it to the purgatorial realm of Off-Broadway at best.
At the same time, there's something inherently winsome about the whole enterprise. A deliriously funny (and downright brutal) scene involving a pre-heating oven and an imagined burlesque number helmed by Broadway royalty Brian Stokes-Mitchell triumph; Whitman and Valdes are game, giving entrancing performers as well (even if Whitman's voice occasionally leaves more to be desired), and whose on-screen chemistry makes up for a few contrived plot points. The promise is there. It's tough to say whether Up Here will break out in the overcrowded streaming minefield, but if the show gets renewed for a second season and its creators decide to take a few more chances on the next go-around, it'd be a mistake not to stick around for the encore.
---
Michael Savio is an editorial intern at Paste Magazine based in New York. He is currently pursuing a master's degree at NYU in media and humor studies.
For all the latest TV news, reviews, lists and features, follow @Paste_TV.