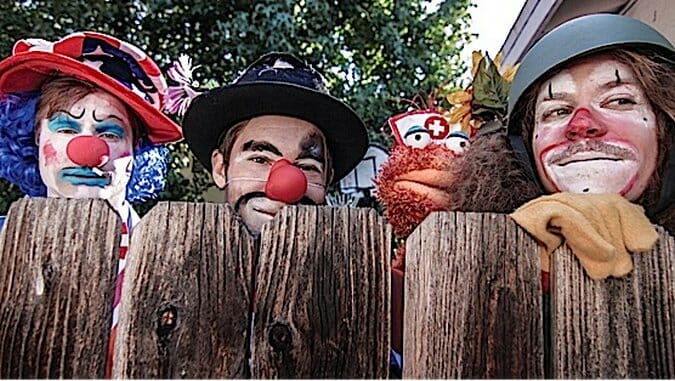 As fun as it can be watching Adam, Blake and Anders' interactions with people even crazier than themselves (like Stan Halen from last week's episode or the always shady Karl), sometimes it's just nice to watch these three clown around together (no pun intended). "We Be Clownin'" turns these three into literal clowns. The episode works particularly well in that it allows the trio the escalate things on their own, without the usual outside influences.
"We Be Clownin'" harkens to the early days of Workaholics. It starts out simple and charming, with the guys trying out three-person basketball tricks in the pool. When Adam finds some stranded pieces of wood, he decides they could make their own pool slide, and their first attempt leaves Adam with bloody splinters in his back. Instead of just sanding the slide themselves, they go online to find someone willing to do the job for them. When that turns out to cost too much, they instead decide to get a job entertaining kids at birthday parties for the money to hire someone else. That's right, they decide to get a job to pay for someone to do a job for them that they could just as easily do themselves.
Considering that Blake, Anders and Adam are basically man-children, they are quite successful as birthday clowns. Blake does face painting, Anders is the world's tallest clown and also hypnotizes hot mothers, and Adam uses a puppet named Nurse Jackie that the kids instantly fall in love with. The success immediately goes to their heads, as they rent a Miata, dress like Wesley Snipes, go all out at a 7-11, and consider their next business venture, like buying a strip club.
It's always enjoyable to watch these guys receive even the smallest amount of success and see where they go with it. Sure, they're good at what they do and they may be Rancho Cucamonga's greatest clown troupe, but really, how long can that list be? It's also incredibly weird that their barometer for success even has Wesley Snipes on it.
Of course, the path to the top is littered with the rest of Ranch Cucamonga's finest who just couldn't make the cut. When the guys discover T.K., a Aladdin style entertainer who sings kid songs and dunks, they immediately set out to take him down. When they succeed, they find out soon after he isn't Miata-rich like they are, but in fact lives in his car with his wife and kid. Feeling bad about their actions, they hire T.K. to sand their slide, which breaks right before Adam tries to slide down it.
"We Be Clownin'" is one of the better episodes this season. It doesn't rely on new characters for the story, and it returns to a more innocent time for these guys. It's not about gross out jokes or hurting others necessarily; it's just these three having a good time together and trying their best to maximize their fun. It may sound simple, but Workaholics is at its best when it just sticks to the basics.
Ross Bonaime is a D.C.-based freelance writer and regular contributor to Paste. You can follow him on Twitter. Now how about we forget about the slide and we go smoke weed and forget about all of our troubles starting now?