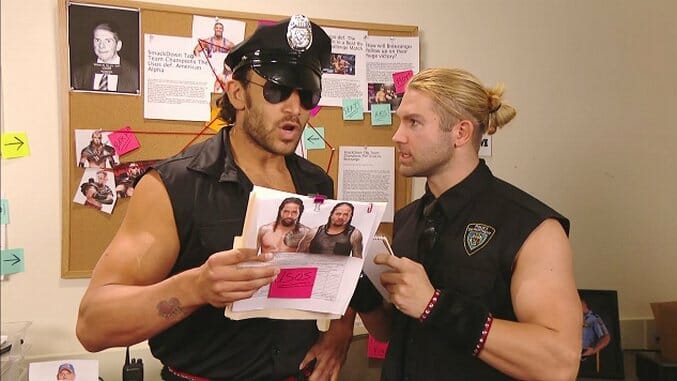 It's still true: Jinder Mahal will be headlining a PPV against Randy Orton, wrestling for the WWE World Championship. As surprising as that is, Mahal isn't the only perennial undercard talent to get a sudden push in WWE lately. Tyler Breeze and Fandango won a Beat the Clock Challenge over The Ascension, American Alpha, and the Colóns to put themselves in a Smackdown Live Tag Team Championship match against the Usos at Backlash.
Like Jinder Mahal's main event push, it's a good move for WWE to prove that the "land of opportunity" tag for Smackdown isn't just talk. But unlike Mahal, who still struggles to make the audience to give a crap about him and his mission, Breezeango have been making the most of their chance, turning the dial completely on their Fashion Police gimmick and getting the fans' support. It wasn't necessarily hard—unlike Mahal, many fans already felt the duo was underrated and abused by the fickle typewriter monkeys of WWE creative, and were more than happy to get behind the possibility of Breezango as tag team champions. The "Fashion Files" segments have let Breeze and Fandango go from being two goobers in police outfits who threw vague citations at their opponents to a fantastic comedy duo that's putting their heart into what might have been a half baked flop in anybody else's hands. Perhaps creative took notice of Breeze and Fandango's performances in Southpaw Regional Wrestling, where they got to put their comedic skills on display and stole the show out from underneath John Cena and Chris Jericho.
At this week's London show, where Breezango performed a quick squash of the Ascension, the crowd was Fandango-ing like it was the night after WrestleMania 29 all over again. Breezango's rise also seems to have motivated the Usos themselves, who fired back at Breezango with a promo that may have sounded like a Migos B-side but had a lot of fire behind it, so iron is definitely sharpening iron here.
If one of their previous clashes at the 2016 Batttleground kick off show is anything to go by (where Breezango not only won, but got a huge reaction from the crowd), this title bout might just have a shot at stealing the show. But whether Breezango are successful at Backlash or not, they definitely shouldn't leave the title picture, even if there is a change in keeping every other tag team sitting on their butts in WWE purgatory. They've worked real hard to make this happen and they deserve a chance to show why people enjoy watching the Fashion Police hunt down runway rogues.
---
Sam Jackson writes for Cracked. Looper and Grunge, and just about anybody who wants him. He's on Twitter @darwinaward44.