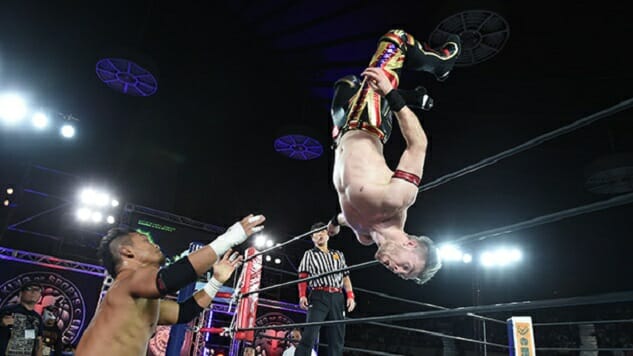 Calling Will Ospreay one of the best pro wrestlers in today's world may still be debatable for some people, but he undisputedly has the most entertaining Twitter feed in the business. Last year, Ospreay turned an online snipe fest over the Ospreay/Ricochet classic in the 2016 Best of the Super Juniors tournament into a packed main event match for Revolution Pro Wrestling at York Hall against the instigator, Vader. Somewhat coincidentally on the eve of this year's Super Junior tournament, which concluded this weekend with Ospreay narrowly losing to Kushida in the final, Ospreay managed to find himself at the center of another dust-up, this one dragging in Ohio Valley Wrestling's head trainer Rip Rogers and frequent WWE Champion Randy Orton, and showing humor, arrogance, business savvy, and a vile instance of taking a joke too far all at once.
Just got this …. pic.twitter.com/S8Vczlmbew

— Rip Rogers (@Hustler2754) May 13, 2017
It all started May 13, with a single tweet sent by Rogers. Critical of the current state of the indies, it broke down independent wrestling matches into the most simplistic tropes, many of which sound familiar: "dive," "no-sell Indy strongstyle," "dive," "fight forever chant", "flippy floppy sequence," "hit everyone with each other's finisher," "dive," "unsafe shot that hurts like hell then roll up finish," "handshake and hug". And the most important one, "…..dive."
Ospreay's immediate response was that he was a happy man profiting from his work, which seemed to appease Rogers, and to accentuate the point, Ospreay's now selling a new "Dive" shirt. That might have been the end, but then Orton barged into the scene, re-tweeting Rogers' post, then following it up by first calling Bully Ray/Bubba Ray Dudley out of shape, retweeting a picture of him and Drew Gulak next to a "No Fly Zone" sign, and then posting this whole iPhone Notes screed about how he's making so much money that he doesn't need to do all of that flippy-dos bullshit.
That set Rogers off again, with him launching intoa floodof namedropping and then firing off a tweet telling Ospreay to "Make Jimmy proud.", complete with a seriously creepy picture of the late Jimmy Savile, former British media personality and known pedophile, an insinuation so disgusting even fellow British wrestler Jimmy Havoc, who once tried to cut off Ospreay's ear, thought it was over the line.
The debate wasn't just restricted to Twitter. Ospreay imitated Orton during his match with Marty Scurll at Best of the Super Juniors, a fan at SmackDown Live was seen sporting a "Dive" sign (if you're that fan and are reading this, Ospreay wants to talk to you), and various "Dive" shirts have been released over the last few weeks. If this leads to a match between Rogers and Ospreay, you better believe that most people are going to be hoping Rogers is made to pay for that Sevile joke. For now, welcome to wrestling's newest meme. Dive in.
---
Sam Jackson writes for Cracked. Looper and Grunge, and just about anybody who wants him. He's on Twitter @darwinaward44.