Okkervil River: The Stand Ins
[Jagjaguwar]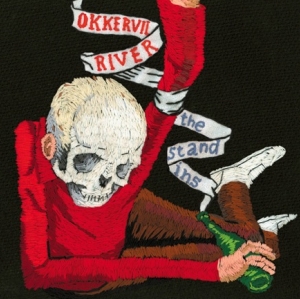 River's level continues to rise

The cover of 2007's The Stage Names featured a hand waving outstretched toward an embroidered, sunburst sky, basking in the glow of celebrity exposure. But the album periscoped into the masks and corroded identities of fame's situation from its post-cinematic preamble to its tailpiece chantey for poet John Berryman. The Stand Ins' cover now dives beneath, revealing the skull-headed hand-owner who (as real film-industry stand ins do) supports the performance without getting to see the lights himself.

This thorny relationship is conceptualized, schematized, scrutinized and historicized on
The Stand Ins
through characters like glam-rocker Jobriath and a now-famous actresses' pining ex-boyfriend. And Okkervil River itself performs here with an organic ease that's dramatic without reaching for histrionics, continuing to tattoo its rough folkish flesh with Motown horns ("Starry Stairs"), power-pop overdrive ("Pop Lie") and chugging New Wave bass ("Lost Coastlines"). The inclusion of three orchestral interludes, along with singer Will Sheff's easing off the words-per-measure count a bit, lend some welcome breathing room to the set.
Although
The Stand Ins
has been called the sequel to
The Stage Names
and emerges from the same recording sessions —something Okkervil River also did with
Black Sheep Boy Appendix
—this album is not just a subsequence. It's an interlocking, overlapping element that loops back, through and even forward. "Lost Coastlines," the album's first proper song, sets its sights on the band's own struggles. And after Sheff and since-departed Jonathan Meiburg (now focusing on his band Shearwater) wail together "we have lost our way / but nobody`s gonna say it outright," the track hits, retracts and then comes back twice as strong—an elegy to what's always being lost, even as an achievement like
The Stand Ins
is only beginning.
Listen to Okkervil River's "On Tour With Zykos" from The Stand Ins:
Others Tagged With