The Best Albums, Movies, TV & More From the 2000s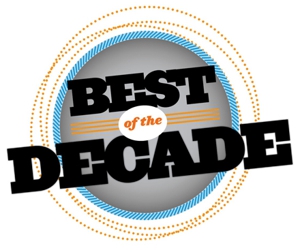 When this decade began, Paste's website was barely a year old, and the magazine was still a twinkle in its daddies' eyes. So looking back over the first 10 years of the 2000s feels like looking back over our own history. There hasn't been a new album, film, TV show, video game or book Paste has covered that wasn't eligible for our "Best of the Decade" consideration. We had dozens of critics vote in each of these five categories, and then we argued some more until we'd focused our spotlight onto the very best pop culture created during the aughts—whether it was wildly popular or is still waiting to be discovered by the masses.
Looking at each of these lists confirms my belief that—despite the seismic economic shifts that the entertainment industry has faced—the democratization of once-expensive-to-create art forms like movies and albums has resulted in unprecedented innovation, variety and accomplishment. With an ever-increasing roster of television channels, networks like AMC and Sci-Fi are taking chances on thoughtful, complex series that would have never even aired in the 20th century. Technological jumps in the video game world have wrought gorgeous graphics, but it's really been the attention to story that has transformed the gaming experience from a fun way to kill time into an immersive artistic experience. And just when we thought the book form had been stretched to its limits, authors like Dave Eggers and the late David Foster Wallace give us something entirely new.
More than trying to create a canon for the '00s (that'd be so last millennium), we're just hoping you use these lists and the accompanying November '09 issue to reflect on some of the artists who shaped your decade and discover others that will change how you look at the next. Personally, after reading the loving descriptions in these pages, I've already got films I missed the first time around—like Syndromes and a Century and Beau Travail—in my Netflix queue. And I'm looking forward to reading Gilead and playing Portal.
We're also narrowing our focus into different genres with a new List of the Day each day in November ranking the decade's Best Album Covers, Best Documentaries, Best Music Videos and so much more. What a great time to be a fan of thoughtful, engaging and original entertainment. And what a great time to be covering it all.
11/1 – The 10 Best Memes of the Decade
11/2 – The 50 Best Albums of the Decade
11/3 – The 50 Best Movies of the Decade
11/4 – The 20 Best TV Shows of the Decade
11/5 – The 20 Best Video Games of the Decade
11/6 – The 20 Best Books of the Decade
11/7 – The 10 Best Comedians of the Decade
11/8 – The 10 Best Music Producers of the Decade
11/9 – The 50 Best Music Videos of the Decade
11/10 – The 25 Best Documentaries of the Decade
11/11 – The 10 Best Food TV Shows of the Decade
11/12 – The 10 Best Casual Games of the Decade
11/13 – The 12 Best Music Books of the Decade
11/14 – The 25 Best American Breweries of the Decade
11/15 – The 10 Best Fashion Designers of the Decade
11/16 – The 25 Best Album Covers of the Decade
11/17 – The 25 Best Movie Performances of the Decade
11/18 – The 25 Best Live Moments on TV
11/19 – The 10 Best Video Game Characters of the Decade
11/20 – The 10 Best Debut Novels of the Decade
11/21 – The 20 Best Gadgets of the Decade
11/22 – The 10 Best Movie Soundtracks of the Decade
11/23 – The 20 Best Live Acts of the Decade
11/24 – The 20 Best Movie Scenes of the Decade
11/25 – The 10 Best TV Guest Appearances of the Decade
11/26 – The 20 Best Magazines of the Decade
11/27 – The 20 Best Graphic Novels of the Decade
11/28 – The 7 Best Paste 7 Picks of the Decade
11/29 – The 5 Best Paste Magazine Covers of the Decade
11/30 – The 30 Best Cover Songs of the Decade
Others Tagged With