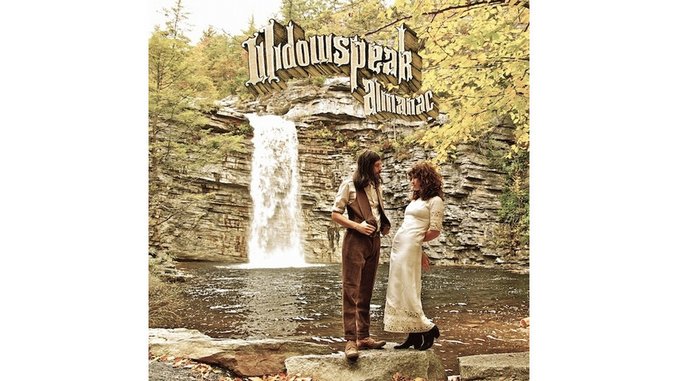 The story of Widowspeak can be seen as a sudden musical venture, but also as a lifetime in the making, as both singer Molly Hamilton and former drummer Michael Stasiak grew up in the neighboring cities in Washington, the damp forests and muted colors informing the eventual aesthetic of their band, combining with their new Brooklyn home and the area's sleepwalking nostalgia championed by the Captured Tracks label.
Within a few months of starting Widowspeak on a whim, they had a handful of songs and were playing shows. A few weeks after that, they were planning their debut LP. All told, from inception to a released full-length, barely a year had transpired. Now, 18 months later, sophomore album Almanac expands the speed in which the band is working to the speed in which the band is improving, somehow operating in dog years.
Grounding Widowspeak is the voice of Molly Hamilton, full of breathy wisps and relaxed dips that serve as comfort, with enough detachment to allow the Captured Tracks retro-dreaminess to play. And guitarist Robert Earl Thomas still pushes the Western flair present in their debut, but changes can be seen in the opening moments of lead song "Perennials," which builds the expected record player hiss and gentle guitar noodling into a steel-string throat grab, cannon-balling into focus and giving Hamilton's ghostly notes more force than previously hinted. Sure, it's all pretty tame by most standards, but compared to their usual points of reference, Mazzy Star or the now-huge Beach House, this opener makes Widowspeak seem like Judas Priest.
Though it was well-received, their self-titled debut never grew beyond the moment it was heard, easy to let go of once the record stopped spinning. Almanac's dynamic range allows for more engagement, and more lasting appreciation. Continuing with "Dyed the Wool" and "The Dark Age," the album lands three straight punches to start, with "The Dark Age" moving into JAMC fuzz, accented by driving percussion and reverb-drenched guitar leads. Somehow, though, Widowspeak maintain their core, never brightening the cloudy color scheme, but also not letting that control the songs' tones, allowing for significant gear shifts and trusting the audience to stay with them. And we do.
By the time "Ballad of the Golden Hour" turns a vivid acoustic strum into a bouncing indie-pop throwback, Widowspeak have made their point, that expectation does not belong here, and that their band is growing as fast as a child, shifting from promising infancy to a walking and talking little person, leaving listeners thinking "they grow up so fast." In one stretch, Widowspeak somehow floats from Deerhunter-making-dream-pop on "Devil Knows" to a dark blues-strutter on "Locusts" to a sugar-free Zooey Deschanel echoing '50s pop on "Minnewaska." Closer "Storm King" develops the Deerhunter comparison further, with Widowspeak at their most psychedelic, concluding a listen lacking the exhaustion of a journey but showing the distance that usually requires one.
Widowspeak's Almanac strikes as a true original, as a natural evolution from the band's original concept. Sure, comparisons to other acts can be drawn on a song-by-song basis, but it's hard to find other examples that combine range and focus so expertly, making Almanac an early surprise for 2013.
Others Tagged With