Elon Musk's Tesla Solar Roof is Coming to Your Neighborhood Later this Year
Photo by Justin Sullivan/Getty
Business
Features
Solar Power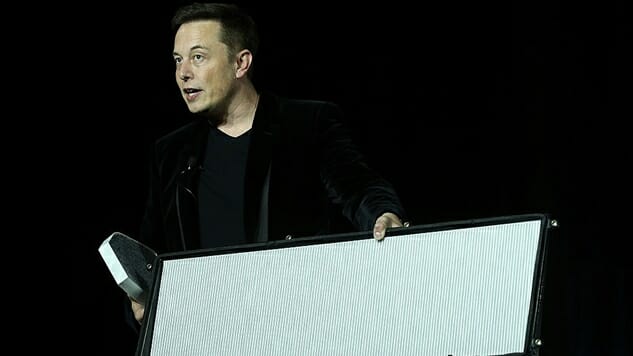 2016's announcement of Tesla's Solar Roof seemed like an expensive pipedream to many observers of the solar industry. After all, Tesla's owner Elon Musk had just acquired a vertically integrated solar company—Solar City—and was still pushing huge projects like consumer space exploration through his company SpaceX. The man obviously has big dreams, but are they feasible?
For his Solar Roof, Musk seems intent on pushing forward and now states that official production on the new energy-efficient tiles will begin mid-2017 with a market launch date later in the year. For buyers who have already been put on Tesla's waiting list, this means they may be the first batch of guinea pigs in Musk's continuing foray into consumer-facing renewables.
So what exactly is the Solar Roof, and why is it different?
Out with the Old, In with the New
Anyone who has ever spotted a home fitted with large solar roof panels knows that on first impression, the panels look out of place: They appear bulky and metallic, despite the many advantages they provide. One common complaint is that modules are either dark blue or black, which virtually never meshes with the other parts of the home. And regardless of home construction type, builders simply aren't modeling homes with panel installations in mind – once again, solar panels come across as ill-fitted, late additions to roofs.
That's the core frustration Elon Musk is hoping to solve.
Rather than drilling metal racks into shingles and mounting modules into place (established installation orthodoxy), Tesla's Solar Roof simplifies the equation. Why build on top of shingles, when you can transform roof tiles into high-efficiency solar panels themselves?
Available in four styles, Smooth, Textured, Slate and Tuscan Glass Tile, the Solar Roof is the next evolution of mainstream renewable energy technology and roof construction. Photovoltaic cells are first mounted directly to the roof's frame, then a colored film is laid overtop, followed, finally, by a tempered glass that protects the tile from weather and impact extremes.
The three-step installation process means the solar cell is flush with the roof, and homeowners can select different color and tile constructions to suit their aesthetic needs. Both the film and the glass sheets are designed to allow the solar cell to harness the sun's rays at a highly efficient rate. To passersby, the Solar Roof looks just like any other conventional roof, yet underlying the sleek, modern design is a roof that is now connected to the grid, allowing owners to generate and store electricity.
Tesla has yet to release official pricing details, but estimates from Consumer Reports peg the Solar Roof to be a $60,000 investment, which is roughly three times more expensive than a regular asphalt roof. By weighing predictive models from various contractor and roofing trade organizations, Consumer Reports posits the Solar Roof will only be competitive in the marketplace if it keeps its price at $73,500 or less—anything higher and consumers will likely balk.
The clear selling point, however, is that as soon as the Solar Roof is installed and online, it immediately provides energy and cost-savings in the form of lower or nonexistent electricity bills. When paired with Tesla's new $6,500 battery storage pack, Powerwall 2.0, homeowners can store all of the electricity their roofs generate. In essence, each passing year will make the initial ~$60,000 investment more amenable to pocketbooks. The question is whether the average homeowner is willing to finance an upfront investment at that scale.
Tesla's Solar Roof has an expected 30-year life span, meaning the purchase would pay off in the long run, but mostly for those who plan to remain in their homes for a long period of time. Additionally, homes in sunnier locales like California and Texas would reap greater energy rewards compared to residences in less-sunny regions, which could perhaps be a deterrent for homeowners literally and proverbially left in the dark.
On the whole, Tesla projects the Solar Roof to be more affordable than today's traditional roof builds once utility savings are factored in.
Not Stopping at Roofs
Solar roofing tiles are an attractive way to persuade a new type of once-resistant customer into the solar mainstream. But to complete the full-scale transformation of consumer renewables, Musk recently hinted at bringing a similar solar roof technology to Tesla's newest line of Tesla Model 3.
Panasonic (Tesla's business partner in lithium-ion cell generation) has already made large headway into the solar vehicle sector, and uses a different type of silicone cell technology than what Tesla's Solar Roof is currently testing. Though the practicality of solar vehicle panels (or a comparable, embedded design) is still in question, Musk remarked confidently that he foresees solar vehicle roofs "to be an option" in the near future.
This coming development is in addition to the battery storage technology Tesla continues to pioneer every day.
Earlier this year, Tesla turned an island in Hawaii—Kauai—into a sustainable energy generator for years to come by installing a 13-megawatt solar facility that stores up to 52 megawatt hours of power. TechCrunch notes that the facility can power 4,500 Kauai homes through the night and transmits power at less than half the cost of what the island paid using fossil fuels.
Building on this Hawaiian success story, Musk has promised to replicate his solar prowess in Australia, a continent that has been hard hit by blackouts, brownouts and crippling energy shortages of late. Australia has resorted to rationing energy use after several heat waves put excess demand on the electrical grid and its natural gas reserves were not enough to maintain optimal power supply.
Musk stated that in just 100 days, his company could build a 100-megawatt facility capable of powering the Australian continent using solar energy, provided officials signed off on the contract. This daring wager may be far-fetched to some, but Musk doubled-down by offering to do the project for free if he missed his own deadline.
While Solar Roofs are rolled out in the U.S. later this year, it won't be long before Tesla consolidates its grip on the global renewable energy market by putting its money where its mouth is and offering the types of products consumers (and the electric grid) demand. And that sounds like a good deal.