Michter's Unveils 2022 Celebration Sour Mash Whiskey, With Staggering $6,000 Price Tag
Photos via Michter's
Drink
News
whiskey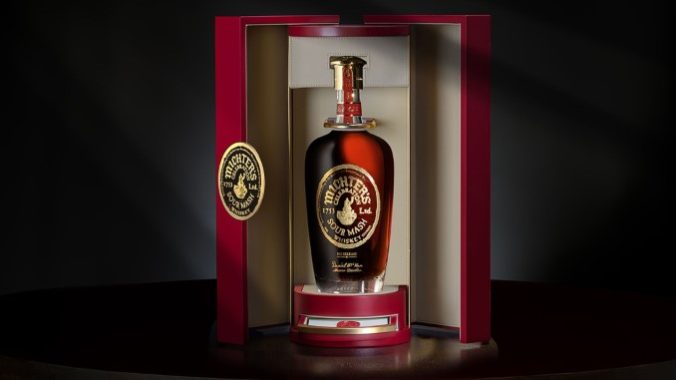 In recent years, the market for ultra luxe, ultra limited American whiskeys has soared to outrageous new heights, and one company that has been there every step of the way is Michter's. The Louisville, Kentucky distillery has a regular lineup of products such as Michter's 10 Year Rye that inspire the sort of retailer price gouging typically reserved only for Buffalo Trace brands, with retailers routinely pricing limited Michter's bottles at 200-400% markups. But that's not even getting into the truly limited Michter's releases, brands with only a few hundred bottles available at a time. Those holy grail bottles often fetch Pappy-esque dollar values, and none more so than Michter's Celebration Sour Mash Whiskey. Today, the brand announced the release of just the fourth installment of Celebration Sour Mash Whiskey, with an MSRP to go with it: $6,000.
This is the first Celebration Sour Mash release since 2019, when the official price tag had already crept up to $5,000. Still, that feels like a bargain when you see what those 2019 bottles are now going for—according to Wine Searcher, you can still score them from several liquor stores. You'll just have to pay a minimum of $19,000. Ah, and the "average" price for those 2019 bottles being sold by package stores today is roughly $30,000. So what will it be? A brand new Subaru Outback, or a skillfully blended bottle of bourbon and rye whiskey?
Only 328 bottles of the 2022 Edition—it was meant to release last year, but was delayed—of Celebration Sour Mash exist. As for what's in the bottle, it's a blend of seven whiskeys (three Kentucky bourbon, four Kentucky rye), ranging from 12 to more than 30 years of age. As Michter's Master of Maturation Andrea Wilson puts it: "This whiskey is an exploratory journey of aged bourbons and ryes blended to perfection that leaves your palate captivated with its bold elegance." It weighs in at 56.4% ABV (112.8 proof), coming in the expected giant gift box, which includes "a drawer containing a letter signed by Michter's Master Distiller Dan McKee."
To be frank, I can't help but find some of the marketing here distasteful—particularly the way that the press release goes on to praise the evolution of the whiskey market since 2013, when the first batch of Celebration Sour Mash was released. The press release celebrates the "increased respect and recognition both at home and abroad" for American whiskey, but casts the fact that "for the first time, an American whiskey company was offering a rare blend for a suggested retail price of several thousand dollars" as a good thing for the industry as a whole. As someone who has watched the ripple effects of bourbon mania transform former shelf stalwarts into unattainable, price-gouged brands, it can be difficult to share the same enthusiasm.
Regardless, check out the video below for some hype-laden reveals of the packaging for a whiskey you'll probably never manage to see in the flesh.