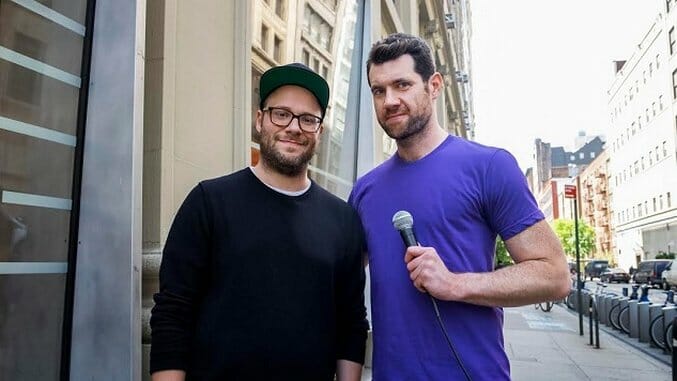 Seth Rogen isn't really dead, don't worry—Billy Eichner just wants to see what people would say. Rogen will guest on a new episode of Billy on the Street, and a clip from the episode reveals a segment Eichner calls "Death Rogen."
In the clip, Rogen pretends to be one of Eichner's cameramen while Eichner tells random people that Rogen has died. That way, Rogen gets to see their reactions while he's still alive, and then reveal his presence. Of course, there are plenty of people who have no idea who Rogen is. For others, though, I'd imagine it's quite an emotional whiplash.
The new episode, which debuts tomorrow, also includes games titled "Seth Vogue'n" and "What Does Michelle Rodriguez Bring to the Table?" that both sound outstanding and just a little bit confusing. Rogen's episode will air on Nov. 22 at 10:30 p.m. EST on TruTV. Check out the full clip above to see what people think Rogen might have died from.