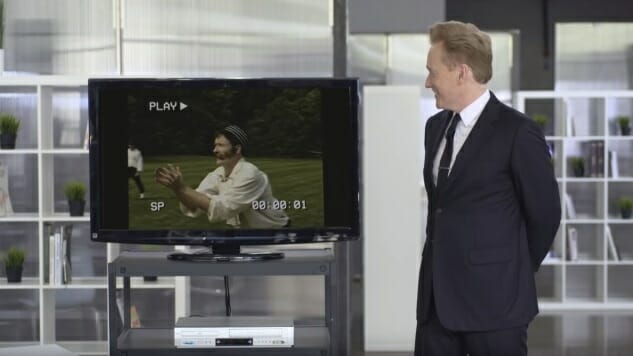 Next Monday's going to be a huge day for people who desperately want to relive the past—at least if they're Conan O'Brien fans. Every remote segment from O'Brien's 25 years on TV will be posted to the Team Coco website on Monday, March 25. And they'll look better than they've looked in years, as they're all being digitally restored straight from the original masters.
Some of the best comedy in the late-night canon will finally be available to watch outside of YouTube rips from decrepit old VHS tapes. That includes classics like Conan's visits to Iceland and Ireland, his adventures in New York during the blizzard of 2003, and, yes, when he played old timey baseball. The collection also includes Triumph the Insult Comic Dog's visits to the Westminster Dog Show and the opening of Star Wars: Attack of the Clones, which should be mandatory viewing for all Americans.
The remote, of course, has long been a staple of late-night comedy. David Letterman turned it into an artform during his years on NBC and CBS, and in time Conan O'Brien assumed the mantle. The remote isn't as prominent as it once was, but O'Brien has kept the concept alive on his TBS show and with his series of Conan Without Borders comedy specials.
Team Coco had previously announced that the full archives of Late Night with Conan O'Brien, Conan and O'Brien's brief run on The Tonight Show would be available online to celebrate his 25 years on TV. They're running a little behind schedule—the actual anniversary was last year—and staggering clips out based on the type of content was never mentioned as part of the plan, but we're not complaining. And this is only the first phase of Conan25; Team Coco also announced that the next wave will include a collection of sketches from O'Brien's shows, featuring some of O'Brien's most memorable characters.
The archive of Conan O'Brien remote segments will be available at the Conan25 site on Monday, March 25. Team Coco also released a video starring O'Brien to announce the news; check that out below.