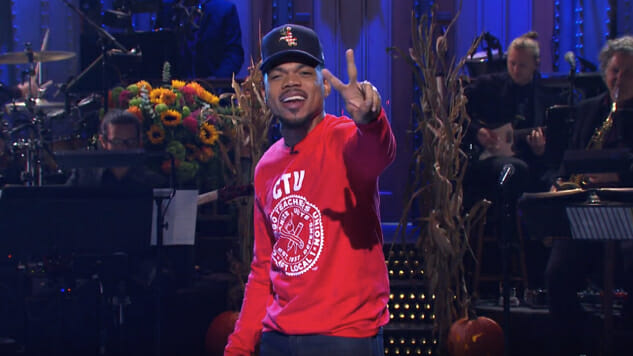 Chance the Rapper pulled double duty on the latest episode of Saturday Night Live, serving as the show's host and musical guest both, and his skill in both those capacities was on full display in his episode-opening monologue, which, like most things the Grammy-winning rapper (and occasional actor) does, was a) good and b) themed around his hometown of Chicago, aka the Second City.
Hosting SNL for the second time, Chance stepped onto the Studio 8H stage in a Chicago Teachers Union sweatshirt and White Sox hat, quipping about his support of Chicago's public school system ("I'm happy to say it completely fixed everything") and voicing his support for the city's educators: "To the teachers in Chicago, I know you guys are on strike right now, I fully support you." You can—and should—find out more about the teachers strike right here.
As a tribute to his beloved Second City, Chance the Rapper did what he does, rapping his way around a simple thesis statement: "Sometimes, the second best is better than the first." Over a beat from SNL's house band, and with an assist from Heidi Gardner and Melissa Villaseñor, Chance sticks up for Bing, Burger King and other also-rans, earning himself an invitation to the Percy Jackson musical in the process. Kyle Mooney joins in later on, representing San Diego, which he insists is known as "the Second City of Southern California"—Chance and Kyle combine flows to amusing effect, only thrown off by some confusion over the term "isthmuses" (which we spelled correctly without looking it up just now, believe it or not). It's not enough to land Kyle a feature on Chance's next album, but it's still better and more memorable than just about anything off The Big Day.
This being a Chance rap, the song-ologue ends on a heartwarming note: "I love my wife, and my family, it's true / a month ago we welcomed daughter number two," Chance raps, as if to acknowledge his wife guy status. But it's hard to hate on such a charismatic performer, and Chance's enthusiasm is contagious as he emphatically concludes, "Now I'm in New York, it's great to be alive / I'm back for the second time hosting Saturday Night Live!"
Watch Chance's monologue below and catch the episode's cold open over here.