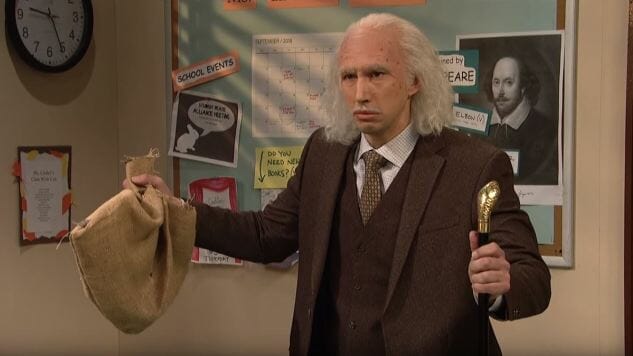 A lot of people watch Saturday Night Live. They watch it on NBC, they watch it on Hulu, they even watch it piecemeal on YouTube. Even though it's had bad word of mouth more often than not stretching all the way back to 1980, it remains the most prominent comedy show in America. People just don't watch it: they talk about it, and read about it, and so people like us here at Paste wind up writing about it, a lot. We're just giving the people what they want, okay?
A lot went wrong with SNL in 2018. The terrible political comedy still dominates the show's cold opens, with Alec Baldwin's Trump and a rotating cast of other celebrity cameos popping up as various Trump administration figures almost every episode. Weekend Update still has the wrong hosts for this particular moment in time, with one proudly touting his privilege and another intentionally renouncing any responsibility. The music booking has been even worse than usual lately. Watching every episode of this show is a chore, even with a DVR.
Still. When SNL is good, it can be great. And it's not just that it can be hilarious—there's a lot of great comedy on TV and the internet these days—but that it can be hilarious on a platform that several millions of people still watch. Pop culture is so heavily fragmented these days that our comedy editor's favorite TV shows (Joe Pera Talks with You and Detroiters, if you're paying attention) are almost completely unknown to viewers outside the comedy bubble. Saturday Night Live is mainstream TV in a way that even most network shows aren't anymore. When SNL does something genuinely great, like Adam Driver's unhinged turn as a spiteful oil baron, or Matt Damon and Leslie Jones ruining a Christmas dinner by starting a blood feud over Weezer, it makes a wider and deeper impression on pop culture than any other comedy show on TV today. It might not use that power that wisely most of the time, but it's still something, and it's why SNL is still worth covering in detail. And here are the sketches that made us excited to still watch this hoary, listing institution throughout 2018.
10. "A Kanye Place"
Mashing two unrelated trending topics together doesn't always create good comedy, but SNL, among other shows, is constantly doing it, anyway. "A Kanye Place" is the rare recent example that doesn't feel forced, combining the shock of Kanye West embracing Trump, the "shut up or die" world of the box office smash A Quiet Place, and the pointless and addictive nature of social media into a timely commentary on our shallow national dialogue.
---
9. "Teacher Fell Down"
Season 44 started in September, and although it still hasn't recovered from its Trump-era doldrums, the show has seemed to make a concerted effort to rely less on recurring characters. This means more sketches like "Teacher Fell Down," a weird bit of business from Kate McKinnon that has the off-kilter charm expected from the show's episode-closing 10-to-1 slot. In the past that's probably where this sketch would've aired, but this was smack dab in the middle of the Jonah Hill episode, with something even weirder airing at the end. As I wrote back when it aired, "the unexpected details turn what seems like a pretty limited idea into a consistently funny sketch that isn't as repetitive as it easily could've been."
---
8. "Weezer"
This was clearly written by somebody who's very familiar with Weezer's discography and the arguments on both sides of the divide. Leslie Jones, who believes that Weezer is unlistenable after Pinkerton (other than a few songs on the 2001 album), goes head to head with Matt Damon, a staunch Weezer believer who celebrates their entire catalogue. Their impromptu beef disrupts an otherwise pleasant grown-up Christmas party, angering their hosts and embarrassing the life out of their partners, and yet anybody who's ever felt strongly about Weezer (or any other band) probably understands why it's so important to stick up for what you believe. Even if you don't like Weezer (and c'mon, you really shouldn't—even Pinkerton is bad), if you care about music you'll feel something when you watch this thing.
---
7. "Fish Dreams"
This cut for time video comes in at over five minutes long. It's like Kyle Mooney and Beck Bennett stopped even trying to make stuff for TV somewhere along the way. There's no fat to cut in "Fish Dreams," a sad and sweet parody of down-on-their-luck celebrities narratives. The Fish Man from Shape of Water enters a long downward spiral fueled by pride and artistic pretension, while his friend Roger (played by Mulaney) sees his own career surge. It's a beautifully shot piece of ridiculousness that actually feels a little poignant in spots.
---
6. "Jail Cellmate"
Kenan Thompson's Bill Cosby impersonation used to be a loving tribute to a man who loomed large not just in Thompson's own career but throughout all of television and comedy. Now it's a brutal caricature of a career criminal who preyed upon unsuspecting women for decades while hypocritically lecturing others for not setting a good example. "Jail Cellmate" doesn't have any sympathy for Cosby, mocking not just the quirks that Cosby impersonators have riffed on for years, but his hypocrisy, his blindness, and even the fact that he hasn't just died yet.
---
5. "Girlfriends Game Night"
Bill Hader is rightly regarded as one of the best performers in SNL's history. This sketch from the episode he hosted in March reminds us why, and also lets Cecily Strong share in the spotlight. She's a perfect partner for Hader's physical comedy and reliably great character work, grounding a ridiculous premise in a believable and sympathetic emotional foundation.
---
4. "Sitcom Reboot"
There are no politics here, no social commentary, no stab at significance or relevance. It's just a realistic premise—a cheesy entertainment news show interviewing the creator of a cheesier '80s sitcom that's being revived for a modern audience—that takes an unexpected turn. It works so well because it reins the absurdity in—every subsequent joke builds on that one revelation, adding in more and more details without losing focus. The writing is surprisingly sharp, but it still needs John Mulaney's crisp performance to become truly great. As funny as it is, this wasn't even the best sketch from what wound up being the best episode of the season.
---
3. "Black Jeopardy with Chadwick Boseman"
SNL's Black Jeopardy sketches find new angles with each installment. Previous versions have featured a well-meaning white man afraid of seeming racist and an openly racist Trump supporter who's revealed to have a lot in common with his black opponents. This time Boseman plays T'Challa (aka Black Panther) as the wise and respectful leader that is he in the Marvel movies, answering questions like "why is the cable bill in grandma's name" in the wholesome and positive way you'd expect from the resident of a utopia like Wakanda. Of course that makes his answers the exact opposite of what the show expects them to be; he guesses that the cable bill is in grandma's name to honor and respect her memory and importance to the family, when the correct answer is because she's going to die soon and won't need that good credit anymore. Black Jeopardy hasn't worn out its welcome as a recurring sketch because of details like that—despite the identical format and unchanging characters played by Thompson, Leslie Jones and Chris Redd (and Jay Pharoah and Sasheer Zamata before them), the third contestant always has a fundamentally different relationship with black people and black culture, and that lets the sketch keep not just its jokes fresh but its commentary on racism, as well.
---
2. "Career Day"
Can we give Adam Driver an Oscar for this sketch? I know TV folks get Emmys but this is better than any movie acting I've seen this year. He's almost frighteningly committed as Abraham Parnassus, an ancient oil baron who shows up at his son's career day to talk about how important it is to crush your enemies. This might be the best pure job of acting anybody's ever done on this show, or at least in recent memory. Even without the wig and makeup (which make Driver look a lot like Stacy Keach's similar character Abraham Wright from Robert Altman's Brewster McCloud) Driver would've disappeared into this role. That's how thoroughly he captures the imperious demeanor of a Gilded Age oil baron. I don't normally think SNL should repeat sketches that often—many a great one-off has been quickly run into the ground through repetition. But Parnassus could easily be Driver's version of the Continental or Jonah Hill's six-year-old Catskills comedian, an iconic character that only shows up when the actor who plays it is hosting.
---
1. "Diner Lobster"
The episode hosted by John Mulaney was the best of 2018, and one reason might be because the former SNL writer was able to rescue great old ideas that were originally shot down. "Sitcoom Reboot" was written in 2009, and "Diner Lobster," the best sketch of the season, was written by Mulaney and Colin Jost in 2010. This elaborate musical lament about a customer ordering a lobster from a Greek diner injects a mundane bit of observational humor with unexpected weight and depth. Part Les Misérables parody, part commentary on the odd overabundance of menu items at Greek diners, "Diner Lobster" is one of the weirdest and funniest SNL sketches in years.
---
Garrett Martin edits Paste's comedy and games sections. He's on Twitter @grmartin.