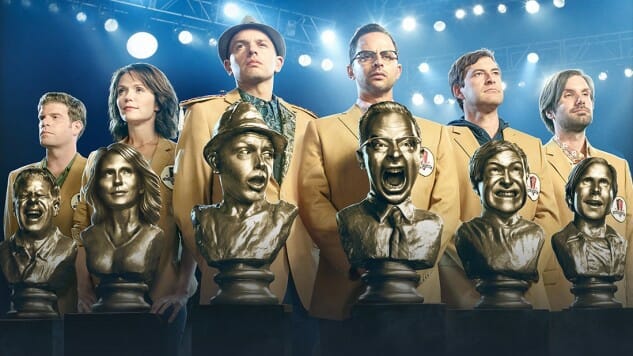 With the end zone in sight, The League is pulling out all the stops. Two weeks ago, it was the surprise passing of Sofia and the disturbingly hilarious adventures of Rafi and Dirty Randy. And a chupacabra. In this penultimate episode, it was the destruction of the gang's fantasy football site after Rafi posted a video of, naturally, he and Dirty Randy having sex with exotic birds, leading to the decision to hold a "one-week all-in Shiva Bowl" with all six teams going head to head. And just to add a little more to this teetering pile of insanity, the big reveal at the end that Meegan is pregnant, ostensibly with Andre's baby.
My anticipation for the last episode of this series was, to be frank, pretty non-existent. I've been happy to write about the show this season, mostly because I've been keeping up with it out of some weird begrudging obligation to keep tabs on the careers of many of the actors involved. To get some remuneration out of it was a small victory for my team. But I have to admit now that I'm really looking forward to seeing how this all plays out next week.
That has everything to do with the easy rapport that all the actors in this show have had with each other from the get-go. The shit talking seems to come so easy for them, and it's only gotten more comfortable as they've gotten to know each other as people off-screen and on. The chance to devote an entire episode to them needling and cajoling and saying some of the nastiest stuff you can get away with on a non-premium cable channel? That's just good television right there.
That chemistry extends beyond the main cast as well. In particular, Jason Mantzoukas and Nick Kroll, two improv vets who seem to love working together (the former appeared in several episodes of Kroll Show). Glory be, those two had a lot of screen time together this week, as Rafi tried to help Ruxin work through the "13 Stages of Grief" surrounding Sofia's death. Rafi is just so wonderfully unhinged, offering up a dead possum to help his brother-in-law accept death through drinking the animal's blood ("They're like rodent pomegranates. Full of antioxidants!") or offering himself up as a sexual surrogate to get through the final stage of the grief process. I don't think I'll ever remove the vision of Mantzoukas in a bra and panties from my brain, but…it was worth it.
Even without a nice Rafi nugget punch next week, the final episode of the series should be a lot of fun. Slightly bittersweet, I suppose, but tempered with the knowledge that every one of the actors involved have either already moved on to other projects or have proven themselves well enough here that some doors should be open to them soon (in the case of Steve Rannazzisi, it just might take a little longer for those gates to be completely ajar for him). We'll see you at the goal line, folks.
Robert Ham is a Portland-based freelance writer and regular contributor to Paste, and the author of Empire: The Unauthorized Untold Story, available in bookstores now. You can follow him on Twitter.