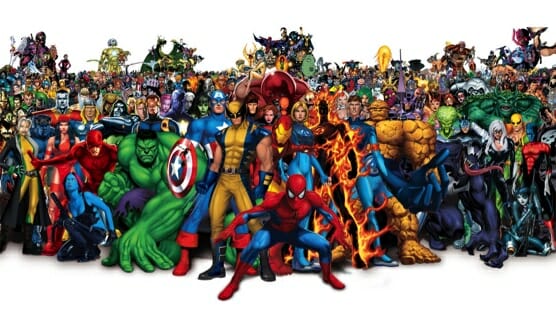 With the World Cup continuing to enthral, players like Robben, Messi, Neymar and Rodriguez captivating fans, and US goalkeeper Tim Howard proving agonizingly close to invincible, it's tempting to think that soccer's biggest stars have inhuman abilities. But, in the Marvel Universe, logic dictates that Brazil must also be playing host to an alternate carnival of kicking in which actual super powers are a tantalizing possibility. It prompts an obvious question: What if Marvel's famous heroes took part in the world's greatest sporting contest? Thor might have a hammer of a left foot, the Human Torch could set the tournament alight, Daredevil may play a blinder. After putting the prospects through their paces, here's our final squad—a very handy best XI with the potential to beat Argentina, Germany, Holland and the rest to the biggest prize in soccer.
Goalkeeper: Spider-Man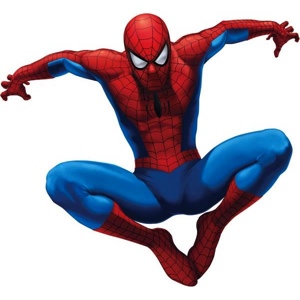 You've heard it said of great players that the ball sticks to their feet? Well, with Peter Parker, it literally adheres to his hands as well. That, coupled with the proportionate reactions and agility of a spider, makes him an automatic choice for the Number 1 shirt. After all, with great power comes great response ability. His uncanny spider-sense might even come in handy, if the prospect of an incoming shot counts as danger. Might depend on who's writing.
Left back: Sub-Mariner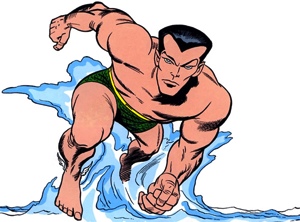 When it comes to Defenders, the back four picks itself. Slotting in on the left, Prince Namor. Imperious in the air, he's no slouch on the ground either, but he does have a reputation as a diver. In the sweltering temperature of Brazil, the already hot-headed Namor may have above-average difficulties with hydration, but, if the rain clouds open, he does his best work in the wet. Subby's main obstacle to a place at the World Cup? Getting FIFA to recognize Atlantis. But with the no-less-unreal prospect of Qatar hosting the 2022 tournament, anything is possible.
Right back: Silver Surfer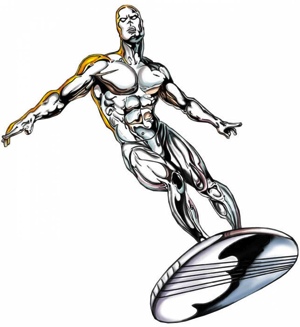 The real reason the Surfer turned his back on Galactus and fought to save Earth? He fell in love with the Beautiful Game. True story. His passion for soccer is what brings him back so often, even now he is no longer tethered to Earth. Ever reflective, the Surfer's philosophical approach to the game—and gleaming sports car finish—is sure to appeal to cultured Italian fans, who love a defender who stands out. As the crowd will no doubt chant (albeit in Italian, obviously), "There's only one Norrin Radd!"
Center back: Hulk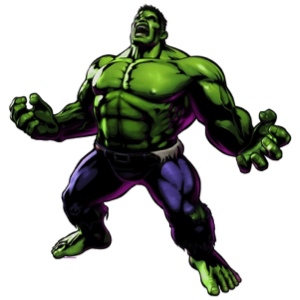 You have Messi/Ronaldo/Suarez/Neymar/Van Persie? We have a Hulk. Oh, Brazil has a Hulk too? Our money's on this one. The immoveable object in the way of all the unstoppable forces rivals can muster, Hulk will not let much get past him. The language barrier may be a problem, but as long as team-mates keep instructions simple, things should be okay. Anger issues are a bigger issue, as the madder Hulk gets, the stronger his tackles become. Yellow cards are nigh-certain, but if the Hulk sees Red? Good luck, referee.
Center back: Doctor Strange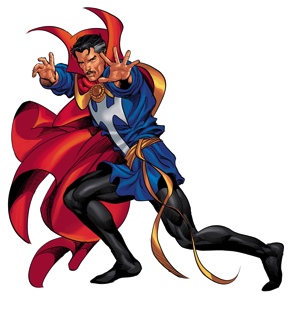 No doubt, the defensive line-up so far is somewhat combustible. Keeping things together (and making sure to play in-between Hulk and Namor) is a wise old head, forging a cohesive unit out of what critics may dismiss as a "non-team". Stephen Strange may have majored in Mystic Arts in his studies out in Tibet, but we're betting he starred for the Shaolin Soccer team as well. With his unique brand of magic vital for turning defense into attack, he can thread a pass through the Eye of Agamotto.
Defensive midfield: Black Panther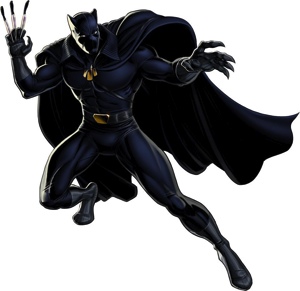 African sides always have a flair for animal themed nicknames. The Super Eagles! The Indomitable Lions! The Mighty Elephants! There's no doubt that the soccer sobriquet for the tiny nation of Wakanda would be the Black Panthers, political associations be damned. And the country's proud warriors would be certain to provide a long line of midfield battlers, chief among them T'Challa, their former monarch. A central schemer whose astute vision can unlock rival defenses, T'Challa will sit back and watch his plans unfold before choosing the perfect moment to strike. Watch out for on-pitch friction with Namor though—the ultimate in what the British whimsically call "handbags". Though the two are on the same super team, they're technically still at war (it's complicated). The capacity for the team to be torn apart by internal rows is greater than anyone this side of Holland.
Attacking midfield: Captain Britain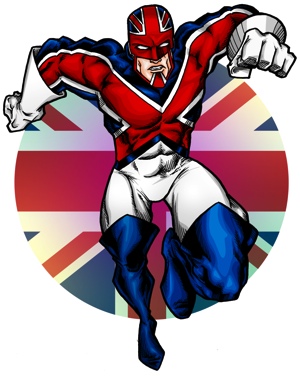 Sure, aristocratic Brian Braddock probably spent most of his time playing rugby, lacrosse and other posh sports while studying at Edinburgh's Fettes College. But there's no way that Britain's heroic embodiment hasn't mastered its one true national game. The ultimate confidence player, Captain Britain is as good as anyone on his day. Only trouble is, inconsistency means he's never lived up to his potential. And that makes him a perfect fit for the England team, even though the Union Flag on his costume arguably qualifies him for any of the other "Home Nations" too. In the 1980s, Bryan Robson was "Captain Marvel" for England and Manchester United alike. As the heartbeat of the Three Lions at the World Cup, with the potential for some Roy of the Rovers style match saving feats, Robson's near-namesake Braddock could become the 947th super hero to earn that title.
Left wing: Quicksilver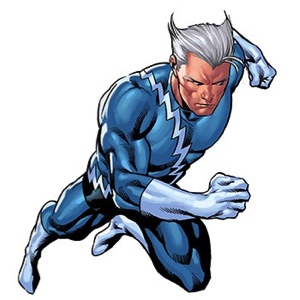 No matter who you are, Pietro Maximoff will "do you for pace". That, combined with his unmatched arrogance, makes him a natural to be a winger in the 21st Century game. Likely to be given a license to roam, Pietro will do it anyway, team instructions be damned. His insistence on doing things all by himself may well come in handy though, as the tiny nation of Wundagore would be the deepest of underdogs in any World Cup group. With his ability to put the ball in the back of the net before the opposing keeper has seen him coming, Quicksilver is a fan's dream—but a sponsor's nightmare. Who's going to buy those Nike boots when the star man is a blur even on the slowest of motion replays?
Right wing: Nightcrawler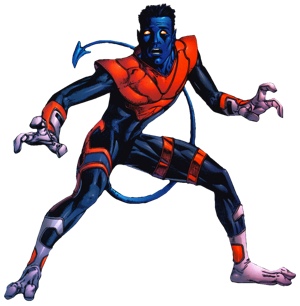 As the opposition face the headache of pace on the left, Nightcrawler poses a very different problem on the right. With supreme balance and a swashbuckling style, Kurt Wagner can be relied on to make his way through the most packed defense, finding seemingly impossible spaces. He does have a tendency to drift in and out of games though. Still, no harm in having a German on the team just in case the game goes to a penalty shootout.
Striker: Hawkeye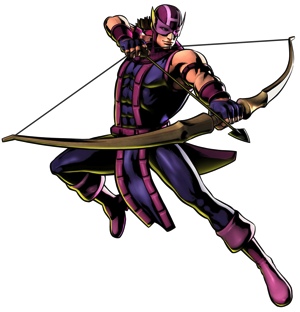 Clint Barton has an eye for goal, and if his feet are anywhere near as good as his hands he'll demonstrate his knack for hitting the target is better even than the USA striker who shares his first name. As a host of Marvel's super women will vouch, scoring is most definitely not Clint's problem (Barton's we mean, we can't speak for Dempsey). Commitment may be more of an issue though. If he turns up for training, he should prove himself fit to line up alongside arguably much more talented teammates. Good under pressure, Hawkeye can be relied on if it all comes down to him at a crucial moment. But, with a bit of a history with authority figures, he might not take kindly to being benched. And he'd better watch that mouth with the referees. (Boding well for Clint's chances, the silver screen's Hawkeye, Jeremy Renner, played for the victorious Rest of the World side that beat England in a recent charity match featuring celebrities and soccer legends).
Attacking playmaker: Sunspot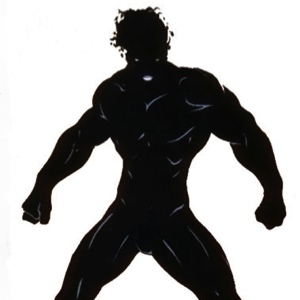 A bona fide soccer-star superhero, Roberto Da Costa may well have been playing for the home nation in the 2014 World Cup if his career hadn't taken a rather uncanny turn toward costumed journeyman—the serial social climber has gone from the New Mutants to X-Force to the X-Men to the Avengers! The onset of his mutant powers was actually triggered on the pitch—albeit with an assist from the ugly side of the game, racist hooliganism. So, having seen his flourishing prospects flounder, it would be fitting to finally see 'Berto showing his full range of skills on the big stage. Fully charged, no defense can touch him. And, with the penchant Brazilian attackers have for nicknames, it's not too much of a stretch to imagine "Sunspot" on the back of that famous yellow shirt. He may be the last player on this list, but he's the first name on the team sheet.
Coach: Professor X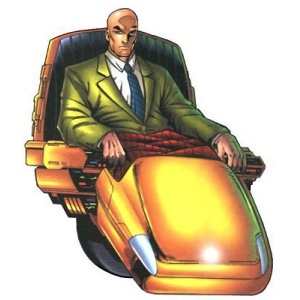 Sure, he might technically be dead currently in the comics (spoilers!) but, for super heroes, that has proved little impediment to achievements far greater than coaching a side to World Cup glory. Though often criticized as too reactionary, there's no doubt that Charles Xavier has years of experience honing a team to cope with the varying threats posed by rivals. It's almost like he knows what the other side is thinking. And, if his younger self was anything like the guy who plays him in films, James McAvoy, he undoubtedly had some "fitba" skills. The Scottish actor lined up alongside Renner in that Rest of the World side.
Assistant coach: Captain America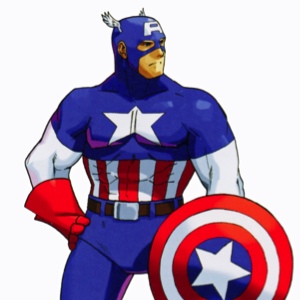 A master tactician, the star-spangled man with a plan will never give up, never surrender and never accept defeat until the final whistle blows. He should be counted on to bring those do-or-die qualities to his team, just as long as he's done his homework on soccer since coming out of deep freeze. Based on his to-do lists from various international versions of Captain America: The Winter Soldier, he should at the very least have checked out England's 1966 World Cup victory, Maradona's "Hand of God" in 1986, Italy's impressive pedigree, France's home win in 1998 and, oddly, South Korea's retired hero, Ji-Sung Park. Maybe, just maybe, having Cap in the dugout would finally make America truly embrace the world game.