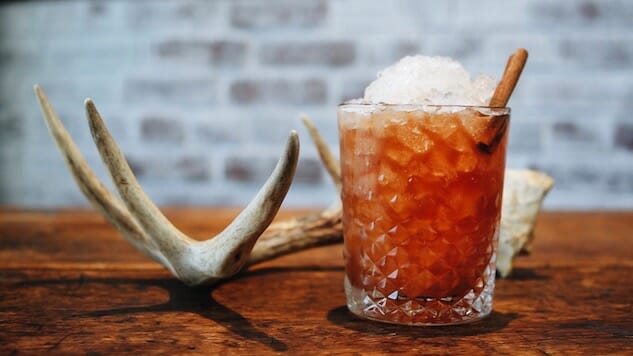 Well, it's International Coffee Day. At Paste we believe that central nervous system depressants are often at their best when paired with central nervous system stimulants! I mean, booze and coffee cancel each other out so it's like you weren't drinking either one, right?
I'm pretty sure that's correct, so here is a sampling of globally-inspired coffee cocktails! Slainte, Saluti, and Cheers!
Italian Chocolate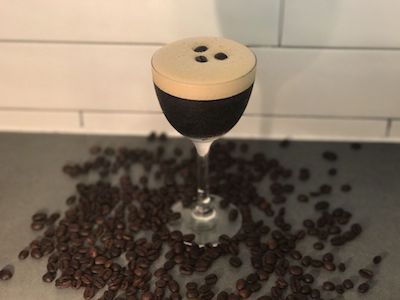 Photo Credit: Theresa O'Leary, marketing manager at Hotel Phillips
The Italian Chocolate is a twist on the classic espresso martini. The cocktail, created by Tavernonna Italian Kitchen head bartender Nicholas Boden, features the classic Italian liqueur Amaro Averna. Top it with three espresso beans to signify health, happiness, and prosperity. 
Ingredients
1.5 oz. Italian Amaro Averna
.5 oz. Kahlua
1 oz. chilled espresso. This is made from brewing espresso, and then pouring over ice, followed by quickly straining the ice out to avoid further dilution
Directions: Shake vigorously to activate the "crema" in the espresso. Taverna serves it in a "Nick and Nora" glass, but you go on ahead and use whatever you have on hand.
---
Good Morning Vietnam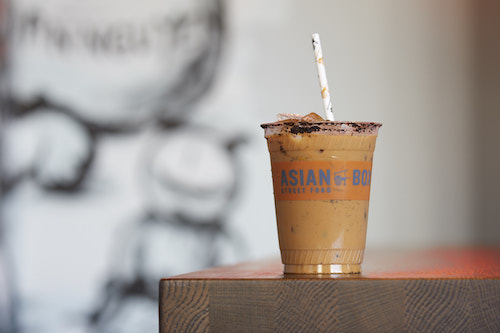 Asian Box, a California dining destination serving sustainable and healthy authentic Asian street food, has recently introduced a "fast cocktails" program with Vietnamese inspired cocktails. If you can't get to San Francisco, you can recreate the experience here.
Ingredients
 4 oz. cold pressed brewed coffee (chicory preferred)
 1 oz. evaporated milk
 1 oz. condensed milk
 1/4 teaspoon Saigon Cinnamon
 1/4 teaspoon real vanilla extract
 2 oz. dry Bourbon or Rye
Directions: Shake well, pour over tall glass filled with ice. Garnish with either a coffee/sugar rim or vanilla bean or cinnamon stick. Note: Vanilla beans are fancy garnish items but they're flippin' expensive. If you want to augment the vanilla component without breaking the bank you can buy prepared vanilla sugar to rim glasses, or make your own by letting one of those precious beans hang out in a sugar container for a couple of weeks. The sugar will absorb the aromatics.
---
 Roman Holiday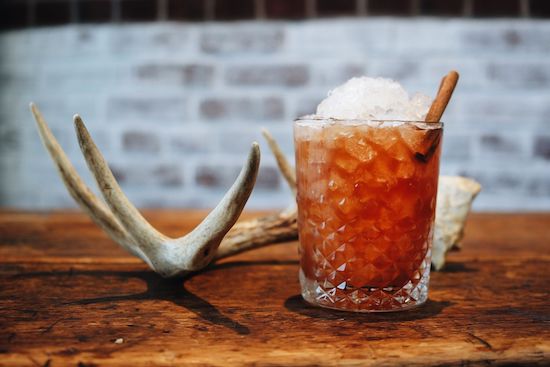 Photo credit: AJ Trela
Inspired by the tiki classic Jungle Bird, this Italian interpretation is bittersweet, and complex. The delectable daytime drink is made from Amaro Meletti, Campari, pineapple, lime, La Colombe "Pure Black" cold brew, and cinnamon.
Ingredients
 1 oz Amaro Meletti
25 oz Campari
.75 oz pineapple
.75 oz lime 
1 oz. La Colombe 'Pure Black' Coldbrew Coffee
.25 oz Demerara Syrup
 Pinch Maldon sea salt
Directions: Shake ingredients, strain over crushed ice; garnish with a cinnamon stick. It's "Italo-tiki!" – Spirit Guide, Nandini Khaund.
---
Hunter S. Thompson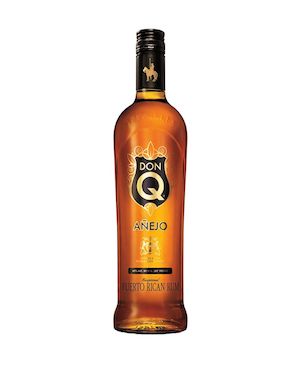 The Boardroom, a fancypants get-soused destination in downtown LA, suggests International coffee day is best observed by tossing back some coffee infused Don Q Anjeo Rum, Licor 43, tonic, whipped cream and lemon zest. As your attorney I strongly advise you to drink it.
Ingredients
1.5 oz. coffee infused anejo rum
.5 oz. Licor 43
Directions: Start by infusing 16 oz. of Don Q Anejo Rum with 4 oz. of ground coffee for 24 hours (we used Lavazza dark roast) and then strain through a coffee filter. Shake and strain into a small glass over 2 ice cubes. Top with 1 oz. tonic water (we used Fevertree). In a tin, whip shake 2 oz. of heavy cream and 1 oz. simple syrup with one ice cube until a medium consistency is achieved. Using a bar spoon, layer about a quarter inch of cream onto the top of the cocktail. Finish with lemon zest and enjoy!
---
Chocolate & Chicory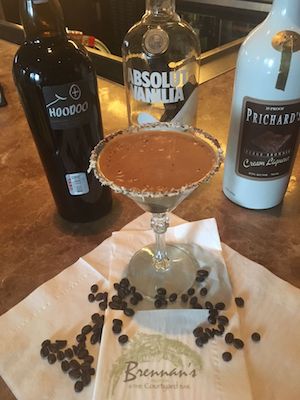 Photo credit: Brennan's of Houston
For homesick expatriates of the South (or if you're in Houston!), Brennan's of Houston can take you back with a chicory-coffee cocktail full of fabulous local potions. Or, make your own.
Ingredients
1 oz. Espresso
.5 oz. Hoodoo Chicory Liqueur
1.5 oz. Absolut Vanilia
1.5 oz. Prichard's Fudge Brownie Cream Liqueur
Directions: Rim martini glass with white and dark chocolate shavings. Stir all ingredients in an ice filled cocktail shaker until frost forms on the outside of the shaker. Strain into the prepared cocktail glass.  Bartender's recommendation is to "Serve with a wicked glint in your eye." I will leave that as an open option.
---