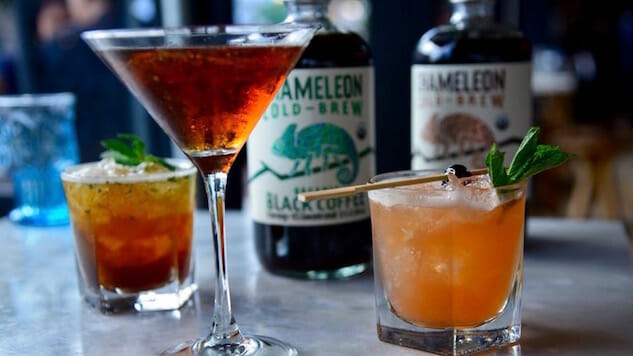 Coffee is essential for providing a jolt during early wakeups, long shifts in the office and late nights in the library. Its popularity and world of fans, addicts and aficionados continues to grow. Coffee drinking is at an all-time high, and it's expanding beyond coffee shops and bakeries into perhaps an unexpected place – cocktail bars and drink recipes. Yes, the mixology crowd is embracing coffee, especially cold brew coffee, as more than a mid-shift pick-me-up.
If pairing coffee with craft cocktails seems strange, consider the fact that they both have incredibly passionate, obsessive followings.
"There is a natural pairing between craft cocktails and coffee," says New York-based bartender Tristan Willey. "Specifically, occurring in cities where there is a major craft cocktail scene there are as many craft coffee shops, for lack of a better term, that similarly treat their products with a very deep respect to method, origin, and result."
Of course, coffee has long been used in hot drinks like Irish coffee or added to beer for a roast flavor. Pairing coffee with a single spirit and whipped topping is eye-opening and can be tasty. It is also incredibly bland and boring, so bartenders have moved beyond the Irish coffee mold.
"We're moving into a realm now where the versatility [of coffee] is what is being shown and the creativity of the individual is what is being challenged," says Vance Henderson, a veteran bartender and Drambuie brand ambassador.
Drambuie is one brand hoping to play off the boom in coffee drinks, bringing in experienced bartenders like Henderson to develop drinks that can be enjoyed across situations, from brunch to happy hour.
He says he finds that using coffee as a cocktail ingredient tends to command a lot of attention in bar-goers. And bartenders are rising to the occasion, finding ways to use coffee in drinks in everything from clean and refreshing cold brew cocktails to sophisticated stirred creations.
"[Coffee] really opens up a new realm of creative possibilities. Especially when you take into account coffee's acidity, its bitterness," Henderson says. "It also has a unique texture on the tongue, which kind of mirrors tannins you'd find in wine."
But mixing with coffee can be tricky given its distinct flavor, acidity and delicate nature.
"Coffee has a ton of moving parts that change from batch to batch due to weather, season, roaster, climate, storage," Willey says. You typically don't find that type of variation in spirits like vodka or mixers like ginger ale. Henderson stresses that while there's no real wrong way to use coffee in mixology, bitterness and acidity deserve attention – especially if you're adding additional fruit or citrus.
"They can either work hand-in-hand in a nice, harmonic way or the acid from both of them can easily tilt the flavor balance of a cocktail," Henderson says.
Willey recommends infusing coffee with another spirit as one way to make the coffee into something more stable and easier to substitute and experiment with in recipes.
And even if there's no wrong way to mix with coffee, there are definitely some winning combinations beyond hot coffee, booze and cream.
One of Henderson's creations with Drambuie is the "Sand and Smoke," which uses Drambuie, pineapple juice, fresh basil, Chameleon Mexican coffee concentrate, mezcal and club soda.
When asked his favorite coffee drinks, Willey goes for tequila or dark rum.
"The tequila is so bright and vegetal and makes for some cool earthy drink combos, and the dark, smooth, brown sugary rule mixed with a little milk, sugar, and coffee is simply decadent."
So don't be shocked to see coffee appearing more often on bar cocktail lists – and in more unique and subtle ways than ever before.
Here are three coffee cocktails you can try at home.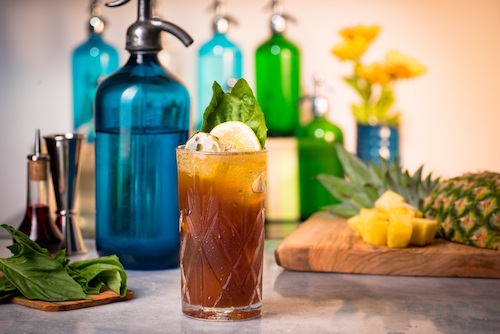 Sand and Smoke
Recipe via Drambuie
Ingredients
1 part Drambuie
1 part pineapple juice
3 fresh basil leaves
2 parts Chameleon Mexican Coffee Concentrate
½ part Mezcal
Directions: Load all ingredients into a shaker with ice, shake, and serve in a tall glass over fresh ice. Add a splash of club soda and a fresh basil leaf for garnish.
---
Spark and Stormy
Recipe via Drambuie
Ingredients
1 part Drambuie
½ part Sailor Jerry Rum
1 part cream
3 parts Chameleon Mexican Coffee Concentrate
Directions: Load all ingredients except the cream into a cocktail shaker with ice and shake. Strain into a tall glass with ice, then float the cream on top.
---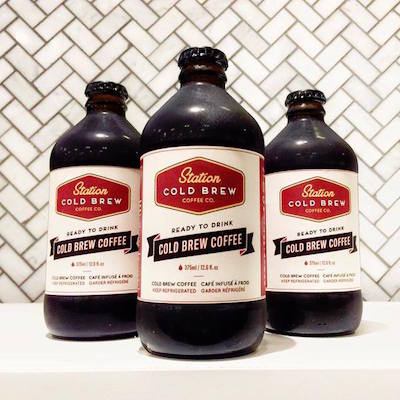 The Modern Irish
Recipe via Station Cold Brew
Ingredients
1 part Jameson's Irish Whiskey
1 part simple syrup
2 parts Station Cold Brew Concentrate
Directions: Combine all ingredients into a cocktail shaker with ice. Shake and strain into a Collins glass. Shave a little nutmeg on top to make it fancy.
---