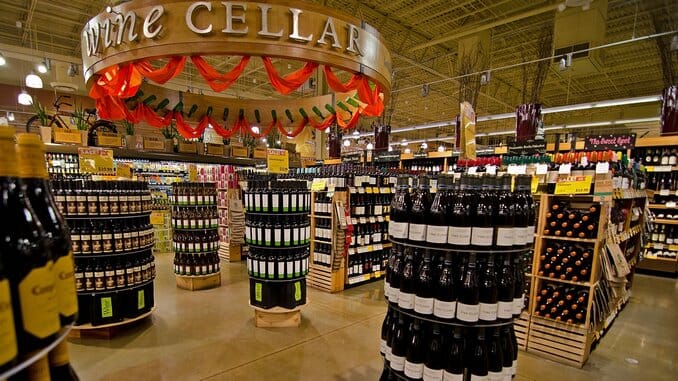 I don't know about you, but my local Whole Foods has a thoroughly excellent wine section. Really good. Much of the wine there is priced in a way that exemplifies why the place is affectionately (or not) referred to as "Whole Paycheck." So, good news, bad news.
There are certain regions producing wine that just don't command the prices that wine from, oh, say, France, commands. Not because they aren't good, but because they're just not as well known in the global market. Whole Foods is spotlighting a great example: Chile. From the end of August through the end of October, the entire chain will be featuring a carefully-curated selection of Chilean wines, and the prices will leave extra room in your budget. You know, for more microgreens. Or whatever.
So, Amy, before I head to Whole Foods to splurge on a bunch of vino, what are some things I should know about the wines of Chile?
Dude, I just drink the stuff, really. But:
Chile is a large nation with an extraordinary amount of latitude change from end to end. It is an immense strip on land with the Pacific Ocean on one side and the Andes Mountains on the other. This basically means "Chilean wine" isn't a thing. There are so many microclimates and mini-regions it would make your head spin. Plus it's a rapidly growing wine producer, though winemaking is a tradition that goes back to the 1600s there. So the first thing to know is that Chilean wine wears many faces.
Chile's main grapes: Some 20+ varieties are grown, but what you're most likely to find are Cabernet Sauvignons, Carmeneres, Merlots, Chardonnays, Sauvignon Blancs, Malbecs and Syrahs. Semillion, Viognier, Torontel, Carignan and Petite Sirah are also fairly abundant.
There are lots of great wines coming out of Chile but they are becoming especially well known for a distinctive style of Cabernet that leaves behind the high alcohol levels and extreme oakiness that characterize a lot of California Cabs. These wines are light and fresh and clean-tasting, which makes them friendlier for food pairing and for warmer weather.
That said – here's a sampling of what you can find at your local WF from late August through late October.
Odfjell Armador Sauvignon Blanc 2016
Casablanca Valley, $12.99
A mild-climate valley with a long dry season, Casablanca has some great spots for growing Sauvignon Blanc. These lower-yield grapes come from granite soils and Pacific breeze exposure, so expect good, crisp minerality and the more nuanced, strait-laced style of Sauv Blanc (if you are a New Zealand-style gooseberry-kiwi-smoothie kind of SB lover, this wine might confuse you). Hand-picked at 22 Brix and whole-cluster crushed, the wine is fermented in stainless steel, resulting in a pale straw color with green reflexes, and a grassy, herbaceous nose (hay, lemongrass, citrus peel and fresh leaves). Super brisk, high minerality, long finish. Lemon and grapefruit dominate the palate. A great hot-weather wine.
---
Autoritas Pinot Noir 2014
Valle Central, $7.99
A ruby-colored Pinot with a ripe, rounded bouquet (raspberry, cherry, a little vanilla). Ruby red; clean and bright. Fresh, soft, harmonious, with a pleasant silky finish. An unusually decent red for sushi, but also a good draft pick for pasta dishes and mild fish. Like many fruity Pinot Noirs, this one's also a friend to cheese (goat, especially, in my opinion – your mileage may vary)
---
Boya Pinot Noir 2014
Leyda Valley, San Antonio Valley, $14.99
Leyda Valley is a sub-region of the San Antonio Valley, located between the coastal mountains and the Pacific. Poor soils and a dry climate throw the kind of gauntlet grapes seem to appreciate. Pinot Noir isn't generally a wine that expresses a lot of saline notes in my experience (but my experience is more concentrated in the northern hemisphere, so this was interesting!) – Boya is a distinctly marine Pinot. If you want a red for the beach, or one that will fool you into thinking you're at the beach, consider this one. Harvested young, aged relatively briefly in older barrels and gravity-decanted, this is a bright, lower-alcohol wine that lends itself well to food pairing. It has an intense nose (florals and tart cherry) and a supple, clean finish that's long on berries.
---
Criterion Carménère 2013
Colchagua Valley, $13.99
The southern Rapel Valley is well known for Carménère, and Criterion's Carménère Reserva is deep and densely colored with aromas of ripe blackberry, cinnamon and nutmeg. Rich, smooth, decently tannic but tempered with good acidity and a red berry finish. This wine's got decent aging potential – probably at least five years.
---
Mayu Carménère-Syrah 2014
Elqui Valley, $12.99
Elqui Valley borders the Atacama Desert, said to be among the best places in the world for stargazing because of the unusually low levels of water vapor in the atmosphere ("Mayu" is an Inca word for the "river of stars" effect of the Milky Way Galaxy when you can actually see it – remember actual dark nights?) This extreme dryness can be good news for grapes, too, and this area has long been the home of grapes grown for Pisco. This blend is fermented in steel (cold maceration), using the punch-down method to optimize color and tannin extraction. The Syrah is then partially aged in French oak and the Carménère in American oak before blending. The result is not unlike a traditional Italian style, more juicy than jammy, with a deep color and a full-bodied character. Blackberry and plum predominate, with some vanilla and baking spices. Grilled meat will thank you for setting it up on a date with this wine.
---
?rasmo Reserva de Caliboro 2010
Maule Valley, $19.99
60% Cabernet Sauvignon, 30% Merlot and 10% Cabernet Franc. Hand harvested fruit, long skin-time. Manual harvesting. Aged 18 months in French Oak and a year in the bottle before release. Result? Deep ruby color, more florals on the nose than you sometimes get with heavier reds, but also familiar tones of cherry, blueberry and blackberry. Dark berry and black plum notes on the palate, and the velvet tannins that let you know you're dealing with Merlot, as well as the long finish that let's you know you're also in Cabernet country. This is a good red for roasted things, and hard cheeses.
---
De Martino Estate Organic Cabernet Sauvignon 2014
Maipo Valley, $12.99
De Martino Estate Organic wines are estate produced and bottled wines of outstanding quality and terroir (alluvial terraces, for those of you keeping score at home). Organic since 1998, De Martino is a sustainability-focused winery (in the wine growing and crafting process but also in packaging and shipping practices) and is certified by BCS Germany. These folks are the first Chilean winery to be certified carbon-neutral, so if that's your jam, know you're buying from the good guys here. Their approach to Cabernet Sauvignon is to minimize (but not totally eliminate) oak contact, de-emphasizing the wood notes and letting the fruit shine through. So, this is a brighter, leaner Cab than some, making it very food-friendly. Cherry and blackcurrant notes are strong, with a hint of tobacco. As for what to pair with it, this wine's an easygoing playmate and will compliment a huge range of dishes. Milder cheeses, pizza and pasta, grilled meats. Personally I liked it with roasted prosciutto wrapped figs.
---
Casa Silva Los Lingues Vineyard Cabernet Sauvignon 2014
Colchagua Valley
Partly oak and partly steel-fermented, this is another exemplary Chilean Cab with a low-attitude, moderate-alcohol leanness and suppleness that makes it a slam dunk pairing with a wide range of foods. Deep ruby-red in color, the wine has a peppercorn and red berry nose with a little blue-note of tobacco. Firm but pliant tannins, very lingering finish. This is definitely a wine that likes red meat, but vegetarians will find it's pretty splendid with mushrooms and grilled vegetables. (I'd put it on the table with winter squash ravioli in brown butter for sure.)
---
These wines will be featured through the end of October. Get them while you can – they're all under 20 bucks and have been chosen with care and thoughtfulness, and they're all really nice wines. Some will cellar better than others, but the beauty of this stuff is that you can get a mixed case without going into hock and you don't have to worry over whether it's a special enough occasion to justify opening any of them. They're all great weeknight-dinner bottles. Experiment – at these prices you can definitely afford to.