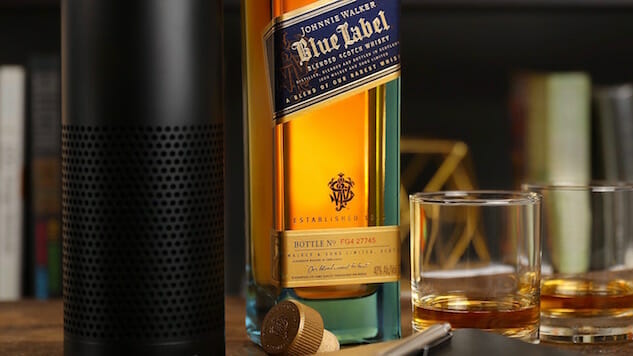 In a hotel suite in Miami, Johnnie Walker master blender Jim Beveridge pours out a glass of Black Label. Next to him, an Amazon Echo unit enabled with the Alexa intelligent personal assistant prompts him to nose the glass.
"Do you smell sweet fruit or smoke?" Alexa asks.
"Sweet fruit," Beveridge answers.
"What a pro," she says.
If she only knew.
For those of us who are not master blenders with nearly four decades of experience, Johnnie Walker is here to help. On Sept. 27, the storied house of blended Scotch launched a digital mentorship program, featuring a suite of apps, bots and videos designed to share its expertise with whisky lovers around the world.
The new Alexa skill operates across Amazon platforms, including Fire TV, Echo, Echo Dot and Tap, to provide users with whisky information, trivia and guided tastings. It even lets users know where the nearest bottle can be purchased.
Over on Facebook Messenger, a new bot called JohnnieWalkerUS works in a similar fashion to let users tap into the distiller's vast stores of whisky knowledge and get cocktail recipes on the go.
Johnnie Walker has also teamed up with Jeff Bell for a series of videos in which the renowned bartender and mixologist explains the finer points of whisky tasting.
"The digital mentorship program is a way for Johnnie Walker to showcase what goes into our craft (and) our blending expertise," Stephanie Jacoby, VP Marketing for Johnnie Walker said in a statement. "This program redefines home entertaining and whisky education and allows our consumers to experience Johnnie Walker in a way they never have before."