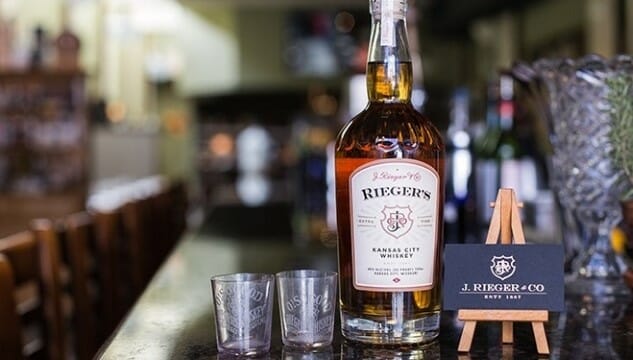 It seems like every whiskey I review from a microdistillery/independent distillery these days is a mold-breaker in terms of construction, and I'm okay with that. They're not all home runs, but if there's one shred of good that I can say in my final assessment of 2016, it will be this: Independent distillers are getting more adventurous with whiskey.
It's simple to see why it makes good financial sense for them to do so. Even when sourcing rather than distilling their own whiskeys, the small, independent guys are never going to be able to compete with the likes of Beam and Diageo on price. So why even try to make competing versions of classic bourbon and rye mash bills, if you'll have to charge twice as much for a comparable product? The modern distiller is instead recognizing that their higher price point demands a certain amount of novelty to the finished product.
Rieger's Kansas City Whiskey certainly has that novelty factor, reading its description. Bottled at 92 proof, it's composed of several sourced whiskeys older than 7 years—bourbon, rye and even "light whiskey," which is essentially malt whiskey aged in uncharred new oak barrels. The most unique, aspect, though, is the inclusion of a small amount of 15-year-old Oloroso sherry directly to the final product—how much, I don't know, except that it's "not to exceed 2.5%." According to J. Rieger & Co., this is the revival of a pre-prohibition practice in American whiskey that I assume was meant to contribute both color and flavor to the final product. For me, it's the first bottle of whiskey I've received that actually has a portion of Spanish sherry mixed into the aged blend of distillates.
On the nose, this is some rich, decadent-smelling whiskey. Caramel, toffee and especially maple syrup come through in a big way, with pleasantly genuine intensity. To quote directly from my notes, "like a vanilla sundae topped with caramel maple syrup," and that sums it up nearly perfectly. It leans strongly on the sweet side, suggesting a rich, brown sugary whiskey that may or may not be cloying, but as I returned to smell again, I did start picking up more fruit impressions as well. What slowly emerges is a dark berry fruitiness that can probably be attributed to the sherry.
On the palate, it's immediately hard to miss that this whiskey is a bit hotter than expected. Even for 92 proof, the burn is a bit harsh and long-lasting, and it takes a few moments to work one's way around it. Once the taste buds acclimate, we're again given a palette of flavors driven by caramel, vanilla, maple and fruit. Once again, it's the maple that is really quite distinctive, and I fully expect that you could market it as "maple whiskey," at least to people with any sense of subtlety. It helps that although it is very rich, Rieger's avoids falling into a trap of being over-surgary or artificial. Compared to something like the cloying, saccharine Jim Beam Maple I had the misfortune of sipping recently, it's like the nectar of the gods.
Ultimately, this seems like whiskey for uncomplicated neat drinking, or with ice and/or a splash of water. It's not necessarily very complex, and it might be a bit too sweet for use in your classic whiskey cocktails (although it surely has some mixology applications), but it's a pretty good dram all on its own. The only thing that knocks it down a bit is being a bit hot for its 92 proof, but I can appreciate another independent distiller's adventure in creating a distinctive product.
Distillery: J. Rieger & Co.
City: Kansas City, MO
Style: "American whiskey"
Proof: 92
Availability: 375 and 750 ml bottles
---
Jim Vorel is Paste's resident craft beer and whiskey guru. You can follow him on Twitter for much more drink content.